This article originally appeared in the June 8, 1979 issue of Christianity Today.
Madeleine L'Engle is a prolific writer. Stories go through her head in much the same way songs did in Schubert's. And it's been that way since she was just a child. Whether traveling, working at the library of the Cathedral of St. John the Divine in New York City, or at home in the Connecticut countryside, she cannot for long escape her work; a part of her mind is always writing. On a trip last fall to Illinois and Idaho, she had some ten lectures to give—and certainly no time to write. Yet, she brought her current manuscript with her. That in itself is enough to make her stand apart from the current crop of children's book writers.
There are other differences. Her books are not deliberately simplified for a young audience. Adults who read her stories appreciate them as much as young people. Certainly, they could be marketed as adult fiction. That she won the Newbery Medal places her in the eyes of salesmen in the children's book category. But you can find her writings in either the adult or children's section in bookstores. Libraries seem to have equal difficulty deciding how to catalogue her: I have found the same book in three different sections of a local library.
She follows no set formula or pattern. Experimentation marks her books. Before death was popular in children's books, she wrote about it (much to her publisher's displeasure). And while drugs and rebellion may be in vogue, L'Engle writes about wholesome family life. She gives models in her books of what the Christian family can be. Religion may be out—but it's in for her. As to the question of realism versus fantasy, she follows her own sense of which form to put with which story. She made her reputation as a writer of fiction, but if the subject calls for it, she can produce nonfiction. It is refreshing to read an author who writes out of conviction rather than from a desire to please the book-buying public. Such writers will always find a market.
L'Engle is currently at work on a book of realism; most of her books-in spite of her reputation-fall into that category. But her latest book, A Swiftly Tilting Planet (published last fall by Farrar, Straus and Giroux), is her third work of fantasy. The three books form a trilogy about the amazing Murry family, and the hero of the stories, Charles Wallace, who is gifted with unusual powers of perception. L'Engle says these three books contain her theology. If so, then Charles Wallace is the theologian. He understands the world of the spirit and can explain it to his sister, Meg. She is the student of spiritual things, and he, though much younger, the teacher.
The trilogy (which was never intended to be so, sometimes these things just happen with a writer) begins with A Wrinkle in Time (1962), continues in A Wind in the Door (1973), and concludes with Planet. (I do hope we will have more Charles Wallace stories in the future, though.) Each book focuses on a particular theme that is worked out in the plot. The struggle, as befits a story that contains the supernatural, is of cosmic proportions: good versus evil. Of course, all of L'Engle's books, whether other worldly or not, deal with that conflict.
Supernatural characters appear in each book. In Wrinkle we find Mrs. Whatsit, Mrs. Who, and Mrs. Which; in Door, there's a cherubim; and in Planet, a unicorn. These characters appear naturally, with little pretension and without calling great attention to the fact that they are supernatural. Such beings do exist, Christians believe. Why should we be so surprised? With another writer, a nonbeliever, perhaps, we might find the supernatural beings as rulers in the story, the prime movers in the universe. But not so with L'Engle. These characters are servants, just as much as Charles Wallace or Meg. And though not always stated, the person they serve is God. L'Engle gets that across through the smell of the story, if in no other way.
Each book progresses in the concepts it deals with: time, space, and then how time and space play on each other. It also progresses in the demands made on the participants in the tales. You might almost say that Meg, in particular, is commanded to grow. In Wrinkle, she loves her family and her friends; she cannot yet love her enemies. But to save her brother she must conquer hate with love. Since she cannot love the enemy, IT, who has her brother, she lets her love for her brother, which IT cannot overcome, dominate her mind.
In Door, if she cannot learn to love her enemies, then Charles Wallace, endangered by a disease, will die. The cherubim Blajeny, much as the Holy Spirit does for Christians, helps her do that.
Meg plays a lesser role in Planet. This time Charles Wallace is the active character, she the passive. She supports him with her love, but she must let go of him, and allow him to face the dangers without her presence. She has learned the final lesson of love, that of surrender and sacrifice.
Some people have criticized L'Engle's books as having characters who are too good, too smart, too unbelievable. Each of them, though, has deep flaws: pride, lack of faith, distrust of others. But still they are used. Mrs. Who cites a Bible passage near the end of Wrinkle. I think it is a fitting summary of what L'Engle tries to teach in these books:
The foolishness of God is wiser than men; and the weakness of God is stronger than men. For ye see your calling, brethren, how that not many wise men after the flesh, not many mighty, not many noble, are called: But God hath chosen the foolish things of the world to confound the wise; and God hath chosen the weak things of the world to confound the things which are mighty. And base things of the world, and things which are despised, hath God chosen, yea, and things which are not, to bring-to nought things that are (1 Cor. 1:25-28).
Related elsewhere:
Madeline L'Engle died Thursday, September 6, of natural causes.
Christianity Today interviewed her in 1979.
Our sister publications Books & Culture, Christian History & Biography, and Re:generation have more on L'Engle and her spiritual journey.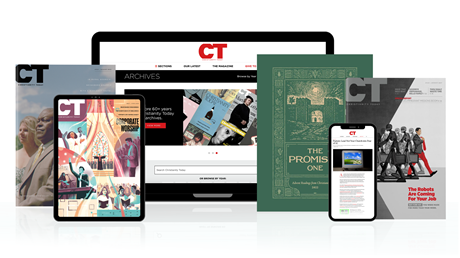 Annual & Monthly subscriptions available.
Print & Digital Issues of CT magazine
Complete access to every article on ChristianityToday.com
Unlimited access to 65+ years of CT's online archives
Member-only special issues
Subscribe
Supernatural Sagas of Good and Evil
Supernatural Sagas of Good and Evil