1. Nebuchadnezzar official mentioned on newly deciphered cuneiform tablet
"The British Museum [Wednesday] hailed a discovery within a modest clay tablet in its collection as a breakthrough for biblical archaeology—dramatic proof of the accuracy of the Old Testament," says the London Times.
The Telegraph likewise reports: "Michael Jursa … made what has been called the most important find in Biblical archaeology for 100 years, a discovery that supports the view that the historical books of the Old Testament are based on fact."
What Jursa found was this inscription, on one of the 130,000 Assyrian cuneiform tablets housed in the British Museum:
(Regarding) 1.5 minas (0.75 kg) of gold, the property of Nabu-sharrussu-ukin, the chief eunuch, which he sent via Arad-Banitu the eunuch to [the temple] Esangila: Arad-Banitu has delivered [it] to Esangila. In the presence of Bel-usat, son of Alpaya, the royal bodyguard, [and of] Nadin, son of Marduk-zer-ibni. Month XI, day 18, year 10 [of] Nebuchadnezzar, king of Babylon.
In other words, chief eunuch Nebo-Sarsekim gave gold to the Temple of Esangila. Not impressed? Here's Jeremiah 39:3 (NIV):
Then all the officials of the king of Babylon came and took seats in the Middle Gate: Nergal-Sharezer of Samgar, Nebo-Sarsekim a chief officer, Nergal-Sharezer a high official and all the other officials of the king of Babylon.
The British Museum's Irving Finkel told the Times, "A mundane commercial transaction takes its place as a primary witness to one of the turning points in Old Testament history. This is a tablet that deserves to be famous."
Likewise, he told The Telegraph: "This is a fantastic discovery, a world-class find. If Nebo-Sarsekim existed, which other lesser figures in the Old Testament existed? A throwaway detail in the Old Testament turns out to be accurate and true. I think that it means that the whole of the narrative [of Jeremiah] takes on a new kind of power."
Bible scholar and blogger Jim West isn't so sure. "I'm not really sure why a cylinder naming Nebo-Sarsekim is big news at all. No one has ever argued that there was no Babylonian of that name," he wrote on his blog. "The artifact demonstrates the use by the biblical authors of archival materials gleaned from contacts with those archives. But even this is not 'proof' of the biblical narrative."
Peter Kirk gloats over at TNIV Truth, noting that Nebo-Sarsekim is named only in NIV, TNIV and NLT translations of Jeremiah 39:3. "For once we have clear and new archaeological evidence that TNIV is more accurate than ESV," he writes.
2. Ghana "miracle" pastor arrested in Uganda for magic trick
When Ghanaian pastor Obiri Konjo Yeboah (or Kojo Nana Obiri-Yeboah or Yeboah Nana Kojo, depending on the news source) entered Uganda, officials at the airport seized his luggage. Inside was a machine that they believed was a piece of bomb-making equipment.
It turns out that it was the Yigal Mesika Electric Touch, a gadget sold in magic stores that sends a 12-volt charge into anyone touching the person who's wearing it. The company says it will "create excitement, mystery, curiosity, and supernatural powers all in one forgettable experience."
Ugandan officials are worried about that "supernatural powers" part, and the pastor is now being investigated for fraud.
It's about time, says an editorial in the Ugandan newspaper The Monitor:
Probably, for the very first time our vigilant police may have stumbled upon the explanation to the 'miraculous' falling down that has been going on in many churches. Most of us have either seen in real life or watched on television how pastors touch people who then simply collapse! …
Ugandans are presently caught up in the global billion dollar industry that television evangelism has become. We urge the police to carry out a no-nonsense inquiry into the activities of all pentecostal and other churches known to indulge their faith in this manner. Pastors who practice the falling down brand of 'healing' must subject themselves to police investigation. Whoever objects to this course of action, taken in the public interest, immediately becomes a suspicious character.
The police apparently agree. "Police are investigating the conduct of churches for born-again Christians in the wake of rising cases of pastors' impropriety," a separate Monitor article reports. "The detectives will be interested in the idea of sowing, the term used to describe the generous tithes that pastors manipulate churchgoers into giving in the honest expectation of miracles."
The pastor told the BBC that he didn't use the Electric Touch for religious purposes. "This is a toy. It was sent for my daughters' birthday," he told the BBC.
3. Time: Can Democrats really overcome the "God gap?"
If you've avoided all the talk about the "God gap" and the 2008 election so far, Time has a very good primer on Democrats' efforts to win over evangelical Protestants and rekindle its relationship with Catholics. But a sidebar on results of the magazine's polling has some real news: "The conventional wisdom about the two political parties and religion may be so ingrained that no amount of evidence to the contrary can change perceptions. That may very well help Republicans in 2008 despite their various religion issues. And it may also mean that most Democrats, with one important exception, will have to try twice as hard to reach faith-minded voters." Amy Sullivan, the voice crying in the Democratic wilderness four years ago, has a piece laying out her take on how Democrats lost religious conservatives.
4. Holsinger distances himself from his 1991 Methodist white paper
His 1991 paper for the United Methodist Church's Committee to Study Homosexuality on the physical risks of gay sex "does not represent where I am today. It does not represent who I am today," the nominee for U.S. surgeon general told the Senate Committee on Health, Education, Labor, and Pensions today. "Questions have been raised about my faith and about my commitment to ensuring the health and welfare of all Americans, including Gay and Lesbian Americans [they're capitalized in his statement]. I am deeply troubled by these claims, which do not reflect who I am, what I believe, or the work I have accomplished in over 40 years of practicing medicine." While Holsinger has been savaged by the Left for the paper, he has received at best tepid from the Right, probably because he supported embryonic stem cell research in 2002. Asked about the issue in the final moments of today's hearing, he refused to say what his views are. "Since 2002, I have not had reason to stay engaged in the stem cell discussions," he explained.
I liveblogged the hearing over at our other blog. I'm most interested to see if there's any opposition to Holsinger's appointment from conservatives now that he has backed away from his 1991 paper. I'm also interested to see how many people talk about his most controversial statement at the hearing: He wants to ban drug companies from advertising to the general public.
5. Anglican Canon Andrew White leaves Iraq
The Church of England's Andrew White has been one of the most visible faces of Western Christianity in Iraq, and tenaciously stayed in Baghdad amid the violence to minister to his church there. He has now left the country amid death threats.
Quote of the day
"Times may be tough, but God has not forgotten Zimbabwe. Disasters are often God's loudspeakers to his people. People hear better during these times."
— Baptist pastor Ray Motsi, who was arrested with other Zimbabwean ministers for holding illegal prayer meetings. He was quoted by Baptist Press in one of two excellent dispatches from Harare.
More articles
James Holsinger | Homosexuality | Politics (U.S.) | 2008 election | Immigration and refugees | Gambling | Politics (non-U.S.) | Religious freedom | Church and state | Education | Lawsuits | Crime | Preacher arrested with magic shock device | Mungiki | Abuse | Church life | Assemblies of God head stepping down | Anglicanism | Catholicism | Latin Mass | Vatican document on proper churches | Tadeusz Rydzyk | World Youth Day | The Pope's books on Jesus | Books | Charles Marsh | Tony Dungy | Audio Old Testament | Media and entertainment | Soccer (football) | Music | Times Square butt billboard | Money and business | Poverty and corruption | Zimbabwe | Israel | Iraq | Christianity and Islam | Deaths | AIDS | Missions and ministry | Spirituality | People | Other stories of interest
Preacher arrested with magic shock device:
Assemblies of God head stepping down:
Vatican document on proper churches:
Related Elsewhere:
I'm still soliciting comments on how to improve Weblog.
Our most recent Weblogs include:
Priest Must Decide Between Episcopal Priesthood and Islam | Also: Did God smite Evan Almighty? Should police make arrests during church services? And other stories from online sources around the world (July 6)
Can Public Schools Ban Churches from Renting Space? | Plus: European court rules against mandatory religious education, abortion politics in Sweden, and other stories from online sources around the world (July 3)
Another U.K. Jewelry Row | Also: Supreme Court rulings, Canadian Anglicans vote on same-sex blessings, and indulgences as 'lasting souvenirs.' (June 27)
Catholic School and Church Attacked as Gaza's Christians Worry | Plus: Ruth Graham laid to rest, an Episcopal priest converts to Islam (but stays an Episcopal priest), and other stories (June 18)
See also the Christianity Today Liveblog.
Weblog
Launched in 1999, Christianity Today's Weblog was not just one of the first religion-oriented weblogs, but one of the first published by a media organization. (Hence its rather bland title.) Mostly compiled by then-online editor Ted Olsen, Weblog rounded up religion news and opinion pieces from publications around the world. As Christianity Today's website grew, it launched other blogs. Olsen took on management responsibilities, and the Weblog feature as such was mothballed. But CT's efforts to round up important news and opinion from around the web continues, especially on our Gleanings feature.
Ted Olsen is Christianity Today's executive editor. He wrote the magazine's Weblog—a collection of news and opinion articles from mainstream news sources around the world—from 1999 to 2006. In 2004, the magazine launched Weblog in Print, which looks for unexpected connections and trends in articles appearing in the mainstream press. The column was later renamed "Tidings" and ran until 2007.
Previous Weblog Columns: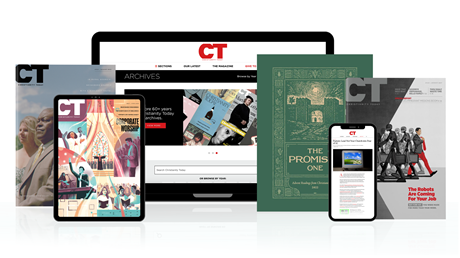 Annual & Monthly subscriptions available.
Print & Digital Issues of CT magazine
Complete access to every article on ChristianityToday.com
Unlimited access to 65+ years of CT's online archives
Member-only special issues
Subscribe
Read These Next
Trending

American Christians Should Stand with Israel under Attack

While we pray for peace, we need moral clarity about this war.

From the Magazine

The Unusual Epistle that Helps Me Counsel on Sexuality

Jude has strong words for immorality in the church. Yet he advocates for mercy for those who doubt.

Editor's Pick

Don't Miss These African Christmas Hits

Jam out this season to highlife, Afrobeats, jazz, a cappella, R & B, rap, dance, and hip-hop artists from Nigeria, South Africa, and more.
Tablet Is 'Proof' for Jeremiah Passage
Tablet Is 'Proof' for Jeremiah Passage