true
It has been 15 years since Sinéad O'Connor tore up a picture of Pope John Paul II on Saturday Night Live and said, "Fight the real enemy." So it's little wonder she's tired of talking about it and other provocative things she has done over the years.
In fact, she was so tired of it back in 2003 that she quit the music business.
"I was quite disillusioned, and also, I was tired of carrying the weight of the whole 'controversial Sinéad O'Connor' crap," she recently told the London Times. "That's a painful, difficult thing to carry, and I felt I couldn't work without having to deal with that."
Her retirement was short-lived, and now she's out promoting her new album. Which means she's patiently answering more questions about that Saturday Night Live appearance.
But this time, the questions make more sense. Her new album, Theology, is all about God, and almost all of it is based on Scripture.
An act of love
O'Connor once called tearing the pope's photo "a ridiculous act, the gesture of a girl rebel," but in recent interviews she's anything but apologetic about it.
"Sometimes we want to challenge the people we love, and sometimes we want to rattle the bars because we see them going down the drain unless they face particular issues. And they may not want to face those issues; for example, the issue of sexual abuse by priests within the Catholic church," she told Beliefnet. "Contrary to popular belief, it wasn't actually an angry act, although I can see, of course, why people would think it was. It was actually an act of love."
In that same interview, she lamented Catholicism's decline in her native Ireland as "the baby getting thrown out with the bath water."
Is this the revisionism of a 40-year-old woman who has mellowed in the past decade and a half? Damage control for sales of Theology? Probably not.
Two weeks after the show aired, O'Connor went on stage at New York's Madison Square Garden for the Bob Dylan 30th Anniversary Concert Celebration. She was booed off the stage. Too bad: The Dylan song she was going to sing was "I Believe in You," his psalm about trusting God amid hardship. (She also recorded it for A Very Special Christmas 2.)
Son of Man's woman?
It's tempting to see those actions and conclude that O'Connor is one of those "spiritual but not religious" types. But she doesn't go for that.
"I love religion," she told the Orange County Register. "But I think religion has weaknesses—the chief one being that it doesn't understand that it is not God a lot of the time. … There was a God before religion." (She similarly told Beliefnet, "I adore religion and love it.")
In her music, it's clear that she loves religion. Exactly what religion has not been terribly clear. Take, for example, her 2000 album, Faith and Courage. On "No Man's Woman," she sings:
I got a lovin' man but he's a Spirit.
He never does me harm never treats me bad.
He never takes away all the love he has.
And I'm forgiven—oh!—a million times.
Then, in the clearly autobiographical "Daddy I'm Fine," she identifies herself as a "strong independent pagan woman." On "Emma's Song," she sings, "The great goddess had us blessed." The final track, "Kyrie," is a lovely setting of the liturgical Kyrie eleison in Greek and English ("Lord have mercy, Christ have mercy") overlaid with Rastafarian phrases.
Christian and Rastafarian themes meet again in "The Lamb's Book of Life," a forerunner of many of the themes in Theology:
I bring these blessings with me
A strong heart full of hope and a feeling
That everything in this world would be okay
If people just believed enough in God to pray
But the world thinks that sounds crazy
And that's the thing that makes me sing so sadly
To think that we would leave God so lonely
To think that we would mess up our own destiny.
She means it. "God is underemployed, when there are a lot of problems in the world that could get fixed very quickly if people actually believed in God. I know that sounds very childish," she told Beliefnet. "I do believe a whole lot could be changed if we were to ask God to help. But because of religion, people often don't think there is a God—therefore they don't ask."
So, in Theology, she sets out to "rescue God from religion." At times, her God sounds awfully tragic, as on "Out of the Depths":
You're like a ghost in your own home
Nobody hears U crying all alone
Oh U are the one true really voiceless one
They have their backs turned to you for worship of gold and stone …
It's sad but true how the old saying goes
If God lived on earth people would break his windows.
Then again, the rest of the song is taken straight from Psalm 130:
Out of the depths I cry to U, oh Lord
Don't let my cries for mercy be ignored
If U keep account of sins oh who would stand?
But U have forgiveness in your hands
The rest of the album has selections from Jeremiah, Isaiah, Song of Solomon, Job, 1 Samuel, and Psalms 33, 91, 104, and 137. There's no trace of pagan goddesses on Theology, and Sinead's Rastafarianism seems not to the kind that focuses on former Ethiopian king Haile Selassie as God but rather the kind that focuses on the God of the Eastern Orthodox Selassie.
What you won't find on Theology is much about Jesus—or anything from the New Testament, for that matter.
"I wanted it to be on the right side of the line between corny and cool," she told the Associated Press. "When it comes to religious music there is a very fine line between cool and very uncool. … If you start writing songs about the New Testament, you're doomed no matter how you say it; people have such a prejudice about it. If you start writing songs about Jesus you know no one is going to listen to you. Obviously, I do believe in Jesus, but I am not stupid."
Still, Jesus does appear on the album, just not by name, in the second of two cover songs. The first is Curtis Mayfield's "We People Who Are Darker than Blue." The second is Jesus Christ Superstar's "I Don't Know How to Love Him." It's a remarkable inclusion, not only because of its implicit confession, but also because its closing line, "He scares me so," provides a counterbalance to "Out of the Depths," where she sings, "I've heard religion say you're to be feared, but I don't buy into everything I hear."
Jesus, or at least Christian theology, also appears in Theology's first track, "Something Beautiful" — "You give life through blood, blood, blood, blood, blood, oh blood." The song provides a kind of introduction to the rest of the album:
I wanna make something
So lovely for U
'Cause I promised that's what I'd do for U
With the Bible I stole
I know you U forgave my soul
Because such was my need on a chronic Christmas Eve
The song then transitions into several passages from Jeremiah:
They dress the wounds of my poor people
As though they're nothing
Saying 'peace, peace'
When there's no peace
Now can a bride forget her jewels?
Or a maid her ornaments?
Yet my people forgotten me
It's not the kind of thing you hear on a typical Christian album, even one focusing on Scripture. Nor is it the kind of verse you hear taken seriously in liberal pulpits. O'Connor told Christianity Today sister publication Christian Music Today, "I don't think God judges anybody," but her music specifically says otherwise. The songs here are full of both the pain of sin and forgiveness from it.
O'Connor says Jeremiah is her favorite book of the Bible—not usually something said by those who believe God doesn't judge. Still, she knows the message of Jeremiah and the prophets is not "God will hunt you down," but "God is coming for you."
"I hope this record would make someone think that perhaps God is not an angry, punishing, warmaking God and is in fact a gentle and compassionate God who actually is upset at the loss of us," she said.
In the end, because it is so drenched in Scripture, Theology offers anything but a tragic God. It offers an active God who is tearing down kingdoms to bring people to him. He seems to be chasing Sinead O'Connor down, too.
"I adore U … and your journey toward me," she sings.
Related Elsewhere:
Selections from Theology are available from O'Connor's MySpace page and official site.
Christian Music Today, a Christianity Today sister publication, has an interview with O'Connor and a review of Theology.
YouTube has many videos from the album, including "Something Beautiful."
Theology can be purchased at Amazon.com and other retailers.
Browse All Music Reviews By: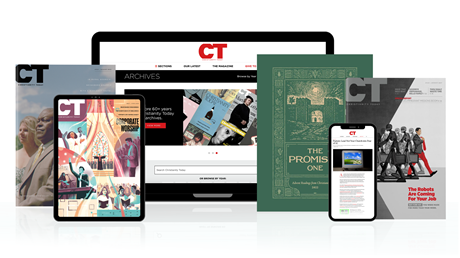 Annual & Monthly subscriptions available.
Print & Digital Issues of CT magazine
Complete access to every article on ChristianityToday.com
Unlimited access to 65+ years of CT's online archives
Member-only special issues
Subscribe
Sinéad O'Connor's Theology and 'Theology'
Sinéad O'Connor's Theology and 'Theology'