true
There's irony about Hollywood remakes of old classic kids' shows, movies or books. As they try to leverage the nostalgia of adults raised on the classic, they also try to pull in kids of today. But what works for those fans of yesteryear often won't satisfy today's kids. And what satisfies the new generation won't always give adults that same feeling they remember. Can a movie remake ever truly satisfy the old fans while pulling in new ones?
After seeing the commercials for Underdog, I was quite certain that the live action re-make of my beloved childhood memories was going to be a total, embarrassing and gut-wrenching train wreck. It seemed as if they destroyed the old show and watered it down to be My Flying Pet Dog.
When I attended an afternoon show dominated by 7-year-olds at a birthday party, I was able to compare how they responded to what I, a nostalgia-craving 30-year-old, thought.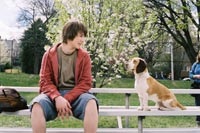 It wasn't the train wreck I expected. The kids sat still for 84-minutes, their eyes glued to the action. And I discovered that for being a formulaic kids' flick, I wasn't annoyed. It wasn't just My Flying Pet Dog, but did have many fun tips-of-the-hat to the old show: Underdog's penchant for rhyming; Simon Barsinister's trademark line, "Simon says"; his bleach blonde thug, Cad; and the goofy white-domed mayor.
However, neither the kids nor I laughed out loud very often. We found little to get too excited about. There was nothing here we haven't seen in other kids' flicks. There are surely far better kids' movies about dogs, and far better kids' adventures with superpowers. And for "old" fans, the movie is a related but different Underdog.
The newly conceived origin story for Underdog is pretty much the story of Spider-Man, but with less webs and more fur—and, well, more poop jokes too. It goes like this: a young, unassuming geek is involved in a bizarre science experiment gone wrong that gradually begins to give him powers he doesn't understand. Soon, he has to decide to use these new powers to help the helpless.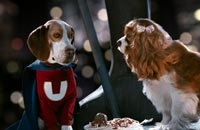 In this canine version, Underdog (voiced by Jason Lee) starts as a bumbling police dog who just can't do the job right. This beagle's nose doesn't have what it takes to sniff out crime. He's bullied by the cooler, tougher dogs. But then, he's kidnapped by the sinister scientist Simon Barsinister (Peter Dinklage) for his DNA experiments. Things go awry. The pup gets away from Simon and his henchman Cad (Patrick Warburton). In the process of escaping, the dog is splashed by several strange DNA potions lying around in uncovered beakers. Apparently, that's enough to instantly make him super-strong and super-fast.
Soon, the homeless puppy is found by an ex-cop, Dan Unger (James Belushi), who takes him home for his son, Jack (Alex Neuberger), and names him "Shoeshine" for his knack for licking shoes. As Shoeshine grows to love having a home and a family, he discovers new gifts: he can talk and fly. At Jack's encouragement, Shoeshine begins helping the people of the city under a new name: Underdog.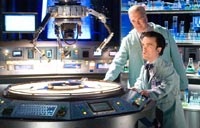 In the old cartoon, humans and dogs and wolves (remember the gangster bad guy, Riff Raff?) all walked and talked and lived together. Shoeshine was a shoeshine boy and Polly Purebread was a popular news reporter. Now, Shoeshine and Polly are dogs on leashes with owners and water bowls. This makes Underdog into yet another dog movie about a pet with amazing abilities who loves his human owner (Air Bud, etc). And as such, it's just average family entertainment with the normal messages: friendship, unconditional love, family, and believing in yourself.
There are some nice moments. Jack teaches Shoeshine what it means to be an underdog who rises above the odds and your own self-doubt. Underdog deters Simon's attack dogs by helping them realize their owner doesn't love them ("Has he ever scratched your belly?"). And the movie ends with the affirmation that, "Everyday men and women—and even dogs—rise up to be heroes. These are the heroes we all have inside us."
However, the filmmakers apparently couldn't pass up the opportunity for low-brow doggy humor. There are jokes about going the bathroom, eating vomit and sniffing rear ends. An adoring girl dog says that if she got time with Underdog, "no cold hose could break that up." There's also one scene when Shoeshine comes home the morning after an all-night date with Polly and tells Jack, "I don't sniff and tell."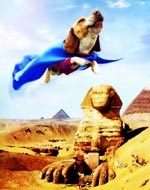 I can't imagine the old Underdog doing that. (Or talking about poop either, actually.) But this isn't the same old Underdog. Voiced by Jason Lee, he has more sarcasm and attitude. He is humble in as far as being a reluctant hero, but he's not that upright, noble do-gooder who's also lovable and endearing. Besides that, I'm not sure Underdog feels right as a real dog on all fours. It's just not the same. Neither is Simon Barsinister. The funny thing about Dinklage's portrayal of Simon is that he doesn't look at all like the old, cranky, sneering Simon—and seemingly doesn't try to act like him either. While Simon and Underdog are  contemporary revisions, Cad is perfectly translated by Warburton just acting like he always does (as The Tick or Seinfield's Puddy.)
In the end, Underdog is an average movie for kids, who will be moderately entertained. Adults who love the old Underdog will enjoy some moments (like the updated rocking theme song), but if they're not taking kids, it's not really worth going just for an Underdog fix. You're better off watching old shows on YouTube.
Talk About It
Discussion starters
What does it mean to be an underdog? Read the story of David and Goliath. Who was the underdog there? What did David have that Goliath didn't?
As a police dog, Shoeshine made mistakes. Why did those mistakes make him think he couldn't be a hero? What mistakes or weaknesses of yours make you think you can't be a hero?
When Shoeshine says that special powers don't make him a hero, Jack says what matters is how he uses them. What does that mean to you? What would you do with super powers?
How does Underdog make you want to treat your pet? Why?
The Family Corner
For parents to consider
Underdog is rated PG for rude humor, mild language and action. The real concern for parents is the "rude humor"—it's not constant, but there are several references to poop, vomit and sniffing rear ends. Underdog even goes on an all-night date. The language is limited to "damn." Some parts could be scary for young ones, but it's average for a kids' adventure (unless children will be disturbed by dogs in trouble or scary, intimidating dogs).
Copyright © 2007 Christianity Today. Click for reprint information.
What other Christian critics are saying: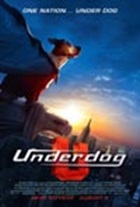 Browse All Movie Reviews By: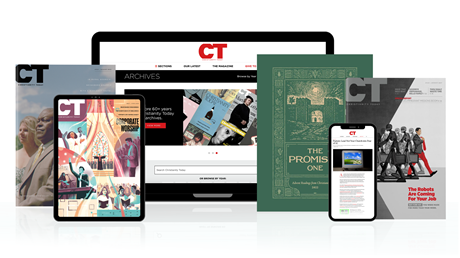 Annual & Monthly subscriptions available.
Print & Digital Issues of CT magazine
Complete access to every article on ChristianityToday.com
Unlimited access to 65+ years of CT's online archives
Member-only special issues
Subscribe
Underdog
Underdog