true
Calvin College graduate Geert Heetebrij made a quirky-but-wonderful indie film a few years ago called A Foreign Affair, starring Emily Mortimer and Tim Blake Nelson. The movie never hit it big, but critics (two thumbs up from Ebert & Roeper!) and audiences loved it.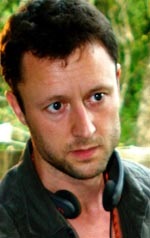 We interviewed Heetebrij about the film at the time, but hadn't heard about him—or from him—again till recently, when he and old friend Helmut Schleppi wrapped up a new movie called The Interior.
The film—written/created by Heetebrij and directed by Schleppi—is about new Christian missionaries embarking on their journey in a South American jungle.
It's like no film that's ever been done before: They put out a casting call on YouTube, and received hundreds of video auditions, ultimately narrowing it down to the four lead roles—the young missionary couple new on the field, and an older missionary couple that is, uhh, pretty weird and creepy. The film is now being released online in episodes over the course of about four months—playing out episodically like a TV series, but the end result will be about a 90-minute film available for purchase on DVD this fall or winter.
Heetebrij took out a second mortgage on his home—with his wife's blessings—to fund the project, which was filmed in the jungles of Panama. We caught up with the writer recently for an e-mail interview to learn more about the project.
How/where/when did the idea for The Interior come about?
Geert Heetebrij: One day early last year, Helmut and I were shooting the breeze, when he shared some anecdotes from his upbringing as a missionary kid in the jungle in Suriname, really intriguing, and I joked that it was a crime that he had never done anything with all of that. He started sending anecdotes, characters, ideas, for days on end. That triggered what would later become The Interior. Obviously, there were stories in those woods …
Why did you want to make a film about missions/missionaries?
Heetebrij: I've always been fascinated by jungle missions, even as a kid—the nerve of these people to pick up and go. Talk about a leap of faith—mentally, physically, spiritually; everything about it is extreme. And there's a treasure trove of relatively untapped material there. We're especially interested in the stuff that missionaries don't write home about—the quiet struggles, daily life. We're interested in the diaries more than in the letters to supporters.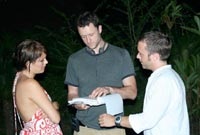 How would you describe the plot synopsis in just a few sentences?
Heetebrij: We see it as Little House on the Prairie meets Sin City. It's about a young couple that feels called to become missionaries in the rainforest. But while they expect to live nearer to God in nature, they instead find themselves in a land of gold diggers, prostitutes, and voodoo.
How many episodes in all, and how long will the finished film be?
Heetebrij: We're planning 12 weekly episodes, with every month a grouping of the previous four episodes combined, so we should have all of them online in a time span of about four months. The final film will be cut differently, and will also be longer than all the episodes combined; it will be a little under 1½ hours in length.
How did the online concept come about?
Heetebrij: It was a classic case of expanding vision. Originally, we wanted to find and tell a unique story. We thought the concept would lend itself well as a series, and we pitched it to almost all of the networks. They all turned us down ("too dark"; "too out there"; "not for us"). Then we thought about doing this ourselves, as a feature. We expanded the pilot script into a feature script, and meanwhile, started thinking about distribution. That's where the Internet came in.
Nowadays, anyone with a fast connection can be reached. Worldwide. You don't need a middleman to get to people anymore. You can approach a lot of folks directly.
The website isn't just about the film anymore; the interactivity, the ability for fans to communicate in the forums on the site, all of it is part of this new distribution approach.
We are building The Interior community. As it increases in size, we are becoming interesting to advertisers. And as that builds, the website should become a platform for more films, a self-sustaining hub for these kind of stories, documentaries, all kinds of offshoots that are a "fit." You name it. The vision is still expanding.
Were you skeptical about the online audition process?
Heetebrij: We figured, if we were going to the film on the Internet, why not draw our cast from the Internet, too? Who knew what hidden talent we might find? We tested the waters by creating a simple The Interior "storefront" site, directing actors to YouTube where they could upload their audition clips.
The casting was a bit of a gamble because what if we would only draw amateurs, whereas real talent would feel a YouTube audition would be below them? There were lots of questions, but that all resolved itself. We ended up with an extraordinary cast—including Hanna Verboom, Christian Badami, Whitt Brantley, and Philece Sampler. 
The response was overwhelming. We got thousands of emails from actors, and hundreds of audition clips were posted on YouTube, coming in from all over the planet. We were approached by Reuters and The Wall Street Journal over our approach because this was new; no one had ever casted a feature/drama series like this.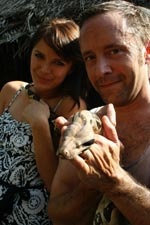 Your online bio says that 2006 was "the year of letting go." Letting go of what?
Heetebrij: Of common sense. During the summer of 2005, I was working nights. My wife was pregnant with our fourth child. I was hardly making ends meet, and I also knew I wouldn't be able to work nights anymore with a new baby in the house. I was a worried man.
Then, shortly before our daughter was born, out of the blue, a European video game company approached me to write a story for an adventure video game. I hadn't written anything in years, but they just came to me. I accepted, and during the months after the baby was born, I not only worked from home, doing something I loved, we also had enough income. Everything about the assignment, including the timing, had been perfect. Could it be … a Sign? If it was, it'd be a first for me, because I'm not given to that kind of theology. But what if it was? A nudge for me to just stop worrying my life away with dead-end side jobs and start pursuing writing, and that we'd be taken care of.
You took out a home equity loan to fund The Interior?
Heetebrij: The one thing that's consistently done well financially for us was our house. Southern California homes had appreciated in value by leaps and bounds. I had used part of that for making A Foreign Affair.
I began to see writing as my calling. My wife was onboard. We took out another home equity line, and I started writing a supernatural thriller. After three months, the first draft was finished. I didn't like it. Around that time, Helmut and I had that conversation that triggered our new collaboration. I shelved the supernatural thriller, and in May [2006] we flew to Suriname [where Schleppi grew up, and where Heetebrij could get a "feel" for jungle life]. We came back out with the idea for The Interior. At the end of July we had our pilot script.
How are you making any money off of this?
Heetebrij: We're not making any money yet. Right now, we're building the member base of The Interior community, and the way we're doing that is with engaging stories, fresh content, and interactivity. The goal is to make it financially self-sustaining so we can continue this adventure long term. At the moment, we're looking for a sponsor that will fit The Interior brand.
Any interesting stories from the set?
Heetebrij: The black scorpion in the dressing room; the crocodiles in the pond adjacent to our set; the gigantic spider on the ceiling during the filming of the outhouse scene. There were a lot of critters. No one saw more of them than Gary, our soundman. He actually looked like a leper from all the mosquito bites; none of us had ever seen anything like it. After a doctor's visit, Gary decided to tough it out, though. More of that can be seen in the videos section on our website.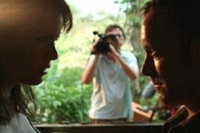 Would you consider this a "Christian" movie? And if it were to get an MPAA rating, what would it be?
Heetebrij: I wouldn't label it as such because it might give the idea that this is a movie only for Christians, and it's not. It is a movie about Christians. We set out to tell a story that we feel passionate about. We try very hard to be authentic. We're not sugarcoating their journey of faith, and we include their moments of despair, because those are the kinds of moments where God's power shines through. Hopefully, the story will have universal appeal and will entertain viewers from any background. So far, if the members' comments on the site are any guide, The Interior is succeeding in doing just that.
And my guess is that an MPAA rating would be PG-13.
How has your own faith informed the process of making this film, and in "reverse," how has the process of making this film affected your faith?
Heetebrij: The making of The Interior became what the story is about. Since our approach was so new, it took a lot of leaps of faith. These missionaries in the story feel called. But are they? Is there really anything special about what they're doing, or have they simply projected a divine calling on personal ambition? These are questions that I struggled with on a daily basis while my cash was running out. What if I had made all this up, and I was dragging my family down with me in this crazy project?
There were sleepless nights. Home equity only goes so far. But what's also true is that so far, every leap we have taken in this project has been met by solid ground. Talented Hollywood professionals have come alongside and carried this project onward to where it is today. I guess if I'm learning anything here, it's to stop worrying and press onward.
What's next for you and/or Helmut?
Heetebrij: We recently posted an open casting call for Season 2 of The Interior. We intend to shoot The Interior II next year. Our vision is also to use the website as a platform for other productions that would resonate with The Interior community.
For more information on Heetebrij and The Interior, go to the official website.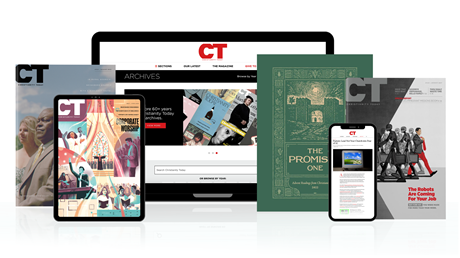 Annual & Monthly subscriptions available.
Print & Digital Issues of CT magazine
Complete access to every article on ChristianityToday.com
Unlimited access to 65+ years of CT's online archives
Member-only special issues
Subscribe
Little House Meets Sin City
Little House Meets Sin City