Few cases in life or in the Bible pose the problem of what seems to be innocent—and therefore unmerited—suffering more strikingly than the biblical depiction of Job. When Job's life is held up against what Psalm 1 and the book of Proverbs teach about the consequences of righteous and unrighteous living, something seems out of whack. Where did Job's three friends (Eliphaz the Temanite, Bildad the Shuhite and Zophar the Naamathite), and Job himself, go so wrong as to call forth God's reprimand at the end of the book?
The prologue to the Book of Job is critical in beginning to answer this question. Satan is given permission to see if Job's piety would hold firm (as God had announced to Satan it would) if Job were assaulted and stripped of his possessions, family, and his health. Job, of course, was unaware of all of this. In effect, it was not Job but God himself who was on trial. Satan's charge was that Job, and all righteous people like him, served God because he blessed them so generously. Job's first response was: "The LORD gave and the LORD has taken away; may the name of the LORD be blessed (Job 1:21b). After Satan tested Job in the area of his health, Job still responded magnificently: "Shall we accept good from God and not trouble?" (Job 2:10b).
Nevertheless, Job's three friends pressed the case against Job, contending that suffering was the result of sin in Job's life. Their arguments went as follows:
Eliphaz: "Consider now: Who, being innocent, has ever perished? Where were the upright ever destroyed?" (Job 4:7).
Bildad: "Does God pervert justice? Does the Almighty pervert what is right?" (Job 8:3).
Zophar: "Yet if you devote your heart to [the LORD] and stretch out your hands to him, if you will put away the sin that is in your hand and allow no evil to dwell in your tent, then you will lift up your face without shame … But the eyes of the wicked will fail … Their hope will become a dying gasp" (Job 11: 13-20).
Their reasoning is that Job must have sinned and thus deserved all the suffering and discomfort, because God is a fair judge and rewarder of all that is right. Their case is a reductionistic one: Doing what is right brings prosperity, while sin and wickedness routinely bring suffering and misfortune. Perhaps these "friends" were thinking of texts such as:
"Wicked men are overthrown and are no more, but the house of the righteous stands firm" (Prov. 12:7); or
"No harm befalls the righteous, but the wicked have their fill of trouble" (Prov. 12:21); or
"Blessed is the person who does not walk in the counsel of the wicked or stand in the way of sinners or sit in the seat of mockers … He is like a tree planted by streams of water … Whatever he does prospers" (Ps 1:1-3). (Also see Psalm 125).
Notice that the citations from Proverbs are cast into proverbial forms. A proverb is not the same as a promise. While a proverb gathers the majority of instances into a memorable saying that has a bit of saltiness to it, it cannot be universalized, for it does not take up the exceptions at that point. For example, "Look before you leap" is good advice for those contemplating a quick marriage, but "She who hesitates is lost" can be just as sound—and more personal—in the same situation. In the same manner, the psalmists trace the main paths of what happens to those who trust the Lord, but there is no inference or commitment in the text that says those same persons will never face suffering, evil, or testing as Job did. Instead, "Those the Lord loves he chastens" (Heb. 12:5-6).
Job refused to buy the three "comforters'" analysis of his situation, because they traced only one thread of God's method of operating: his judgment for sin. But what happens when someone suffers because God chooses that person to illustrate his grace and glory? Job forthrightly affirmed: "I have not denied the words of the Holy One" (Job 6:10c); "I have kept to [God's] way without turning aside" (Job 23:11) and "my lips will not speak wickedness and my tongue will not utter deceit" (Job 27: 4). Consequently, Job continued to make his appeal to God, whom he called his "umpire," "arbitrator," or "mediator" (Job 9:33), or his "witness" who was in heaven and would plead his case (Job 16:21) and the One he would see in his flesh after his body was resurrected (Job 19:26b).
So what did God say to Job and his friends' banter about the justification for God's ways? Surprisingly enough, God makes no charge against Job in all of this. In fact, God had already declared Job "blameless and upright" (Job 1:1); that is why he had been chosen for this test. That did not mean, however, that Job was absolutely without fault. Job did acknowledge his sin (Job 7:20-21; 13:26), but claimed he was without duplicity, hypocrisy, or pretense and that he loved and served God with his whole heart. More significantly, the epilogue of Job 42:8 indicts Job's three friends (but not Elihu, who argued that Job's suffering was instructive) for wrongly applying to Job the doctrine of retributive suffering. "You have not spoken of me what is right as my servant Job has," concluded the Lord.
Where then did Job's three friends go wrong? They reduced all evil to "retributive suffering," which is caused by sin and disobedience to God. But there are seven other types of suffering mentioned in the Bible: educational or disciplinary suffering as in Proverbs 3:11 or Hebrews 12:5-6; vicarious suffering, as in the case of our Lord's death on the cross; empathetic suffering, where one person's grief affects many others, as Isaiah 63:9 illustrates; evidential or testimonial suffering, as in the first two chapters of Job; doxological suffering for the glory of God, as in the man born blind in John 9; revelational suffering, as in the case of the prophet Hosea's wife abandoning him; and apocalyptic or eschatological suffering that will come at the end of this age.
While we cannot deny that the issue of suffering in the lives of God's people, such as Job, still contains a good deal of mystery, it is just as much a horrible misconception to declare that suffering is God's normal route for every believer as it is to declare that God's goodness means life will always result in prosperity and riches for those who serve the Lord.
Our decision must be to follow God and trust his justice, wisdom, and goodness whether we are in the throes of suffering or enjoying good health and blessing. Such a decision would surely cut the ground out from under Satan in the spiritual warfare of our day and age. Thus, the law of God does not contradict the Psalms, the historical writings, prophets, or the wisdom books. Believers will continue to suffer, but it will always be under the permission or direction of a merciful and wise heavenly Father who works for our good in the way of the truth and fairness of the gospel.
Walter C. Kaiser, Jr. is president emeritus and Colman M. Mockler Distinguished Professor of Old Testament at Gordon-Conwell Theological Seminary.
Related Elsewhere:
Author's note: The set of eight kinds of suffering in the Old Testament we described as early as 1982 in my book A Biblical Approach to Personal Suffering, now reprinted in Grief and Pain in the Plan of God: Christian Assurance and the Message of Lamentations (p 127—136).
Walter Kaiser's chapel sermons and a list of his books are available from Gordon-Conwell seminary.
Recent articles about the Bible include:
Article continues below
Eat, Drink, and Be Hungry | It's emptiness, not fullness, that Jesus blesses. (August 17, 2007)
What Did Paul Really Mean? | 'New perspective' scholars argue that we need, well, a new perspective on justification by faith. (August 10, 2007)
Blessed Are the Meek | Quotations to stir heart and mind. (August 7, 2007)
Spoiler Alert | The Harry Potter craze suggests we're not telling the Christian story right. (August 2, 2007)
Harry Potter 7 Is Matthew 6 | The young wizard may not have read the Bible, but someone else certainly did. (August 2, 2007)
Blessed Are Those Who Mourn | Quotations to stir heart and mind. (July 17, 2007)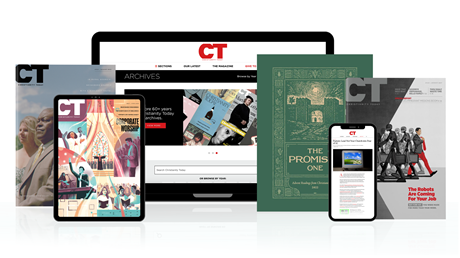 Annual & Monthly subscriptions available.
Print & Digital Issues of CT magazine
Complete access to every article on ChristianityToday.com
Unlimited access to 65+ years of CT's online archives
Member-only special issues
Subscribe
Read These Next
Trending

American Christians Should Stand with Israel under Attack

While we pray for peace, we need moral clarity about this war.

From the Magazine

I Studied Christianity with the Hope of Debunking It

A decade later, I became a Christian.

Editor's Pick

Don't Miss These African Christmas Hits

Jam out this season to highlife, Afrobeats, jazz, a cappella, R & B, rap, dance, and hip-hop artists from Nigeria, South Africa, and more.
Reductionist Justice
Reductionist Justice