History is a curious thing. A capable historian can make or break the legacy of a leading figure or an entire nation. A determined scholar can mold names and dates into a creative narrative—which may or may not accurately reflect reality.
Few American leaders have suffered the scorn of history like William Jennings Bryan. The "Great Commoner" was controversial and frequently unsuccessful in his own day (he lost three campaigns for President as the Democratic nominee). But Bryan has fared even worse in death. The 1960 movie Inherit the Wind cemented Bryan's legacy as the blustering bigot of the 1925 Scopes evolution trial. [See Christian HistoryIssue #55: The Monkey Trial and the Rise of Fundamentalism] Few have dared to suggest his significance since.
Georgetown University historian Michael Kazin, author of A Godly Hero: The Life of Williams Jennings Bryan (Knopf, 2006), knows that Bryan's association with fundamentalism makes him tough to sell. Publishers Weekly has already warned, "Kazin attempts a revisionist portrait of Bryan, whom scholars have long dismissed as a rabid white supremacist, bullying fundamentalist, and braying pacifist/isolationist. But Kazin errs in downplaying such popular characterizations of Bryan as a closed-minded Bible-thumper and bigot. … In sum, Kazin's heroic Bryan is simply not to be believed."
Surely Kazin, an expert on populism and the Progressive Era, expected such opposition when he stated the book's intent. "I wrote this book, in part, to gain a measure of respect for Bryan and his people," Kazin writes in his first chapter, "The Romance of Jefferson and Jesus." "I would like to help 'rescue' them from what E.P. Thompson, the great historian and activist, called 'the enormous condescension of posterity.'"
In order to achieve a more balanced portrait, Kazin sifted through letters written to Bryan by his many ardent supporters. Indeed, these fans saw in Bryan a godly hero whose passionate Christian faith motivated him to denounce industry barons and the politicians who aided them. Bryan will need more than Kazin's book to rehabilitate his image, but it's a great start. Historians, political scientists, and especially evangelicals can no longer afford to ignore this Christian leader who melded his faith and politics.
Hopeful Moralism
Bryan cast a long shadow on American politics for nearly 20 years, from his first presidential run in 1896 to his brief tenure as Woodrow Wilson's secretary of state until 1915. He rallied the masses against monopolies before Theodore Roosevelt took up the cause. (Bryan stated a democratic, Christian case: "There can be no good monopoly in private hands until the Almighty sends us angels to preside over the monopoly.") He advocated three of the most significant reforms of the early 20th century—direct election of senators, the federal income tax, and women's suffrage. And he argued for federal welfare before Franklin Roosevelt unveiled the New Deal. Bryan believed Christian faith compelled him to support these policies, which he argued would uplift the downtrodden.
As told by Kazin, Bryan's America seems at once distant, with some antiquated debates (free silver vs. the gold standard), yet strangely relevant with other familiar problems (divide between the haves and have-nots). "There are those who believe that, if you will only legislate to make the well-to-do prosperous, their prosperity will leak through on those below," Bryan bellowed in 1896, though he could have been speaking in 2006. "The Democratic idea, however, has been that if you legislate to make the masses prosperous, their prosperity will find its way up through every class which rests upon them."
Yet even in his own time Bryan seemed stuck in a different, simpler world. He fought alongside warriors for the Social Gospel, but his activism harkened back to an earlier era of conservative Protestant domination. Thus Bryan's Christian moralism didn't impress his era's progressive elites any more than it would today. Bryan also had a hard time wooing evangelicals who did not resonate with his sermons against plutocrats. Then as now, many middle-class evangelicals—especially in the Midwest—tended toward the Republican Party. D.L Moody, for instance, admired Bryan but backed William McKinley for President in 1896, Bryan's first race. In another case, Kazin notes that many ministers wrote Bryan to complain about his landmark "Cross of Gold" speech for free silver to the Democratic convention in 1896. They considered his rousing conclusion to be sacrilege: "You shall not press down upon the brow of labor this crown of thorns, you shall not crucify mankind upon a cross of gold." As he finished, Bryan posed with his arms straight out, as if he were hanging on a cross.
Significant if Complicated
Kazin sprinkles his prose with religious rhetoric, but theological analysis is not his strength. He disparages Calvinists like the Puritans for their "grim doctrines" and lauds the optimistic theology of the Social Gospel. Kazin says that Bryan did not worry much about sin. Yet Bryan routinely railed against all sorts of individual and collective sins, from alcohol abuse to economic injustice. ("It is not necessary that all Christian people shall sanction the Rockefeller method of making money merely because Rockefeller prays," Bryan said.) Kazin also argues that Bryan was more of a moralist, like Tolstoy, than an orthodox evangelical—that he "burned only and always to see religion heal the world." Yet Bryan spent the last days of his life defending the veracity of Scripture—the most famous occasion being the Scopes trial. Bryan's concern for his Presbyterian Church's theological drift from orthodoxy to liberalism also prompted him to run for moderator. (He lost, of course.)
Despite this confusion, Kazin has produced a long-overdue and worthy portrait of this important evangelical politician. Hagiography is the great temptation of a biographer who urges readers to respect his subject. However, Kazin does not portray Bryan as a saint. For example, Bryan never condemned the racism that delivered reliable electoral support from the Solid South of Jim Crow. Bryan did not fan those racist flames, but his tacit support for segregation was "his one great flaw," according to Kazin.
Thankfully, Kazin can honestly recount Bryan's flaws and still present an otherwise heroic life of ongoing importance. Who knows if Kazin's work will save Bryan from the "condescension of posterity." At the very least, a new generation must now confront this significant if complicated Christian leader.
Related Elsewhere:
A Godly Hero: The Life of Williams Jennings Bryan is available at Amazon.com and other book retailers.
Christian History'sIssue #55: The Monkey Trial and the Rise of Fundamentalism looked at Bryan's life and influence.
More Christian history, including a list of events that occurred this week in the church's past, is available at ChristianHistory.net. Subscriptions to the quarterly print magazine Christian History & Biography are also available.
Previous Christian History Corners include:
Martyrs to the Spear | Fifty years after five missionaries were murdered in Ecuador, their story still inspires (Mar. 10, 2006)
Physicians of the Soul | J. I. Packer discusses the English Puritans, their quest for holiness, and why they are still worth remembering. (Feb. 24, 2006)
Blessing the Church with its History | Douglas Sweeney argues for an evangelical movement that welcomes diversity and repents of its blind spots. (Feb. 10, 2006)
Article continues below
Erasmus's Revolutionary 'Study Bible' | The spiritual father of so many English Reformers died at the hands of the church he refused to leave. (Jan. 13, 2006)
Campus Ministry Cambridge Style | The roots of InterVarsity and other evangelical college clubs (Jan. 6, 2006)
Dorothy Sayers: "The Dogma Is the Drama" | An interview with Barbara Reynolds. (Dec. 16, 2005)
Sharing Stories from the Heart | The lessons of history are fair game for use today. (Dec. 9, 2005)
Eat, Drink, and Relax | Think the Pilgrims would frown on today's football-tossing, turkey-gobbling Thanksgiving festivities? Maybe not. (Nov. 18, 2005)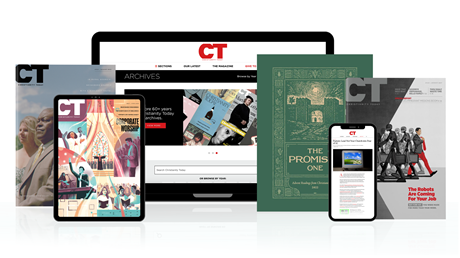 Annual & Monthly subscriptions available.
Print & Digital Issues of CT magazine
Complete access to every article on ChristianityToday.com
Unlimited access to 65+ years of CT's online archives
Member-only special issues
Subscribe
A Complicated, Consequential Leader
A Complicated, Consequential Leader