Today's Top Five
1. Out of the top 25
After seven years of service, Michael Gerson is resigning as President Bush's speechwriter. Gerson, who was named one of Time's 25 most influential evangelicals, wrote some of the president's most remembered phrases, such as "armies of compassion" and "axis of evil."
The Washington Post reports that Gerson
was a formulator of the Bush doctrine making the spread of democracy the fundamental goal of U.S. foreign policy, a policy hailed as revolutionary by some and criticized as unrealistic by others. He led a personal crusade to make unprecedented multibillion-dollar investments in fighting AIDS, malaria and poverty around the globe. He became one of the few voices pressing for a more aggressive policy to stop genocide in Darfur, even as critics complained of U.S. inaction.
Chief of Staff Joshua B. Bolten said Gerson is "one of the few people who is irreplaceable. He's a policy provoker, a grand strategist and a conscience who in many cases has not only articulated but reflected the president's heart." The Post writes,
Gerson wrote or co-wrote every major speech Bush gave since announcing his candidacy, including convention and inaugural addresses and State of the Union messages. He crafted the two speeches after the Sept. 11, 2001, attacks that will probably be recorded as Bush's signal moments of national leadership: the service at the Washington National Cathedral and the address to Congress.
He crafted the State of the Union language that labeled Iraq, Iran and North Korea an "axis of evil" and the inaugural address that committed the United States to "ending tyranny in our world." He came up with the phrase "soft bigotry of low expectations" to focus on minority education problems.
The New York Times reports that Gerson's favorite phrase was written for Bush's address at the Washington National Cathedral: "Grief and tragedy and hatred are only for a time. Goodness, remembrance, and love have no end. And the Lord of life holds all who die, and all who mourn."
2. Passion II
Sony is working on a sort of sequel to The Passion of the Christ. The movie will depict Christ's resurrection and the following 40 days. Resurrection's scriptwriter is Lionel Chetwynd, a producer and director whose credits include The Hanoi Hilton and the Emmy-nominated TV movie Ike: Countdown to D-Day.
The Hollywood Reporter writes, "In mining biblical material, those behind the project hope to tap into the same vein that so richly rewarded Mel Gibson for his self-funded The Passion of the Christ. The 2004 release earned $612 million in worldwide box office receipts, making it one of the 30 most-popular films of all time."
Unfortunately, Sony shot themselves in the foot. "Set to produce is Tim LaHaye, co-author of the best-selling Left Behind series of books. A popular minister and frequent TV news pundit, Resurrection will mark LaHaye's first foray into mainstream filmmaking," according to The Reporter.
Terry Mattingly at Get Religion has insightful analysis and comments.
3. Episcopalians continue dialogue
ECUSA is meeting this week and next, and one major piece of their agenda is to craft a statement in response to 2004's Windsor Report, which asked for an apology for consecrating a gay bishop, a moratorium on future consecrations, and a moratorium on same-sex marriages.
It doesn't look like that's going to happen. "The main proposal before the convention does not include a moratorium. Instead, it asks dioceses to 'exercise very considerable caution' in electing leaders. Delegates can revise or reject the legislation," the Associated Press reports.
"Will it actually be sufficient to secure this impaired friendship? Personally, I'm doubtful," said archbishop of York John Sentamu, the second-highest ranking cleric in the Church of England. "Windsor wanted space to be creative, and I'm not sure that these resolutions have created the space."
4. Non-discrimination vs. religious freedom
For an example of last week's comments on the conflict between religious freedom and gay marriage, see this story in the LA Times. Two doctors are being sued for not providing artificial insemination to a lesbian woman. The suit is now at the California Supreme Court.
The appeals court ruled "the doctors could use religious freedom as a defense against her lawsuit," writes the LA Times. "The doctors say their refusal was based on the fact that Benitez was unmarried, not because she's a lesbian."
If California were to ever legalize same-sex marriage, it's unlikely these doctors could refuse.
5. Write a check, close your eyes
Donors do not spend their charity money wisely, studies say. Rather, donors typically pay little attention to the quality of the charity or church they are giving to. They don't behave like shoppers looking for the best deal; instead they give their money, don't look at results, and feel good about themselves.
Economics professor Tyler Cowen writes in The New York Times,
Donors often give to charities for reasons of pride. Monitoring a charity means worrying about the wisdom of contributing to that charity. Many donors would instead prefer simply to feel good about their generosity and thus they deceive themselves into thinking that all is going well. Furthermore, many donors seek a sense of affiliation and wish to be a part of large and successful organizations — the "winning team," so to speak. Again, these donors do not focus on how, or if, they actually end up improving the world.
Instead, Cowen writes, donors pay attention to extraneous qualities like the attractiveness of the person asking for money.
This helps explain why Weblog is continually confounded by Christians who give to ministries whose leader says ridiculous things or receives an exorbitant salary, jets, and houses along with jobs for the rest of the family. Not that there's anything wrong with that …
More Articles
Gerson leaves White House | Politics | Homosexuality & same-sex marriage | Life ethics | Education | Catholics & immigration | Catholicism | ECUSA | SBC | Church life | Music | Crime | People | More articles of interest
Bush's favorite author leaving the White House | Top aide Michael Gerson knew just how to address the President (Washington Post)


Bush speechwriter leaves post after 7 yrs. | The man who has been putting words in President Bush's mouth for the past seven years said Wednesday that he is leaving the White House. (Associated Press)


Top Bush policy adviser leaving White House | One of President George W. Bush's top policy advisers and former chief speechwriter, Michael Gerson, is stepping down to pursue other opportunities, a White House spokesman said on Wednesday. (Reuters)


Adviser who shaped Bush's speeches is leaving | Michael Gerson, the White House speechwriter and policy adviser who shaped nearly every major address of George W. Bush's presidency, said Wednesday that he was leaving the administration to pursue new career options. (The New York Times)


Christian conservatives take the culture wars overseas to foreign courts | When a devout Christian man in England was fired in 2002 for refusing to work on Sundays, his case became something of a cause célèbre among British evangelicals. But the money and part of the legal strategy behind Stephen Copsey's latest court appeal comes not from London but from Scottsdale, Ariz., and the Alliance Defense Fund. (U.S. News & World Report)


U.S. must play role in world, Rice says | Secretary of State Condoleezza Rice, addressing 12,000 evangelicals who represent the core of the Bush administration's political base, yesterday sought to counter the stirrings of isolationism in the nation, declaring that the "United States must remain engaged as a leader in events beyond our borders." (Washington Post)


Ala. abortion clinic surrenders license | An abortion clinic surrendered its license Wednesday amid allegations that a woman delivered a nearly full-term stillborn baby after a staff member gave her an abortion-inducing drug without a doctor present. (Associated Press)


Homosexuality & same-sex marriage:
Court to consider oceanside lesbian's rights vs. fertility doctors' religious freedom | The state Supreme Court on Wednesday agreed to hear a lawsuit by a lesbian against two fertility doctors who refused to artificially inseminate her on religious grounds. (Los Angeles Times)


Battle to reverse gay marriage to start with Parliament Hill rally | The ground war to reverse same-sex marriage legislation starts in earnest today when an estimated 200 Christians and two backbench Conservative MPs rally on Parliament Hill in an effort to win over the several dozen politicians who have yet to state their position on the controversial issue. (CanWest News Service)


Gays push Democrats on same-sex marriage | Six states have bans on the issue on the Nov. ballot, which will test party's commitment. (San Francisco Chronicle via Detroit News)


A church names names of gay-marriage foes | A Jacksonville church published the names of Florida residents who signed a petition backing the ballot initiative to ban same-sex marriage. (Miami Herald)


Wealthy go to U.S. to choose baby's sex | The Chinese want boys, and the Canadians want girls. If they have enough money, they come to the United States to choose the sex of their babies. Well-off foreign couples are getting around laws banning sex selection in their home countries by coming to American soil — where it's legal — for medical procedures that can give them the boy, or girl, they want. (Associated Press)


California court asked to speed stem cell research suits | The state attorney general asked a California appellate court Wednesday to expedite lawsuits that have paralyzed the voter-approved $3-billion stem cell research initiative, after plaintiffs confirmed that they will appeal. (Los Angeles Times)


Ky. school board to retain calendar terms | The state school board on Wednesday scrapped a plan to teach students about an alternative to the calendar terms B.C. and A.D., which carry religious overtones. (Associated Press)


Mahony urges U.S. to OK immigrant citizenship bill | Cardinal Roger M. Mahony and several U.S. Catholic bishops called Wednesday for Congress to pass immigration legislation by the end of the year that would include a path to citizenship for undocumented immigrants and create a temporary worker program that protects laborers' rights. (Los Angeles Times)


Bishops urge Congress on immigration | Representatives of the U.S. Conference of Catholic Bishops urged Congress on Wednesday to create a far-reaching program to give the estimated 11 million illegal immigrants in the U.S. a path to citizenship. (Associated Press)


Catholic bishops urge humane immigration law | U.S. Catholic bishops on Wednesday urged the U.S. Congress to resolve differences on immigration reform and seize a "historic moment" to give all of the estimated 12 million illegal immigrants a path to citizenship. (Reuters)


Catholic bishops to debate Mass changes | Roman Catholic bishops are considering the most sweeping changes to the Mass that American parishioners have seen in about four decades. (Associated Press)


A change at the altar | Like boys, girls may assist at mass in Northern Virginia (Washington Post)


Springfield Diocese suing insurers for cost of abuse settlements | Three dozen adults who say they were abused by Roman Catholic priests decades ago are trying to settle their claims with the Springfield Diocese, two years after the church paid $7.5 million to other clergy sex abuse victims. (Associated Press)


SBC:
Southern Baptists refuse to back pullout | There will be no Southern Baptist exodus from the nation's public schools — at least for now. (Associated Press)


Rice wins Baptists' praise, applause | Secretary of State Condoleezza Rice drew many ovations during her talk to the Southern Baptist Convention annual meeting Wednesday, but none so thunderous as when she referred to the war in Iraq and the death last week of Abu Musab al-Zarqawi. (Arkansas Democrat Gazette)


Southern Baptists take anti-alcohol stand | Nonbinding resolution says alcohol a bad mix with laity positions (Charlotte Observer)


Seeking a relevant Christianity | Brian McLaren, an advocate of "emerging churches," urges religious reform (The Oregonian)


Searching for saviors | Protesters warn about the commercialization of the country's churches (The Prague Post)


Turn Left at the Presbyterian Church | A growing number of Presbyterians are engaged in a battle for the future of the Presbyterian Church (USA). Over the past two years, this denomination -- my denomination -- has taken a turn toward radicalism that threatens to tarnish a once-proud institution. At issue is the Presbyterian Church's decision in 2004 "to initiate a process of phased, selective divestment in multinational corporations operating in Israel." The fallout was immediate, painful and damaging. (Wall Street Journal)


Local bands Divine Soldiers, Inhale Exhale join artists, speakers at Christian music festival in Stark | Four official days of music, prayer meetings and speakers all geared toward betterment through Christianity begin Wednesday in Stark County. (Beacon Journal, Ohio)


'Give glory where glory is due' | Backstreet Boy Brian Littrell talks about his solo album, his faith, and why he almost left the music business behind. (Beliefnet)


FFH is a pleasant musical blessing | I know better than to assume I'm not going to like a band before I hear it. (The Chattanoogan)


Tenn. minster's wife pleads not guilty | A minister's wife charged murder in her husband's shooting death pleaded not guilty Wednesday and told a judge she wants to be released on bond. (Associated Press)


Holy Hill cleanup tab is at $15,000 so far | Cleanup of damage at Holy Hill caused by vandals last week will amount to as much as $15,000, and possibly more, the shrine's director said Wednesday. (Milwaukee Journal Sentinel)


On a wing and a prayer | Minister to despots across the globe, evangelist K.A. Paul just needs a few tons of jet fuel--and a safer plane--to keep up God's work (Dallas Observer)


Cerak recovering, family reports | She's had many questions, her sister writes in a blog. (Associated Press)


Teymourian is first non-Muslim player on Iran since '78 | Teymourian is a member of Iran's tiny Armenian minority, part of an Orthodox Christian presence dating back to biblical times. About 200,000 Armenians currently live in Iran, mostly in Tehran and other towns of the northwest. (CBS)


Investing in good deeds without checking the prospectus | Donors to charities, it seems, do not behave rationally. Increasing evidence shows that donors often tolerate high administrative costs, fail to monitor charities and do not insist on measurable results — the opposite of how they act when they invest in the stock market. (The New York Times)


Related Elsewhere:
Suggest links and stories by sending e-mail to weblog@christianitytoday.com
See our past Weblog updates:
June 14 | 13b | 13
June 9 | 8 | 7 | 6
June 2b | 2a | May 31
May 26 | 24
May 19 | 18 | 17
May 11 | 10 | 9 | 8
May 5 | 4 | 3
April 28 | 27b | 27a | 19
Weblog
Launched in 1999, Christianity Today's Weblog was not just one of the first religion-oriented weblogs, but one of the first published by a media organization. (Hence its rather bland title.) Mostly compiled by then-online editor Ted Olsen, Weblog rounded up religion news and opinion pieces from publications around the world. As Christianity Today's website grew, it launched other blogs. Olsen took on management responsibilities, and the Weblog feature as such was mothballed. But CT's efforts to round up important news and opinion from around the web continues, especially on our Gleanings feature.
Ted Olsen is Christianity Today's executive editor. He wrote the magazine's Weblog—a collection of news and opinion articles from mainstream news sources around the world—from 1999 to 2006. In 2004, the magazine launched Weblog in Print, which looks for unexpected connections and trends in articles appearing in the mainstream press. The column was later renamed "Tidings" and ran until 2007.
Previous Weblog Columns: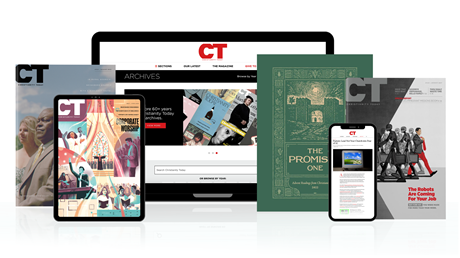 Annual & Monthly subscriptions available.
Print & Digital Issues of CT magazine
Complete access to every article on ChristianityToday.com
Unlimited access to 65+ years of CT's online archives
Member-only special issues
Subscribe
Gerson to Leave White House
Gerson to Leave White House