Who could have guessed that a book written almost 600 years ago by a monk for other monks would become one of the most popular Christian devotionals worldwide, second only to the Bible? Today, The Imitation of Christ is still as much a handbook for Christian growth as it was when it was first published in 1427. The author, a devout Augustinian monk named Thomas à Kempis, couldn't possibly have predicted its far-reaching impact. Here is an excerpt from this classic work.
Imitating Christ and Despising All Vanities on Earth
He who follows Me, walks not in darkness," says the Lord (John 8:12). By these words of Christ we are advised to imitate His life and habits, if we wish to be truly enlightened and free from all blindness of heart. Let our chief effort, therefore, be to study the life of Jesus Christ.
The teaching of Christ is more excellent than all the advice of the saints, and he who has His spirit will find in it a hidden manna. Now, there are many who hear the Gospel often but care little for it because they have not the spirit of Christ. Yet whoever wishes to understand fully the words of Christ must try to pattern his whole life on that of Christ.
What good does it do to speak learnedly about the Trinity if, lacking humility, you displease the Trinity? Indeed it is not learning that makes a man holy and just, but a virtuous life makes him pleasing to God. I would rather feel contrition than know how to define it. For what would it profit us to know the whole Bible by heart and the principles of all the philosophers if we live without grace and the love of God? Vanity of vanities and all is vanity, except to love God and serve Him alone.
This is the greatest wisdom—to seek the kingdom of heaven through contempt of the world. It is vanity, therefore, to seek and trust in riches that perish. It is vanity also to court honor and to be puffed up with pride. It is vanity to follow the lusts of the body and to desire things for which severe punishment later must come. It is vanity to wish for long life and to care little about a well-spent life. It is vanity to be concerned with the present only and not to make provision for things to come. It is vanity to love what passes quickly and not to look ahead where eternal joy abides.
Often recall the proverb: "The eye is not satisfied with seeing nor the ear filled with hearing." Try, moreover, to turn your heart from the love of things visible and bring yourself to things invisible. For they who follow their own evil passions stain their consciences and lose the grace of God.
Having a Humble Opinion of Self
Every man naturally desires knowledge, but what good is knowledge without fear of God? Indeed a humble rustic who serves God is better than a proud intellectual who neglects his soul to study the course of the stars. He who knows himself well becomes mean in his own eyes and is not happy when praised by men.
If I knew all things in the world and had not charity, what would it profit me before God Who will judge me by my deeds?
Shun too great a desire for knowledge, for in it there is much fretting and delusion. Intellectuals like to appear learned and to be called wise. Yet there are many things the knowledge of which does little or no good to the soul, and he who concerns himself about other things than those which lead to salvation is very unwise.
Many words do not satisfy the soul; but a good life eases the mind and a clean conscience inspires great trust in God.
The more you know and the better you understand, the more severely will you be judged, unless your life is also the more holy. Do not be proud, therefore, because of your learning or skill. Rather, fear because of the talent given you. If you think you know many things and understand them well enough, realize at the same time that there is much you do not know. Hence, do not affect wisdom, but admit your ignorance. Why prefer yourself to anyone else when many are more learned, more cultured than you?
If you wish to learn and appreciate something worthwhile, then love to be unknown and considered as nothing. Truly to know and despise self is the best and most perfect counsel. To think of oneself as nothing, and always to think well and highly of others is the best and most perfect wisdom. Wherefore, if you see another sin openly or commit a serious crime, do not consider yourself better, for you do not know how long you can remain in good estate. All men are frail, but you must admit that none is more frail than yourself.
Related Elsewhere:
Read more of The Imitation of Christ online at Christian Classics Ethereal Library, or buy the book.
ChristianHistory.net. Subscriptions to the quarterly print magazine Christian History & Biography are also available.
Previous Christian History Corners include:
How Russia Became Christian | Saturday, Eastern Orthodox and Roman Catholic Christians commemorate the life of the Russian prince Vladimir. (July 14, 2006)
Article continues below
How We Worship | An ambitious new book takes us into the diverse world of Christian worship practices from the early church to today. (june 23, 2006)
Live Longer, Healthier, & Better | The untold benefits of becoming a Christian in the ancient world. (June 9, 2006)
How the Early Christians Worshipped | Originally addressed to the Roman emperor in defense of Christianity, Justin's description gives us a window into what early Christians actually did when they gathered together to baptize, celebrate the Lord's Supper, worship, and build community. (May 26, 2006)
Sweet Charity | The Quakers behind Cadbury chocolate. (April 7, 2006)
How We All Think Like Augustine | Take a mind-blowing journey with the great philosopher-saint in this audio course from the Teaching Company. (March 31, 2006)
Martyrs to the Spear | Fifty years after five missionaries were murdered in Ecuador, their story still inspires (Mar. 10, 2006)
Physicians of the Soul | J. I. Packer discusses the English Puritans, their quest for holiness, and why they are still worth remembering. (Feb. 24, 2006)
Blessing the Church with its History | Douglas Sweeney argues for an evangelical movement that welcomes diversity and repents of its blind spots. (Feb. 10, 2006)
Erasmus's Revolutionary 'Study Bible' | The spiritual father of so many English Reformers died at the hands of the church he refused to leave. (Jan. 13, 2006)
Campus Ministry Cambridge Style | The roots of InterVarsity and other evangelical college clubs (Jan. 6, 2006)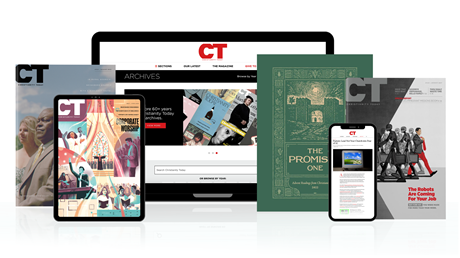 Annual & Monthly subscriptions available.
Print & Digital Issues of CT magazine
Complete access to every article on ChristianityToday.com
Unlimited access to 65+ years of CT's online archives
Member-only special issues
Subscribe
Classic Faith for Modern Times: Thomas à Kempis
Classic Faith for Modern Times: Thomas à Kempis