The Southern Baptists of Texas Convention (SBTC) cut ties with a Baytown, Texas, church January 12 over the church's connections to a ministry designed to welcome homosexuals.
The executive board voted unanimously to disaffiliate Faith Harbour Church, because the church promoted Eklektos on its online blog and allowed it meet in their building, SBTC spokesman Gary Ledbetter told Christianity Today. The board decided that the church's promotion violated the convention's constitutional provision prohibiting churches that affirm, approve, or endorse homosexual behavior.
Eklektos met in Faith Harbour's leased facility for a Christmas worship service December 22.
On its website, Eklektos calls itself a community of Christians "called to welcome and affirm people who are gay, lesbian, bisexual, and transgendered," and "a ministry which affirms people, not lifestyles or ideologies." Eklektos is a Greek word used in the New Testament to mean chosen.
Wendy Bailey, who founded and leads the Eklektos ministry, says the group neither condemns nor condones homosexuality.
"We're not taking a side on the issue," said Bailey, an ordained minister and Presbyterian Church (USA) official who attends Faith Harbour. "We know that among the gay and lesbian community, saying homosexuality is sinful creates a barrier in terms of letting them know that they're really loved by Christ."
Bailey said Eklektos is still in its early stages and that the ministry has not yet determined its final meeting place.
Ledbetter said another Baytown pastor brought the matter to the convention's attention. Members of the SBTC's credentials committee could not resolve differences with Faith Harbour pastor Randy Haney in a December 20 meeting.
While the SBTC has churches in the convention that have ministries to homosexuals, Ledbetter said this ministry is a problem because it is led by someone who does not believe that homosexuality is a sin.
"For a church to affirm a sinful behavior is for that church to conduct a fruitless and deceptive ministry," Ledbetter said. "Regardless of the good intentions of Pastor Haney, the ministry his church has facilitated and that he personally supports is a ministry quite unlikely to confront homosexual behavior as a sin. That stance is contrary to Scripture."
Haney was frustrated with the convention's decision and said he agrees that homosexual behavior is a sin.
"The emphasis is on the people, not on their lifestyle," Haney said. "As long as they don't affirm the lifestyle, I could live with affirming people who are gay, lesbian, bisexual, and transgendered."
Haney, a high school teacher, is the pastor of the four-year-old church, which serves about 30 members. While he will not affiliate the ministry with his church, he plans to personally work with the ministry.
Ledbetter said the door is still open for Faith Harbour to reconcile with the SBTC if the church takes action to cut its associations with Eklektos.
"It's similar to a church discipline situation," Ledbetter said. "There is a hope that this would be a redemptive action and that Faith Harbour would come back. "
Haney said he sees no reason to cut ties with Eklektos.
"I'm not sure what we're reconciling," Haney said. "They've determined that we're affirming the gay lifestyle, and I'll tell anybody and everybody that I don't affirm the gay lifestyle."
The SBTC consists of more than 1,700 churches affiliated with the national Southern Baptist Convention.
Correction: An earlier version of this article incorrectly stated that by losing its affiliation to the Southern Baptists of Texas Convention, Faith Harbour would not be allowed to send delegates to the national Southern Baptist Convention. Although the state convention disaffiliated Faith Harbour, the church is not necessarily excluded from the Southern Baptist Convention because it is a separate entity.
Related Elsewhere:
Eklektos and Faith Harbour both have blogs.
Baptist Press has published articles on the disaffiliation and Haney's response. The stories were written by Jerry Pierce, managing editor of the SBTC's magazine.
The Baytown Sun has published a news article and an editorial.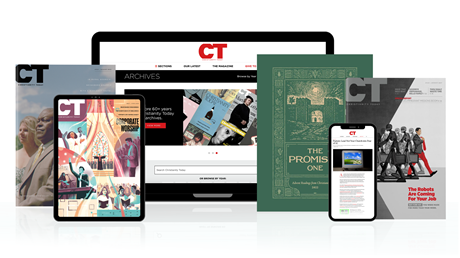 Subscribe to Christianity Today and get access to this article plus 65+ years of archives.
Home delivery of CT magazine
Complete access to articles on ChristianityToday.com
Over 120 years of magazine archives plus full access to all of CT's online archives
Subscribe Now
Church's Ties to Ministry Mean Broken Ties to Denomination
Church's Ties to Ministry Mean Broken Ties to Denomination