true
Last week, Hollywood asked, "How do you like your horror movies?" And American moviegoers replied, "Not scary!"
"Suspenseful?" Hollywood asked. "No way!" the viewers replied.
"Something creepy and original?" asked Hollywood. "No!" viewers replied. "Just give us a cheap remake of something from the '70s, with a story on a dark and stormy night, and be sure the killer calls his victims on the phone and threatens them in a sinister voice!"
Thus, Simon West's remake of the 1979 thriller When a Stranger Calls is No. 1 at the box office. With Lance Henricksen (Aliens) providing the creepy voice, and Camilla Belle (The Ballad of Jack and Rose) as the terrified babysitter, West's only notable revision to the original is the switch from land lines to cell phones.
Bob Smithouser (Plugged In) doesn't find it very scary at all. But he does say, "I'm glad … West didn't resort to the disturbing tactic many of his peers have found profitable of late: The low-budget marriage of R-rated sex and torture characterizing hits such as Saw II and Hostel. Rather, this movie is a decidedly PG-13 thriller. And even though it's a remake of a 1979 horror 'classic' involving murdered children, it had the decency to change that part of the story. Dialed back from the original, When a Stranger Calls isn't exploitative or diseased. It's just paltry, manipulative and cliché -ridden."
Having survived another lousy horror flick, mainstream critics are hanging up the phone.
A Good Woman

, a mediocre film

It's always risky to update a classic work of literature for the screen, especially when you transplant the story's time and location. Director Mike Barker and screenwriter Howard Himelstein have done just that—moving Oscar Wilde's comedy Lady Windermere's Fan from the late 1890s to 1930, planting it against a scenic Italian background. The film stars Helen Hunt, Scarlett Johansson, Stephen Campbell Moore, and Tom Wilkinson, but their combined talents aren't enough to earn the film many good reviews.

Camerin Courtney (Christianity Today Movies) likes the location, but not the whole cast. "[Hunt] seems all wrong for this period piece. Her face doesn't even seem a good fit for the short, curly mop of hair she sports crammed under fussy little hats. And she doesn't exude the seductive confidence that would afford her the ability to live off the 'kindness' of married men. Scarlett Johansson also seems ill at ease in her clunky white shoes and boring good-girl lines. But Tom Wilkinson as Tuppy, Mrs. Erlynne's twice-divorced suitor, is a delight. He delivers his lines with the perfect blend of bite and light-heartedness."

She concludes that "it's not for everyone. The film will likely only release to art-house theaters, and if you've never darkened the door of one before, this isn't necessarily the time to start. And if your sense of humor doesn't sway to the snarky on occasion, you might also want to take a pass (though as the title suggests, at the end of the day, goodness abounds). But, if you enjoy the charming wit of films such as An Ideal Husband or Enchanted April, you'll probably be Wilde about A Good Woman."

Harry Forbes (Catholic News Service) calls it "a reasonably faithful [adaptation], but rather dank." Of the cast, he says, "Hunt is unconvincing, lacking the requisite air of glamorous mystery. Johansson fares a bit better, but in each case, their flat American intonation makes you long for the standard crisp British delivery. … And so it is that several of the English supporting players … come off best, and while Howard Himelstein's script purloins several of Wilde's choice epigrams, the overall rewrite is below par. Even the 1925 silent had more inherent wit. The current version has more in common with Otto Preminger's uninspired 1949 The Fan."

Mainstream critics aren't Wilde about it either.
Something

(not so)

New

Sanaa Lathan plays a black woman who falls for a white man, played by Simon Baker, in Something New, a romance about prejudice and progressive thinking. And while the cast is earning praise—it includes the lovely Alfre Woodard—the story itself doesn't seem so progressive to anyone who has been paying attention.

David DiCerto (Catholic News Service) says, "Contrary to its title's claim, there's not much fresh about Something New. … Interracial romances are, in fact, nothing new, at least not in Hollywood where they've been used as fodder by filmmakers from Stanley Kramer to Spike Lee. … [T]he sentimental 'love is colorblind' message is weedy with cliché s and preachy dialogue, capped off by a preposterous climax at a cotillion. What this film really needed was a script doctor, not a lawn doctor."

Marcus Yoars (Plugged In) writes, "As a quintessential Valentine's Day-themed 'chick flick,' this one supposedly has all the right elements: good-looking actors, a defy-the-odds love story, a hefty dose of emotional conflict and heart-stirring turmoil, family and female bonding, and … well, plot twists that can be seen coming a mile away."

He does, however, note, "The color-blind, biblical love (see Colossians 3:11) that brings unity rather than division prevails. And without trying to oversimplify things, I can safely say that the 'can't we all just get along' message is heard loud and clear." And he concludes by expressing disappointment at scenes that include profanity and "instances of casual sex."

Mainstream critics are offering mixed reviews for this mixed romance.
More reviews of recent releases
The New World: Jared Wilson (World) calls the film "a beauty and a wonder." He raves, "The New World is not a conventional film, but then, this is not a conventional story. At least, not in the world of history uninformed about history books (as Ebert quite rightly notes). It is messy and beautiful and complicated equally by what we know and what we don't know. It is a credit to Terrence Malick that he eschews revisionism from either cultural vantage point and instead creates a work of art, a historical piece made all the more true precisely because it operates on the level of myth. It is like the cinematic equivalent of C.S. Lewis's novel Till We Have Faces, which incarnationally re-imagines the story of Cupid and Pysche. Malick has taken a legend and made it human. He has translated fact into the poetry and portraiture of myth and thereby made it true."
Jenn Wright (Hollywood Jesus) says, "If you generally appreciate director Terrence Malick's body of work (The Thin Red Line, Badlands, Days of Heaven), The New World will reinforce your devotion. The film is visual poetry, with stunning cinematography and impassioned acting accompanied by an impressive classical score by James Horner. And while the story itself is largely speculation, the movie is incredibly well researched, with much of the voiceover (one of Malick's favorite cinematic devices) lifted directly from the writings of the colonists." She praises Q'Orianka Kilcher's lead performance as having "stunning depth, retaining the historically playful nature of Pocahontas while plumbing the depths of grief, loneliness, and despair."
Nanny McPhee: Andrew Coffin (World) says, "Nanny McPhee is a sort of cross between Mary Poppins and ABC's Supernanny (or, if you prefer, Fox's Nanny 911). While the film is neither the classic that is the former nor as instructive as the latter, Nanny McPhee is a pleasant British family diversion."
Cliff Vaughn (Ethics Daily) says, "Director Kirk Jones will keep young and old audiences involved, and he produces a movie that—unlike most—actually gets much better as it goes along. … After watching Nanny McPhee, you simply wish [Emma] Thompson wrote more scripts. Her first feature adaptation, Sense and Sensibility, won her an Oscar. Though McPhee probably won't garner the same amount of critical acclaim (because it's a 'children's film'), it's nevertheless a finely layered story with some very sweet lines."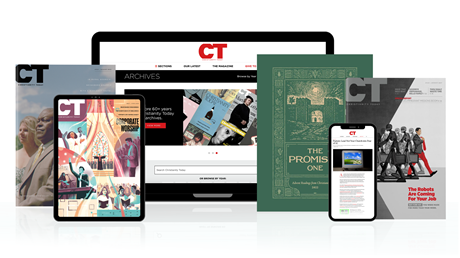 Annual & Monthly subscriptions available.
Print & Digital Issues of CT magazine
Complete access to every article on ChristianityToday.com
Unlimited access to 65+ years of CT's online archives
Member-only special issues
Subscribe
When a Stranger Tops the Box Office
When a Stranger Tops the Box Office