true
Early in An Unfinished Life, 11-year-old Griff Gilkyson pores over a map of America and suggests places she and her mother, Jean, can go to escape an abusive boyfriend. Loving, New Mexico, sounds good. Butte, Montana, sounds funny. And Aloha, Oregon, is only 10 inches away. Of course, at a map scale of 1 inch to 80 miles, Aloha is about 770 miles further than their broken-down car can travel. But young Griff's geographic math is an excellent introduction to a film that covers some sweeping emotional terrain one inch at a time. With a few notable exceptions, An Unfinished Life explores the power of forgiveness (and the lack thereof) through a series of small and nuanced moments exchanged between the wounded members of a fractured family.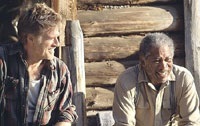 Mother and daughter end up not in Loving, Butte, or Aloha, but in Ishawooda, Wyoming, where Jean arrives unannounced at her father-in-law Einar's ranch and asks for some temporary shelter. Jean and Einar have been estranged for 12 years—ever since Jean lost her husband (and Einar lost his son) in a tragic car accident. Their reunion is tense. "I don't want you here," states Einar in greeting. "Neither do I," replies Jean flatly. But Einar is astonished to discover that Griff is the grandchild he never knew he had, and he grudgingly tells his long-lost family that they can stay in a junk-filled room in his basement.
Einar has spent the past 12 years frozen in grief and anger over his son's death, which he blames on Jean. The resulting emotional paralysis—and a corresponding drinking problem—have cost him his marriage and his cattle. All that is left are the ramshackle grounds of his homestead (the expansive ranchlands of Wyoming are played ably by Kamloops, British Columbia), a milking cow, an assortment of cats, and Einar's old friend and ranch-hand Mitch. But even Einar's camaraderie with Mitch is marked with tragedy: Mitch is covered in claw-marks from a bear-attack that took place a year earlier, and he needs Einar's constant care to cope with his injuries.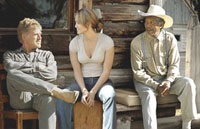 Lately, Einar has managed to find a fragile sobriety and equilibrium, enjoying the amiable crankiness of his friendship with Mitch (complete with fierce arguments over everything from games of cribbage to the weather) and daily visits to his son's grave. But Jean and Griff's arrival brings up painful memories that threaten to push Einar over the emotional brink, and to make matters worse, the bear has reappeared as well. Einar's attempt to shoot it is thwarted by Fish and Game officers, who tranquilize the creature and place it in a local makeshift zoo. Mitch insists that Einar go visit and then feed the animal that nearly killed him. Meanwhile, Einar's granddaughter Griff is slowly thawing her grandfather's heart, taking a genuine interest in western life, and approaching their relationship with an honesty that penetrates Einar's gruff exterior. The scene is set for a series of quests for liberation: bear from cage, woman from abusive boyfriend and self-blame, man from grief, rage and unforgiveness.
Robert Redford plays Einar effortlessly and does not deliver a false note in the entire film. Though the role was reportedly originally intended for Paul Newman, Redford's portrayal is so complete it is hard to imagine any other actor in the role. Equally compelling is Morgan Freeman as Mitch. Redford and Freeman have great fun together (and deliver a surprising number of real laughs given the serious subject matter) with some just-right grumpy banter scripted in a well-crafted adaptation of Mark Spragg's novel. Newcomer Becca Gardner is outstandingly authentic as the young Griff and gives the movie much of its heart. Jennifer Lopez, on the other hand, is passable as Jean but is less convincing than the other actors because we can feel her acting her role in contrast to Redford, Freeman, and Gardner's more transparent performances.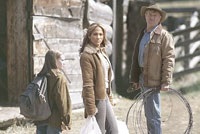 Director Lasse Hallstrom (Chocolat, What's Eating Gilbert Grape, The Shipping News, The Cider House Rules) is not particularly innovative with An Unfinished Life, choosing instead to let this story be told at a leisurely pace against a beautifully cinematic western backdrop. Some viewers may find the pace a little too leisurely, but there is a commendable honesty and maturity in this film's recognition that human hearts tend to move in inches rather than miles. Occasionally An Unfinished Life bites off more than it should chew: the bear metaphor gets taken a little far, the parallels in various character's lives are sometimes drawn too strongly, and Mitch's wisdom reaches a bit farther than is warranted (particularly at the movie's end). But ultimately, An Unfinished Life harvests genuine humor from well-drawn characters and authentic drama from a well-told story. It takes us on the journey from the stifling prison of resentment to the freedom and healing of reconciliation. It's a trip worth taking.
Talk About It
Discussion starters
Jesus connected our ability to be forgiven to our willingness to forgive others (see Matthew 6). Was this connection evident in the lives of Einar and Jean in

An Unfinished Life

?


Einar claimed the only thing he couldn't stand was someone trying to peddle his "angle on God." Have you known people who feel that way? How would you share the Gospel (if at all) with someone who is angered by "religion"?


In

An Unfinished Life

there are situations involving abusive individuals that are resolved with violence. Is violence ever acceptable? If so, under what conditions?
The Family Corner
For parents to consider
An Unfinished Life contains frequent coarse language and several scenes of gritty violence. There is one non-explicit sex scene. The domestic violence plotline makes the film unsuitable for children.
Copyright © 2005 Christianity Today. Click for reprint information.
What Other Critics Are Saying
compiled by Jeffrey Overstreet
from Film Forum, 09/15/05
For two years, it was nothing more than "An Unreleased Movie." But Miramax has finally released An Unfinished Life, a melodramatic film from director Lasse Haalstrom of such artful features as My Life as a Dog and What's Eating Gilbert Grape? (He's also responsible for the controversial Oscar-winner The Cider House Rules.) Starring Robert Redford, Morgan Freeman, and Jennifer Lopez, this film seems to be annoying most mainstream critics, who describe it as a predictable "Hallmark card" of a movie.
The film introduces us to a farmer (Redford) recovering from alcoholism on a Wyoming ranch. He's bitter towards his daughter-in-law (Lopez) because he holds responsible the death of his son. Thus, when she returns to the ranch with her 11-year-old daughter in search of refuge from a dangerous boyfriend, his troubles go from bad to worse. The rancher's only friend is his farm hand (Freeman), who offers him perspective in this tale of forgiveness and reconciliation.
Religious press critics show the film more affection than mainstream press critics do.
Harry Forbes (Catholic News Service) raves, "If you pass up An Unfinished Life … you'll be missing one of 2005's best. This is a totally captivating tale of forgiveness and rebirth. … [The movie] features top-level acting all around, but with Redford outstanding. This is a career peak for him. He completely inhabits his ornery, grizzled man's-man character … . His dialogue is liberally sprinkled with profanity, so you know he'll eventually soften under Griff's openhearted and liberating presence."
Article continues below
Apparently, that profanity bothered Lisa Rice (Crosswalk). She objects to the film's "excessive foul language … the slow pace and some character development issues," and a scene of inappropriate sexual activity. "The theme of forgiveness in An Unfinished Life is commendable, and it's fun to see how great Robert Redford still looks, but overall, the movie ranks an 'almost.'"
from Film Forum, 09/22/05
Tom Neven (Plugged In) says, "An Unfinished Life is a well-written, engaging story … truly moving. … The luscious cinematography and the interaction of the two heavyweight actors Robert Redford and Morgan Freeman are also gratifying to witness."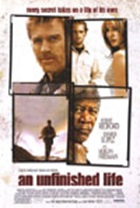 Browse All Movie Reviews By: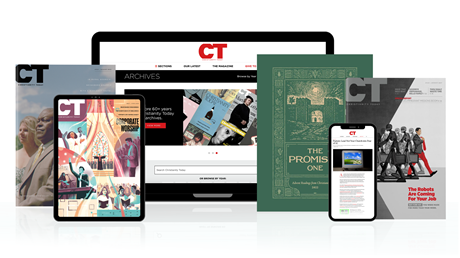 Annual & Monthly subscriptions available.
Print & Digital Issues of CT magazine
Complete access to every article on ChristianityToday.com
Unlimited access to 65+ years of CT's online archives
Member-only special issues
Subscribe
An Unfinished Life
An Unfinished Life