true
The Greatest Game Ever Played does for golf what other recent family-friendly sports films from Disney did for football (Remember the Titans), baseball (The Rookie), and hockey (Miracle). The title doesn't infer that golf is the superior sport, but to Francis Ouimet's spectacular final round of the 1913 U.S. Open, which ranks among the greatest of history's sports-underdog tales. And that's saying something with the aforementioned films, a horse named Seabiscuit, and a boxer known as the Cinderella Man in contention.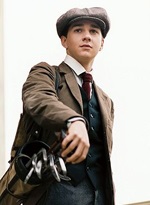 Francis who? It wouldn't be surprising if you've never heard of Ouimet ("we-met"), considering he made headlines as a 20-year-old nearly a century ago and never went on to become a professional golfer. Only the most passionate of golf historians are familiar with the match, which helps add some drama and uncertainty to the story for everyone else. Why is Ouimet historically significant? Did he win or lose the famed match? Was it personal injury or personal choice that caused him to leave the game?
A word of warning—the outcome is easily found in just about any article, interview, or review on the subject. And it's nearly impossible to talk about the film without giving away some of the surprising aspects to the tale. But the thrill of watching The Greatest Game Ever Played comes as much from the opportunity and context of the game itself as it does the outcome.
A century ago, golf was still a gentleman's sport played primarily by the wealthy. It was unheard of for a lower-class Brit like Harry Vardon to rise above social class and become one of his country's greatest golfers—he's renowned for developing an innovative club grip and for winning six consecutive British Opens, a record he still holds to this day. We see Vardon at the film's start as a young boy, shunned by the upper class. To the film's detriment, we never learn exactly how he was able to escape a life of poverty to become a sporting legend—politics seemed to play a part. But then again, this isn't technically his story either.
Jumping ahead to the turn of the 20th century, we meet Ouimet as a young boy, the eldest son of a working- class family. Though his father Arthur (Elias Koteas) instills a hard work ethic, the family lives across the street from the now historical golf course in Brookline, Massachusetts. Not surprisingly, Ouimet takes to the sport, tirelessly practicing every day with aspirations of playing as well as his idol Harry Vardon (Stephen Dillane), aka "The Stylist."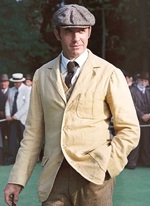 Years later, the family's social status keeps the post-adolescent Ouimet (Shia LaBeouf) from gaining club membership, but he does manage to secretly fit in some rounds while working as a caddie. In time, others at the club become aware of his talent, and a member eventually sponsors Ouimet to enter the National Amateur Championship. The $50 entry fee is no small matter in the early 1900s, but Arthur Ouimet reluctantly loans his son the money, on the condition that he gives up his sporting aspirations if he loses. The hopeful teen accepts and plays an impressive round, but then …
Better to not spoil any more details. This being a classic sports-underdog tale, many developments do unfold predictably, but there are a few unexpected turns getting from point A to Z. Nevertheless, it ranks among the best golf dramas ever made, far more compelling than 2004's Bobby Jones: Stroke of Genius. Think of it as a better The Legend of Bagger Vance combined with October Sky—an underdog golf match meets father-son drama.
What's particularly affecting is that there isn't really a villain in the film. The elder Ouimet doesn't support his son's golf aspirations, believing it to be a foolish pursuit compared to "real work." Koteas does his best with a complicated role, trying to play Arthur as both stern and pragmatic. Unfortunately, the screenplay reduces him to harsh paternal stereotypes without sufficiently fleshing out his relationship with his son and family. We see a stronger bond between Francis and his supportive mother (Marnie McPhail), which may be intentional. But however misguided Arthur's parenting may be, it's clear that he is trying to consider his son's best interests.
We won't find a villain among Ouimet's primary opponents on the golf course, either. Vardon is the picture of grace, and a kindred spirit to the younger player that admires him. We come to understand that he's more concerned about preserving the honor of the game than scoring a major victory for British pride over the Americans. It's a beautifully understated performance by Tony award winner Dillane—passionate and tender, but also professional and stoic. His friend Ted Ray (Stephen Marcus) is also charming, though more gruff and unrefined as he crushes the ball down the fairway with enough power to tear through a phonebook.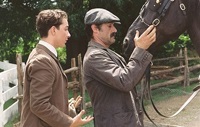 If there is a "villain," it might be the upper class, portrayed as reluctant to let these greats play because of their heritage and poverty. This climactic game is historically important because it helped open the sport up to commoners, thus inspiring generations of aspiring golfers who wouldn't have dreamed of playing a sport dominated by the wealthy until one of their own helped open the door.
But as any seasoned golfer knows, it's ultimately a game where the greatest opponent is oneself. Such was certainly true of Ouimet, who had to confront his own doubts and fears to compete with the legends of his day, yet managed to keep his head by remaining a focused player on the course and a humble (but awed) gentleman everywhere else. Rising star LaBeouf gives his most impressive performance since his star-making turn in 2003's Holes, playing Ouimet with a striking level of charisma and believability—from the range of emotions to the refinement of his swing—as a young man who suddenly finds himself among the greatest golfers in the world. And he shares great chemistry with Josh Flitter, who plays Eddie Lowery, Ouimet's spunky ten-year-old caddie. Their scenes together make for another priceless example of the relationship between hero and admirer, each spurring the other on to greatness.
It's director Bill Paxton who deserves the greatest distinction, pulling a complete 180 from Frailty, his impressive-though-disturbing directorial debut in 2001. Paxton—best known for his acting roles in films such as Twister and Apollo 13—clearly has a deep love for the game and the story, keeping it moving at a reasonable pace. The golf is treated with zip and action, at times more similar to showdowns in old Westerns. And he allows the audience to stay on top of the game through kinetic camera shots of the leader board.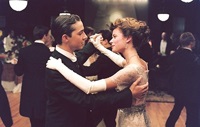 Too bad the film's extensive use of visual effects are such a mixed bag. They work extremely well when demonstrating the golfers visualizing the course—Vardon strips away the distractions of his surroundings while Ouimet gauges the path to the hole with a sort of telescopic effect. But there are several point-of-view shots from the ball that, while very slick conceptually, simply look too fake because of low-budget computer animation. Worst is a ridiculous shot of a ladybug gently landing on Ray's golf ball in slow motion during his swing—just because Disney released this film doesn't mean we need A Bug's Life thrown in.
The film's other weakness is a budding, underdeveloped romance with Sarah Wallis (Peyton List), an upper-class teen who expresses support to Ouimet despite the disapproval of her snobby father. It feels tacked on in an effort to bring more heart to a story that really doesn't need any more. These faults are significant but minor for a film that's suitably balanced for the whole family—it doesn't resort to silly gags or overly melodramatic schmaltz or tedious golf trivia. No, The Greatest Game Ever Played succeeds because it has enough history and authenticity to please golf enthusiasts while maintaining enough heart and human drama to appeal to the rest.
Talk About It
Discussion starters
Golf has long been regarded as a gentleman's sport. Is that still the case today? How has it changed in the last century, and how is it the same? Have country clubs improved upon their membership restrictions, or are people still unjustly turned away because of social class, race, or gender?


As portrayed in the film, how are Harry Vardon and Francis Ouimet similar? How are they different? How do their perspectives compare with other golfers in the movie?


Does Ouimet honor his father's wishes in the movie? Could he have handled their relationship differently without causing friction? Is Arthur Ouimet ever out of line in his parenting and discipline? How do we distinguish between honoring our parents and doing what's best for ourselves? At what age, if any, is that appropriate?


Were Ouimet's dreams of becoming a champion golfer practical? How far should we pursue dreams when the odds are stacked against us? What factors determine our decision making in such matters?
The Family Corner
For parents to consider
The Greatest Game Ever Played is rated PG for some brief mild language, so brief that I never noticed it. The Ted Ray character punches someone in the face in one scene. But overall, this is a clean film that's perfectly suitable for all ages, though young children will likely be bored with a two-hour film about golf.
Copyright © 2005 Christianity Today. Click for reprint information.
What Other Critics Are Saying
compiled by Jeffrey Overstreet
from Film Forum, 10/06/05
Can a movie about golf be compelling, meaningful, and enjoyable for the whole family? Director Bill Paxton answers "Yes!" and offers up The Greatest Game Ever Played as proof. Critics agree that this tale of the 1913 United States Open golf tournament and its young underdog (played by Shia LeBeouf of Holes) is worth catching.
Harry Forbes (Catholic News Service) calls it "an intelligent adult film that youngsters should like as well. … [It's] a moving and elevating experience."
Article continues below
Steven D. Greydanus (Decent Films) says it's "perhaps the most visually and emotionally dynamic film ever made about a game of golf — perhaps the most visually and emotionally dynamic possible film about a game of golf. If that's not enough to sell you on seeing it, it's also a rousing, true underdog story."
Lisa Rice (Crosswalk) says, "Families will thoroughly enjoy The Greatest Game Ever Played, a true Disney classic that will prompt discussion on the unfairness, prejudice, and wrongful exclusivity of golf and other highbrow sports, as well as the power of the brave individuals who challenge the system."
Adam R. Holz (Plugged In) says, "I'm not a golfer, so I wondered how interesting a movie about this sport would be to me. But the parallel struggles that [the central characters] face as they compete not only against each other but against those who look down on their humble backgrounds makes for a compelling story."
Cliff Vaughn (Ethics Daily) says, "Greatest Game is time well spent at the movies. This Disney film is sure to earn a place alongside other favorites like The Rookie, Remember the Titans, Miracle, Hoosiers or Seabiscuit."
Mainstream critics cheer from the sidelines for Paxton's first venture into family-friendly filmmaking.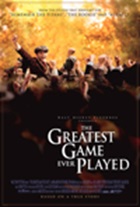 Browse All Movie Reviews By: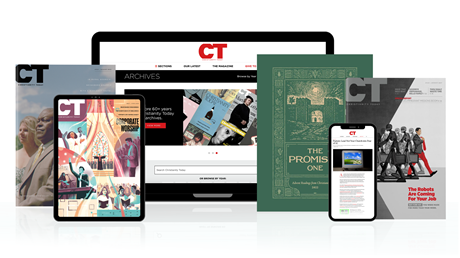 Annual & Monthly subscriptions available.
Print & Digital Issues of CT magazine
Complete access to every article on ChristianityToday.com
Unlimited access to 65+ years of CT's online archives
Member-only special issues
Subscribe
The Greatest Game Ever Played
The Greatest Game Ever Played