| | |
| --- | --- |
| | • |
The lay leadership team of Baghdad's St. George's Anglican church is feared missing after being attacked. The attack occured on the road as the team returned from a conference in Jordan. "Anglican leaders in Baghdad have been missing for two weeks, and they are presumed dead," said Canon Andrew White of the Foundation for Reconciliation in the Middle East. White is the Anglican representative in charge of St. George's, one of the largest churches in Baghdad. (More CT coverage on the difficult times for the church in Iraq is available elsewhere on our site.)
According to the London Times, the missing Iraqi-born Anglicans include: "Maher Dakel, the lay pastor; his wife, Mona, who leads the women's section of the church; their son Yeheya; the church's pianist and music director, Firas Raad; the deputy lay pastor; and their driver, whose name has not been disclosed."
The last time anyone heard from the group was after they had been attacked on September 12 on the treacherous road between Ramadi and Fallujah. "It is the most dangerous area in Iraq," White said. "One of two things must have happened. They either got kidnapped, or they died. But we have had no ransom demand or anything."
Ruth Gledhill of the Times reports, "The loss brings to 12 the number of Iraqis that Canon White has lost in his reconciliation work in Iraq, although these are the first connected to the church."
"We are all devastated," White said. "This is the very core of our Anglican church in Iraq. With such a large congregation of about 800 strong, losing key leadership will be devastating."
Gledhill reports,
The Right Rev. Colin Bennetts, Bishop of Coventry, said: "I find this news particularly sad and poignant. When we first visited Iraq in 1999, it was my privilege to preach at the re-opening of St. George's Church in the center of Baghdad. We all saw this as a sign of hope and a new beginning under the desperate and despotic regime of Saddam.
"Since that time the church has grown from a handful of worshippers to a congregation of hundreds. For them to lose their leadership in this way is a sad and terrible blow. I urge Christians everywhere to continue to pray for the church in Iraq in these even more troublesome times."
More Articles
Religion & politics:
While instilling fear in colleagues, he rewards loyalty | Irascible and devoted to both his conservative ideology and his Christian faith, DeLay was a tireless negotiator, twisting arms of colleagues and working to entrench Republicans in elected office and in lobby shops. (The Boston Globe)
Ted Strickland, a minister, faces religious opposition | Some Ohio religious leaders are seeking to have a say in who might be the state's next political leaders, and they don't appear to be backing U.S. Rep. Ted Strickland, D-Ohio. Strickland is a current Democratic gubernatorial candidate and an ordained United Methodist minister. (Wheeling News Register, W.V.)
The new Enlightenment of politics and religion | The United States and Christianity are, respectively, a nation and a religion founded on a single beautiful concept. The United States was founded on reason; it was to sweep away the hierarchies and tensions of the Old World through its system of government. Christianity was founded on love; it was intended to sweep away the legalism of the past with a new ideology of unconditional love. Unfortunately, in the present, these two very powerful forces have replaced their founding principles with opposite ideologies. (Daily Free Press, Mass.)
The gospel according to the A.G. | Ashcroft to Christian crowd: Use government to sell Jesus (Village Voice)
John Roberts:
Roberts to be confirmed as Chief Justice | John Glover Roberts Jr., backed by a united Senate Republican majority and about half of a divided Democratic minority, is taking his place as the nation's 17th chief justice, to lead the Supreme Court into the 21st century and through turbulent social issues that will affect generations to come. (Associated Press)
Dems vow battle over ideologue nominees | With chief justice nominee John Roberts' confirmation guaranteed, Democrats on Wednesday promised a battle if President Bush's next nominee is a hard-right conservative. (Associated Press)
Church & state:
Justice: All laws based in religion | Former Alabama Supreme Court Chief Justice Roy Moore said that Americans need to acknowledge the place that God has in the foundation of the country's laws and Constitution. (Quad City Times, Iowa)
Group petitioning school to replace pictures | A local pastor says he has significant backing from the community to petition Anna School District 37 to put back religious pictures a civil liberties group made it take down from the junior high's hallway. (The Southern, Ill.)
Jury decides price for Lyric | The city must pay $240,000 to the Lyric Theatre's last owners for taking the historic but decaying building, a Fayette County jury said yesterday. "It was never about the money," said Gayle Slaughter, president of God's Center Foundation. "There was never any doubt that our government doesn't operate in the best interests of the public, and this (trial) proves that." The non-profit dreamed of using the building to educate and nurture Christianity in young boys and girls, he said. (Lexington Herald Leader, Ky.)
Intelligent Design trial:
The evolving fight over Darwin | Need an expert to testify about evolution and natural selection? Brown University biology Prof. Kenneth Miller is the man. (Providence Journal)
Darwin goes to church | My congregation's evolutionary debate (Washington Post)
Religion drove board, witness says | Pennsylvania school district pushed 'intelligent design' over evolution because of members' beliefs, a former teacher testifies. (Los Angeles Times)
Science and Scripture | 'Intelligent design' theory definitely belongs in biology class -- as a history lesson in the evolution of thought. (Crispin Sartwell, Los Angeles Times)
Creating thinkers could be their best lesson plan | Members of the Kansas State Board of Education should concentrate their efforts on finding money to pay qualified teachers, not trying to guide the thinking of those in the classroom. (Editorial, Coffeyville Journal, Kan.)
Agreeing only to disagree on God's place in science | It was on the second day at Cambridge that enlightenment dawned in the form of a testy exchange between a zoologist and a paleontologist, Richard Dawkins and Simon Conway Morris. Their bone of contention was one that scholars have been gnawing on since the days of Aquinas: whether an understanding of the universe and its glories requires the hypothesis of a God. (The New York Times)
Education:
A Bible course without the lawsuits? | Teaching about the Bible is critical - and contentious, teachers agree. A new textbook may provide a safe path through a political minefield. (The Christian Science Monitor)
Belmont may drop Baptist ties to diversify board School's vision a 'broader Christian faith,' VP says | Belmont plans to add non-Baptists to its board as it strives to reflect what it describes as a broader Christian mission, Jason Rogers, vice president for administration and university counsel, said yesterday. Less than one-third of Belmont's nearly 4,300 students identify themselves as Baptists, and the university is known more for academic programs in areas such as music business than for its Baptist ties. (The Tennessean)
Life ethics:
Prop. 73 -- next battle over abortion rights | Initiative to require doctor to notify a minor's parents (San Francisco Chronicle)
Vic Treasurer in push for relaxed cloning laws | Victorian Treasurer John Brumby is pushing for Australia's stem cell cloning laws to be relaxed. (ABC News, Australia)
Wis. bans human cloning, Gov. vows veto | The Republican-controlled Wisconsin Legislature voted to ban human cloning, but Democratic Gov. Jim Doyle vowed to veto the measure. (Associated Press)
Court to hear Oregon suicide law case | The Bush administration is challenging Oregon's assisted suicide law, arguing that hastening someone's death is an improper use of medication and thus violates federal drug laws. (Associated Press)
Bioethics 'expertise' comes from all corners | It's hard for the average person to sort out the political activists with an agenda or ethicists with a vested interest, such as those employed, directly or indirectly, by drug companies seeking an ethical halo for their products. (USA Today)
Religion & homosexuality:
Parties for HIV-positive men may pose health risks | Parties for HIV positive gay men to meet others infected with the virus may help to prevent its spread but scientists said on Thursday the events may also raise the risk of exposure to superinfections. (Reuters)
More gay men having 'risky sex' | The number of gay men in Scotland having unprotected sex has almost doubled over six years, a study says. (BBC)
Jerry Falwell's half a loaf for gay-rights activists | It isn't shocking when leaders of the Human Rights Campaign praise people who have taken stands to back the civil rights of gays, lesbians and bisexuals. But it certainly raised eyebrows when the gay-rights group publicly thanked the Rev. Jerry Falwell. (Terry Mattingly)
National gay rights religious group hopeful about acceptance | A national group of religious leaders pushing for gay rights says it's pleased that some faiths have become more accepting of gays but is concerned that the Vatican is expected to ban gay seminarians. (The Boston Globe)
Catholicism:
Brazil bishop makes river protest | A Roman Catholic bishop in Brazil has gone on hunger strike and says he is prepared to die unless a controversial environmental project is cancelled. (BBC)
Pope picks Adelaide to host conference | The Pope has chosen Adelaide to host an international conference with a focus on health care and human dignity next February. (The Age, Australia)
'An architect of souls' to build anew | Director of Catholic Diocese's Spanish Apostolate reaches out to Hispanics (Washington Post)
Celibacy key—seminarian | The head of an Edmonton seminary denies a Vatican document banning homsexuals from joining the clergy is anti-gay. (Edmonton Sun)
Poll finds divides between Vatican, US Catholics | More than two-thirds of U.S. Roman Catholics don't think it is very important to have an all-male, celibate clergy, a belief the Vatican continues to hold strongly, according to a survey published on Wednesday. (Reuters)
Priest ouster controversy:
Ousted priest gets a show of support from fellow Newton clergy | Non-Catholics assail decision (The Boston Globe)
Priest pulled from Mass after refusing to support anti-gay marriage push | A Catholic priest in this town was temporarily pulled from the pulpit after refusing to support the state bishops' drive against gay marriage. (The Boston Globe)
Sunday march planned to protest pastor's removal | Supporters of Rev. Walter Cuenin are expected to march Sunday at Archbishop Sean O'Malley's residence at the Boston Chancery in protest to the removal of the popular pastor and archdiocesan critic. (Daily News Tribune, Mass.)
Abuse:
Priest removed for abuse dies in Lithuania | An 80-year-old former priest who was removed from the ministry due to accusations of sexually abusing minors in Maine has died in Lithuania, the Portland Diocese said Wednesday. (The Boston Globe)
School is again target of lawsuits claiming sex abuse | Two suits claim boys who enrolled in Mary Help of Christians in the 1980s were abused. (St. Petersburg Times, Fla.)
Priest, music teacher accused of sex abuse | Two more lawsuits have been filed against Tampa's Mary Help of Christians School, accusing a priest and a music teacher of sexually abusing boys in their care. (St. Petersburg Times, Fla.)
Human rights & religious freedom:
Free speech issues still problematic for Vietnam | U.S. urging release of 5 'prisoners of conscience' (Washington Post)
Jailed Haitian priest appeals suspension | A jailed Catholic priest who was suspended from his religious duties for political activities appealed Wednesday to church authorities to reverse a punishment that supporters claim was intended to halt his growing influence in the Western Hemisphere's poorest nation. (Associated Press)
China releases Protestant church activist | A prominent activist in China's underground Protestant church has been released from a labor camp after serving a two-year sentence, a U.S.-based monitoring group reported Wednesday. (Associated Press)
Only Jews and Parsis deserve minority status : RSS | Jalandhar: The Rashtriya Swayamsewak Sangh(RSS) Chief, K.C.Sudarshan, has said that only Jews and Parsis deserved minority status, as their ancestors had migrated to India from abroad. The RSS chief said: "Since 99 per cent ancestors of Muslims and Christians have been born and brought up in India and are just converts, these two communities should not be given minority status". (New Kerala, India)
Romney remarks alarm Muslims | Words fuel fears of new hostility (The Boston Globe)
War & terrorism:
Academics focus on role of religion in conflicts | The role of religion as a means of achieving harmony on the road towards peace in Northern Ireland is to be investigated by Scottish academics. (The Herald, UK)
Malaysia says open to talks on Thai violence | Malaysia invited Thailand on Thursday to discuss escalating violence in Thailand's mostly Muslim south and stop the conflict from straining ties between the two neighbours. (Reuters)
Give unionists time over IRA arms move, Adams says | Unionists sceptical about the dismantling of the IRA's arsenal should be given time to digest the news, Sinn Fein said on Wednesday. (Reuters)
Court rejects suit over Japan PM war shrine visits | The plaintiffs, who included several Christians, had argued that Koizumi's visits to the Shinto shrine violated Japan's constitutional separation of religion and the state, but the court ruled that his visits were private acts. (The Boston Globe)
London museum pulls religious art | The Tate Britain museum has made an unprecedented decision to pull a work of religious art from an exhibition over fears that it might offend Muslims. (The Washington Times)
Kenyan constitution:
Violence mars debate over a new constitution in Kenya | Kenya has long been known as one of East Africa's more stable countries. These days, however, it more closely resembles some of its troubled neighbors. (Knight Ridder Newspapers)
Churches to have week of prayer before voting | Protestant churches have set aside the first week of November for prayer and fasting ahead of the referendum. (Kenya's Daily Nation)
ACK bishops to meet over referendum | Anglican Archbishop Benjamin Nzimbi has summoned all the 29 bishops for a meeting in two weeks time to discuss plans on how to monitor the November 21 referendum. (Standard, Kenya)
Katrina & Rita:
Volunteers deliver food, supplies to Gulfport, Miss. | Andy Motz was one of 14 volunteers from the Gaylord Evangelical Free (E-Free) Church who returned Friday from a weeklong stay in near Gulfport, Miss. where the group delivered 12 pallets of food and supplies and helped several families begin the process of reclaiming their homes, damaged from Hurricane Katrina. (Gaylord Herald Times, Mich.)
Should religious charities be reimbursed for hurricane aid? | Churches here in the Valley have given out thousands of meals and supplies to hurricane evacuees. The government plans to reimburse some of those religious groups, but not everyone agrees with repaying the churches. (WAFF, Al.)
Going home, when there is no home left | First surveys give glimpses of devastation (The Boston Globe)
Church members help out flooded Mississippi town | Pastor John Berg and five members of Northbrook's Gloria Dei Evangelical Lutheran Church returned recently from a week of volunteering in Ocean Springs, Miss., where Hurricane Katrina's storm surge damaged many homes. (Pioneer Press, Ill.)
Missions & ministry:
Halters back from Afghanistan: Medical mission visited 60 villages | Halter, a local orthopedic surgeon, and his wife, a registered nurse, spent two weeks in Afghanistan ministering to the medical needs of the valley village and distributing much-needed medical supplies to representatives from 50 other remote villages across the central section of the country. (Gaylord Herald Times, Mich.)
Pastors stunned at strippers ruling | A group of pastors on Wednesday expressed shock over a recent court ruling involving Russian dancers and demanded that the government crack down on facilities that promote stripping. (The Bahama Journal)
Christian preaches gospel of meaningful evolution | Michael Dowd, who once was a conservative fundamentalist, combines science with a reverence for God (The Oregonian)
Pros cite chasm in healthcare | A group of African-American healthcare professionals came to Messiah Baptist Church last Saturday to make a confession: While medicine keeps pushing forward, prolonging lives and curing diseases, treatment lags behind when it comes to most of the 138 people cramming the pews. (The Boston Globe)
Tsunami victims get training, await tourists | Just down the road from the Ecotourism center, the Christian-based "Step Ahead" aid group is giving Thais hospitality training to work in the new hotels. (The Boston Globe)
Preachers:
Playing up party instead of pulpit | DC festival evangelism aims to draw secular (Washington Post)
'Messenger' preaches at library | Man tells students about his belief in Jesus and urges them to turn to God. (The Shorthorn, Texas)
Preacher takes up the cross for Jesus | Stooped from the weight of a 110-pound wooden cross, John Obadiah Franklin hangs his head beneath his red cap and walks along the highway as a graphic picture of the sufferings of Jesus. (Orlando Sentinel)
Church life:
Six chapels for minister Wyn, 22 | A 22-year-old farmer's son has become one of the youngest chapel ministers in the UK. (BBC)
The Vinyard 'ain't your momma's church' | When some college students think of church, they think of endless sermons, ancient hymns and weekly recitation of creeds and prayers. To them, the environment is too formal, too traditional and does not keep up with the times. Those opinions are what drive 57-year-old University alumnus Happy Leman to make his church as contemporary as possible. (Daily Illini, Ill.)
Way of life fading for old-rite Russian Christians in alpine meadows of Georgia | When the storks return to Gorelovka each summer, there are fewer and fewer people to see them. The village's residents are Dukhobors, old-rite Russian Christian believers, and their way of life is fading as young people move away. (Turkish Daily News, Turkey)
Bishop backs lingerie parties to spread the word | Evangelism and erotic underwear are rarely linked outside the tabloid newspapers. But a new book backed by a Church of England bishop urges Christians to spread the message to their friends and neighbours by hosting lingerie parties. (Unison.ie, Ireland)
Ancient church has first female vicar | The Parish Church of St Mary in Hale Village has rewritten the history books after installing the first female vicar since its inauguration in 1200. (CheshireOnline, UK)
Ecumenical centre to forge unity—Adeboye | General Overseer of the Redeemed Christian Church of God (RCCG) Pastor Enoch Adegboye has described the completion and christening of the National Christian Ecumenical Centre, Abuja as a testimony of what united effort could produce. (This Day, Nigeria)
Other religions:
Katrina fails to wet Granth Sahib | An intrepid group of U.S-based Sikhs have defied odds and a chaotic situation in New Orleans to save the Sikh holy scriptures from a submerged gurdwara in the flooded city. (The Times Of India)
Librarian, seeing void, creates business directory for Muslims | Last March, Bozkurt published 11,000 copies of a 92-page edition that has been distributed around New England. In addition to local businesses, the directory now has international and online businesses from Connecticut to the Middle East. Customers can find places to purchase perfume oils from India and locate the closest grocery store that slaughters livestock according to Islamic law. (The Boston Globe)
Music:
The singer full of the holy, and team, spirit | Beneath all the quirkiness, Sufjan Stevens is a literary singer whose songs are deeply spiritual, though not always in a blind-faith kind of way. (Washington Post)
Jesus Jams | With Stryper hitting town, we run down some rockin' righteous tunes. (Cleveland Scene Weekly)
Christian music fans rejoice | Faithful listeners find problems with growing pop influence. (Oklahoma Daily)
More articles of interest:
Federal jury gets phone scam case | Charles Edwards' failing pay phone company was heading for a violent crash, yet it still allegedly raked in $22 million in investments in the two months before its bankruptcy. Marger derided prosecutors for suggesting that Edwards' expressions of Christianity were part of his con. (The Atlanta Journal-Constitution)
Humanists vs. Christians | The fate of America hinges on who wins the worldview war — liberal humanists or conservative Christians, Brannon Howse argues in his new book, "One Nation Under Man?" (The Washington Times)
It's holy war over Jesus the gambler poster | A priest has condemned as "the worst kind of vulgarity" a new poster advertisement from Paddy Power bookmakers depicting Jesus and the Apostles gambling, with the caption "There's a time for fun and games." (Irish Independent, Ireland)
The best God joke ever - and it's mine! | This morning I received thrilling news: a joke I wrote more than 20 years ago has been voted the funniest religious joke of all time! (Emo Philips, The Guardian, UK)
Practice a spiritual stretch? | Christian yoga draws adherents, critics (The Arizona Republic)
£30,000 candlesticks rescued from church | A pair of towering Islamic candlesticks, made of brass inlaid with silver and decorated with Islamic and Christian verses, has been rediscovered and valued at up to £30,000 as a Lincolnshire church was being cleared for sale. (The Guardian, UK)
Related Elsewhere:
Suggest links and stories by sending e-mail to weblog@christianitytoday.com
See our past Weblog updates:
September 28
September 22 | 21 | 20 | 19
September 16 | 15 | 14
September 8 | 2 | 1 | August 31 | 30
Hurricane blog: Sept. 6 | 2 | 1 | Aug. 31
August 26 | 24 | 23
August 19 | 18 | 16
Weblog
Launched in 1999, Christianity Today's Weblog was not just one of the first religion-oriented weblogs, but one of the first published by a media organization. (Hence its rather bland title.) Mostly compiled by then-online editor Ted Olsen, Weblog rounded up religion news and opinion pieces from publications around the world. As Christianity Today's website grew, it launched other blogs. Olsen took on management responsibilities, and the Weblog feature as such was mothballed. But CT's efforts to round up important news and opinion from around the web continues, especially on our Gleanings feature.
Ted Olsen is Christianity Today's executive editor. He wrote the magazine's Weblog—a collection of news and opinion articles from mainstream news sources around the world—from 1999 to 2006. In 2004, the magazine launched Weblog in Print, which looks for unexpected connections and trends in articles appearing in the mainstream press. The column was later renamed "Tidings" and ran until 2007.
Previous Weblog Columns: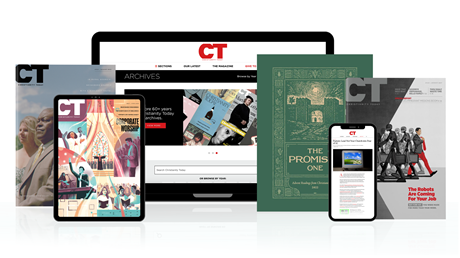 Annual & Monthly subscriptions available.
Print & Digital Issues of CT magazine
Complete access to every article on ChristianityToday.com
Unlimited access to 65+ years of CT's online archives
Member-only special issues
Subscribe
Iraqi Anglican Leaders Feared Dead
Iraqi Anglican Leaders Feared Dead