true
Tim Burton's Corpse Bride opened in New York and L.A. last week, and will expand to screens across the U.S. tomorrow. Early buzz indicates that Burton is ready to score his second hit of the year; in fact, his summertime smash Charlie and the Chocolate Factory is still in theatres.
But in Corpse Bride, Burton has cooked up confections of a different quality. He has reunited with the masterful stop-motion animator Harry Selick, who supplied the visual effects for Beetlejuice and the fantastic Nightmare Before Christmas, and together they've created another dazzling show of whimsical storytelling, one that shivers with affection for such gothic tales as The Addams Family and The Cabinet of Dr. Caligari. The only thing missing here is the voice of Burton's hero … Vincent Price.
This morbidly enchanted fairy tale finds a spindly youngster (Johnny Depp) dodging the altar to practice his wedding vows in a dark woods. The vows are overheard, and taken seriously, by a decomposing beauty (Helena Bonham Carter). Colorful mayhem ensues, accompanied by the ghoulish musical flourishes of Danny Elfman, of course.
Do all of these dancing cadavers have anything to offer audiences? Mainstream critics are raving that the film is one of Burton's very best. So far, only one Christian press publication has posted a review. (Christianity Today Movies' review will be posted tomorrow.)
David DiCerto (Catholic News Service) says, "While some may disagree with the film's depiction of death as liberation from the sepulchral stuffiness of the world above … a visually poetic coda suggests a more empyrean heaven beyond the purgatorial partying. … Despite its fablelike milieu, the movie—with its necromantic undertones—is a bit morose for young children."
DiCerto concludes by recommending the film. "Corpse Bride imparts a gentle message of selfless love that should warm most hearts—beating or not."
Do Ruffalo and Witherspoon have
Heaven

-ly chemistry?

Mark Ruffalo has been gaining more and more critical acclaim as he morphs from one type of role to another, in such films as You Can Count On Me, Collateral, We Don't Live Here Anymore, and Eternal Sunshine of the Spotless Mind. Can he succeed as "the guy" in a romantic comedy, opposite a big name star?

Apparently so. Ruffalo, opposite Reese Witherspoon, conquered the box office this week with Just Like Heaven, the latest film from Mark Waters (director of Mean Girls).

Witherspoon plays Elizabeth, a doctor who can't get herself out of a coma. While her body lies in the hospital, her spirit hangs out at her apartment, pestering the landscape architect (Ruffalo) who has moved in. When Napoleon Dynamite's Jon Heder turns up as a psychic, the proceedings may remind you of Ghost, and you won't be the first to make that connection. Several mainstream critics mention the beloved Demi Moore/Patrick Swayze romance in their reviews of Just Like Heaven, even though they're not too fond of the results.

Christian film critics, on the other hand, seem quite pleased with these romantic, old-fashioned antics.

Carolyn Arends (Christianity Today Movies) says, "Just Like Heaven is a terrific romantic comedy and one of the best times I've had at the movies in a while. It's not perfect. It's not very deep. But it's a whole lot of fun and even a little moving."

Steven D. Greydanus (Decent Films) raves, "Just Like Heaven is the first Hollywood film since Return to Me that I would put in the same league as that earlier film, and that's saying something."

Bob Smithouser (Plugged In) writes, "The talented Mark Ruffalo and Reese Witherspoon share an everyman chemistry that works nicely in Just Like Heaven. They lift otherwise drippy, saccharine moments to a more tolerable level, making this often sweet supernatural feature one that could appeal to fans of The Ghost and Mrs. Muir and, more recently, Ghost." He does, however, point out a few "forgivable inconsistencies."

David DiCerto (Catholic News Service) notes "a somewhat formulaic setup and an uncertain start." But he adds, "Waters applies just the appropriate gossamer touch to this film which is more romantic than outright funny, and the extremely appealing leads play with great delicacy. … There's an overarching message throughout of fidelity to one's true love. … As far as supernatural bonbons like this go, Just Like Heaven stands head and shoulders above Bewitched earlier this season. There's a minimum of objectionable material—a rarity these days—and, best of all, the film has heart."

Christian Hamaker (Crosswalk) begs to differ. "Reese Witherspoon's magnetic star-power in the new romantic comedy, Just Like Heaven, can't overcome the movie's fundamental, fatal flaw: a basic lack of chemistry between the film's two lead performers. Although mildly entertaining—even uproariously funny in two scenes—the film takes far too long to generate the expected romantic sparks."
Gun-running and Nicolas Cage-fighting:
Lord of War
Speaking of versatile leading men, Nicolas Cage is back on the big screen this week as well. He's been a drunkard (Leaving Las Vegas), an Italian soldier (Captain Correlli's Mandolin), a crazed and childless bank robber (Raising Arizona), a man without a face (Face/Off), a treasure hunter (National Treasure), and even Charlie Kaufman (Adaptation).
In Lord of War, directed by Andrew Niccol (who wrote The Truman Show and Gattaca), Cage is a Ukrainian immigrant named Yuri who works with his younger brother (Panic Room's Jared Leto) in the gun trade, evading a cop (Ethan Hawke), and learning the consequences of his business the hard way.
Lisa Ann Cockrel (Christianity Today Movies) writes, "To those operating outside a redemptive religious framework that values ideas like forgiveness, kindness, and justice, on what basis do you argue for laying down arms? What in humanity's long history of warfare makes one think it's something we're even capable of? It's these kinds of realities and questions that make Lord of War feel very much like a modern paraphrase of Ecclesiastes. Indeed, our guns might be more efficient, but when it comes to violence and warfare, there is truly nothing new under the sun."
"The movie starts off with a bang—literally—but misses the target," writes David DiCerto (Catholic News Service). "The satiric film's serious social commentary and anti-violence themes are saddled at times with message-heavy melodrama (intent to humanize Yuri) and standard action cliché s that bog down the otherwise sharp narrative."
Adam R. Holz (Plugged In) says, "Just when you think this is (only) a gut-wrenching character study, a heavy-handed twist at the end goes for a political knockout punch. … Lord of War, then, is a provocative film apparently designed to challenge our assumptions about the U.S.'s role in the world. It is also addicted to graphic depictions of violence, drug abuse, and sexuality. And that forces me to ask these questions: Are its hyper-grim images necessary?"
While the film took third at the box office this week, it is earning mixed reviews from mainstream critics.
Resonant rural reflections in highly-praised
Junebug
Writer Angus MacLachlan and director Phil Morrison are earning raves for an elegant drama called Junebug. The story follows the return of a long absent son (Alessandro Nivola) to his North Carolina family, and how his wife, an art dealer (Embeth Davidtz), finds herself suddenly caught up in a culture quite unfamiliar to her.
Andrew Coffin (World) narrates his viewing experience: "We're convinced that Junebug … will either be an opportunity for Northern sophisticates to patronize country bumpkins or, just as likely, have their harsh, materialistic veneer cracked by these genuine, down-home folks. Either way, we're yawningly prepared to watch yet another movie filled with types rather than people. Then something surprising—almost extraordinary—happens. In initially subtle ways, we begin to realize that these are multilayered, multidimensional characters who bear some resemblance to people we know."
Mainstream critics are giving the film a warm welcome, and this looks like it could become one of the year's slow-rising sleeper hits.
Cry Wolf

and

Venom

—two horror films critics hope you'll avoid

Rather than go into detail on this week's two disposable horror films, Film Forum will just link you to plenty of reasons why you should steer clear.

Suffice it to say that Cry Wolf is about foolish young people at a boarding school playing dangerous games on campus after hours, and discovering that someone's actually murdering the players. Venom is about foolish young people stuck in a swamp full of monstrous snakes released by a voodoo priestess. You won't be hearing about these films at Oscar time.

Regarding Cry Wolf, Marcus Yoars (Plugged In) says, "Every time we're forced to endure a bad movie, we reviewers wait for that perfectly pathetic line that can encapsulate just how lame said film is. Sometimes it's a gimme—a line that makes the whole theater simultaneously groan out loud. Other times it's buried in a minor conversation between characters and, once found, is like a buried treasure waiting to be dusted off and exposed to the world. For the pitifully scripted, painfully acted, C-grade teen thriller Cry Wolf, there isn't one. There aren't two. There are scores."

Lori Souder (Christian Spotlight) sums it up as "deplorable."

As for Venom, Tom Neven (Plugged In) says it's "a well-named movie. The filmmakers present a toxic gumbo of blood, gore, voodoo and vulgarity as foul as the waters of the deepest, darkest bayou. This is supposed to be a super-scary slasher flick. But it's not. It's merely revolting. And lazy."

David DiCerto (Catholic News Service) writes, "High on body count and cliché s and low on suspense, director Jim Gillespie's bayou blunder is little else than a series of shock-value slayings strung together by a silly supernatural plot."

Bret Willis (Christian Spotlight) calls it "a bad stereotype of its own genre."
"A rare gift of a film": Reiser and Falk in
The Thing About my Folks
Paul Reiser, best known for his work on the TV show "Mad About You" and his role in Aliens, wrote and starred in a comedy directed by Raymond De Felitta called The Thing About my Folks. The movie co-stars Peter Falk, and it has been earning less-than-enthusiastic reviews from mainstream critics.
But Stefan Ulstein (Christianity Today Movies) says the film is "one of the most delightful collaborations to hit the big screen in a long time. Falk and Reiser are immediately believable as they tentatively attempt to cross the generation bridge that's kept them from intimacy. … Most movies are targeted at teenagers and young adults, with the hope that children and older folks will buy tickets as well. The Thing About My Folks will probably play well to younger audiences, but it is that rare gift of a film that, like a deftly nuanced book, explores the deep issues that adults face as their parents age. But while it deals with weighty issues, it's just a lot of fun."
Marcus Yoars (Plugged In) is displeased with "the foul language, drug and alcohol content, and sexual situations that get a hefty amount of screen time." He says that's unfortunate, because of "the redeeming qualities found in this well-crafted, superbly acted indie flick. … The Thing About My Folks doesn't just commend strong marriages and tight-knit families, it honors them by casting aside the notion that affairs, material wealth or career aspirations could ever come close to replacing what God intended as the core of society. And in doing so, it holds up such virtues as faithfulness, perseverance, commitment, hope, forgiveness, acceptance and honesty."
More reviews of recent releases:
An Unfinished Life: Tom Neven (Plugged In) says, "An Unfinished Life is a well-written, engaging story … truly moving. … The luscious cinematography and the interaction of the two heavyweight actors Robert Redford and Morgan Freeman are also gratifying to witness."
Echoes of Innocence: Andrew Coffin (World) echoes last week's poor reviews, saying that the movie "quickly jettisons any sense of realism in plotting and character and dives into archetypes (a kind word for cliché s) and sensationalism. This abstinence tale is framed as a supernatural thriller, presumably because that's what would attract teenagers to an abstinence tale. Interesting perhaps in concept, but not in execution."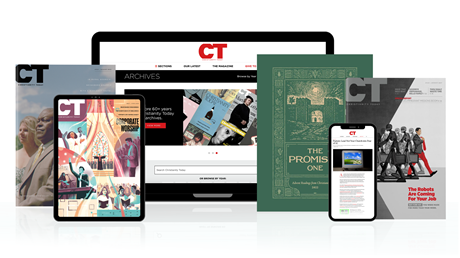 Annual & Monthly subscriptions available.
Print & Digital Issues of CT magazine
Complete access to every article on ChristianityToday.com
Unlimited access to 65+ years of CT's online archives
Member-only special issues
Subscribe
Deadly Romantic Comedies
Deadly Romantic Comedies