true
It should have been enchanting.
Terry Gilliam, the director of The Adventures of Baron Munchausen and The Fisher King, seems like the perfect filmmaker to take the dark, sinister, twisted tales originally spun by the Brothers Grimm and re-invent them for the big screen. After all, the Disney-fied versions have given shiny, happy makeovers to those classic stories, altering the fact that characters sometimes lived less-than-happily ever after.
Give the man some credit—in The Brothers Grimm, a film written by Ehren Kruger (The Ring Two, Scream 3), Gilliam manages to paint appropriately grim pictures and stir up some spooky situations. Kruger's script focuses not on the real Grimm brothers, but on two half-witted characters by the same name who find themselves stuck in a tapestry of fairy tales. These Grimms are con men who pretend to save villages from curses and monsters. When they stumble into a town that is persecuted by a real wicked witch, they're in for a world of trouble. It's a great premise, bursting with macabre and comical possibilities.
Unfortunately, the result is a mess, clearly the result of studio tampering and poor screenwriting. Even Matt Damon, Heath Ledger, and Monica Belucci can't save this misguided, over-hasty film with its under-developed characters and lousy special effects. While some of the darker details disqualify this as a film for small children, there's just enough cleverness and visual imagination to make it an entertaining matinee for grown-up fantasy fans. But it's hard to ignore how much better Grimm might have been.
My full review is at Christianity Today Movies, and an extended edition with more about Gilliam's legacy of troubled film projects is posted at Looking Closer.
Harry Forbes (Catholic News Service) writes, "The overall theme is superstition versus enlightenment, as exemplified by the backward German peasants and the more 'cultivated' French. The film is marred by a slow start and an uneven screenplay. With more fleshing out, the two leads would come off less like stick figures and the plot would be more believable, even within the framework of fantasy. So, too, the abrupt changes in mood from serious to slapstick comedy don't always work. … But Gilliam gets high marks for creating an evocative, 19th-century world … and whipping up a good deal of excitement as the story races to its conclusion."
Even though the original Grimm tales were troubling, some reviewers seem surprised that the film has elements of horror. Marcus Yoars (Plugged In) says the original Grimm brothers "may have written unforgettable, imaginative stories that have mesmerized kids for centuries, but The Brothers Grimm is definitely not for children. More horror than adventure, the movie depicts a scary, spooky world filled with evil spirits, horrifying beasts, enchanted beings and sinister spells."
"Most disturbing to believers," says Eric Rice (Crosswalk), "is that the village people tell a story (with venom) about how a 'Christian king' came into the forest, killed all the trees and built a city." (Well, Christian kings have done worse in history.) Rice also cautions viewers that the film is "violent, gory, scary, dark and misses on a lot of humor beats." And he finds the fact that Matt Damon and Heath Ledger look less-than-handsome "off-putting." (They're felons, running from the law, running out of money, trekking through the wilderness. Shouldn't they look a bit dirty?)
Mainstream critics, many of whom have longed for Gilliam's return after a seven-year absence from the screen, are disappointed.
Critics want out of
The Cave
True: Hell is a place full of demons.
False: If people use enough explosives, they can bust through into hell and let the demons out.
True: Bruce Hunt's The Cave, a movie based on the preceding false premise, has critics comparing the experience to eternal suffering.
"I'll say this much," writes Russ Breimeier (Christianity Today Movies). "You have to appreciate truth in advertising when it comes to Hollywood. 'Beneath heaven lies hell. Beneath hell lies … The Cave.' That can't be a good thing."
Christopher Lyon (Plugged In) says, "The complete avoidance of character development, alternately giggle- and cringe-inducing dialogue, hectic violence and strict adherence to nearly every monster movie cliché ever invented don't help. The Cave is a dark, disorienting place that will have lots of people looking for a way out of the theater."
Mainstream critics would clearly like to bury the film where no one is unfortunate enough to find it.
Undiscovered

should remain so

Meiert Avis was a music video director (U2's "Love is Blindness") before he became a film director. Thus, it makes sense that his first film features several rock-music montage sequences as it follows the story of young musicians striving for success in Los Angeles.

Undiscovered stars Ashlee Simpson—yes, that Ashlee Simpson, sister of Jessica Simpson (The Dukes of Hazzard). Simpson was recently in the news after getting caught mid-lip-sync during a "live" performance on Saturday Night Live. Her film debut looks unlikely to improve her situation. Undiscovered is earning poor reviews.

David DiCerto (Catholic News Service) calls it "a contrived romance. … Despite an unvarnished 'indie' look and appealing young cast … director Meiert Avis' middling meditation on love and fame is weighed down by its predictable, cliché -laden script."

Jamie Maxfield (Plugged In) says it's a "less-than-original tale" about which he can only say one nice thing: "There's a really cute bulldog in the movie, and he knows how to skateboard, anentertaining. Perhaps only mildly entertaining. But with 96 minutes of middle-of-the-road acting and a worse-than-that plotline, a skateboarding pooch quickly becomes a welcomed escape."

Mainstream critics waste no words, saying it "just may be the dumbest movie of 2005."

More reviews of recent releases:

The God Who Wasn't There: When Peter denied his relationship with Christ, a rooster crowed. When filmmaker Brian Flemming denied that Jesus even existed in a film called The God Who Wasn't There, a film critic crowed. Cliff Vaughn (Ethics Daily) says, "Which is worse: willful misrepresentation or incredibly sloppy research? Either way, it's hard to attach much credibility to the filmmaker, even if he makes a few valid points along the way. Swapping reliability for entertainment has never been and never will be a path to greater illumination … even if you, like Flemming, question the very nature of what lies on the other side."

Peter T. Chattaway interviewed Flemming for Christianity Today Movies in June.

Red Eye: Andrew Coffin (World) says it's "a stripped-down thriller that succeeds through economy, pace, and casting. … The problem with Red Eye, like most thrillers, is that it builds to a foregone conclusion that is both improbable and distasteful."

Murderball: Gene Edward Veith (World) writes, "In a culture that often sees the physically disabled as having such a negligible 'quality of life' that they merit euthanasia, Murderball is profoundly pro-life."

Sky High: Denny Wayman and Hal Conklin (Cinema in Focus) write, "Sky High is a comic tale in the old tradition with a moral that not only children can appreciate but adults can as well."

Valiant: Andrew Coffin (World) says, "Suitable yet uninspired. That about sums up Valiant, a children's film parents may find themselves wishing that they liked much more than they actually do."

Broken Flowers: Brett McCracken (Relevant) writes, "The beauty of a Jim Jarmusch film—and to many, the problem—is that it is so open to interpretation. Jarmusch is not interested in neatly wrapped endings or particularly mainstream plots. Rather, he is interested in exploring characters, communication and the interactions between people, places and time. He excels at portraying the American tension between individualism and collectivism: we love to be alone, free to go and do anything on the open road, but when we encounter people and truly connect with them—that too is hard to leave behind."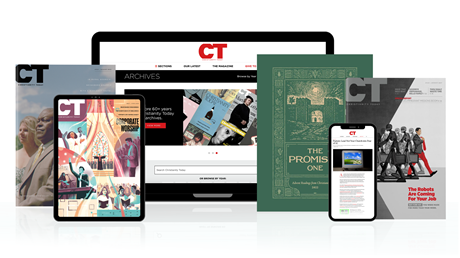 Annual & Monthly subscriptions available.
Print & Digital Issues of CT magazine
Complete access to every article on ChristianityToday.com
Unlimited access to 65+ years of CT's online archives
Member-only special issues
Subscribe
Brothers Are Grimm Indeed
Brothers Are Grimm Indeed