true
Why? That's the question many have asked when they heard that a new version of Jane Austen's classic Pride & Prejudice was being released. Why, when the 1995 A&E/BBC version is considered the gold standard? Why, when Colin Firth simply is Mr. Darcy? In other words, if it ain't broke, why try to fix it?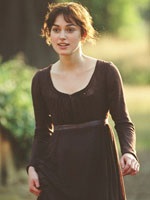 Thankfully, director Joe Wright doesn't try to fix anything. Think of it this way: The A&E/BBC version is like a family portrait—a stunningly lit, artistically framed photograph that captures the family so true to life. This new 2005 version is more like an impressionist painting of the family—less detail and depth, but when you look at it from different angles, various shadings and nuance catch your eye. It's the same lovely story, just a different artistic rendering.
Of course, the family in this portrait is the Bennets—endearingly henpecked Mr. (Donald Sutherland) and annoyingly fussy Mrs. (Brenda Blethyn) and their five daughters, whose main hope for any sort of future is to marry well. After all, this is 18th century Britain, the family's experiencing some financial distress, and money and estates are passed through sons. So when one single and rich Mr. Bingley (Simon Woods) moves into town, the Bennet house becomes a twittering, giggling mess.
At a local ball soon after his arrival, Bingley spends most of the evening dancing with the eldest Bennet, Jane (Rosamund Pike). She's the prettiest of the sisters by far, and therefore holds the brunt of the burden of marrying well and elevating the family to financial security. Bingley is accompanied by his conniving sister, Caroline (Kelly Reilly), and his long-faced friend Mr. Darcy (Matthew MacFadyen), who second-oldest daughter Elizabeth (Keira Knightley) overhears insulting her later the night of the ball. Lizzie thinks Darcy a big boor, and soon Bingley begins to question shy Jane's affections. As with any good Austen story, wrong impressions are made, bad people lie about good people, good people fall for bad people, and everything gets untwisted most pleasantly by the end.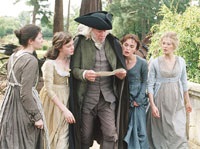 But this is familiar information for many moviegoers who will flock to this flick. What's new, however, is the subtle symbolism throughout the film. Especially in the form of birds, which we see running wild on the Bennet property and sitting primly in cages—and each of those scenes is directly related to what's happening to the girls just before or after. For example, in one scene, Lady Catherine (played by the definitively regal Judi Dench) demands that Lizzie play something on the piano for their dinner guests. When Lizzie assures her she's not very good on the piano, Lady Catherine persists. Just behind our Lizzie in this awkward exchange are big cages of birds—mirroring what she must feel at the moment: caged by her society's expectations of what makes a proper woman, by her social standing and gender. Toward the end of the film when our girls are getting happily paired off, pay attention to the swans on the lake—their number and their apparent attitude.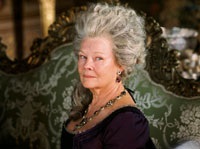 There are similar recurring scenes of spinning—especially when Lizzie's notions about people and love are challenged and this young woman with a strong sense of self is thrown off-kilter. And several times we see women caught in fierce rains and winds because they have no shelter, an apt picture indeed of unmarried women in this time period.
If the aforementioned question of why a new Pride & Prejudice is answered satisfactorily, what about the issue of how on earth you can cram hundreds of pages of Jane Austen brilliance—which took the A&E/BBC version five hours to do justice—into one two-hour flick? Wouldn't that be like sending our beloved heroines Elizabeth and Jane Bennet to a modern-day speed-dating event?
While the plot does move along at a brisk pace, from the opening scenes the movie is mercifully allowed to breathe. Time is taken to catch the sun's rays shining through the trees onto our Lizzie, who's walking and reading at a leisurely pace. In one of the rollicking ball scenes, we get to see a whole dance's worth of cat and mouse between Elizabeth and Darcy. Later, when a manor is shut up for the season, the camera lingers on two servants billowing out a sheet to cover the furniture. In fact, the whole film is a visual feast of textures (brocade, silk, animal fur, stone pillars, marble statues, fire) and breathtaking English countryside, often accessorized by early morning mist.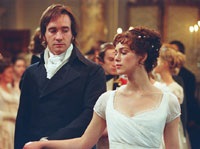 And roaming through this countryside is the lovely and long-necked Keira Knightley. In recent years we've seen her do sporty in Bend It Like Beckham, damsely in Pirates of the Caribbean, and deadly in Domino. She's like all the Spice Girls rolled into one multi-talented actress-to-watch. As Lizzie Bennet, she's just the right balance of self-assured and anguished—an island of sanity in a family of loons and a society caught up in gender and class expectations. Rosamund Pike is poised and pretty as sister Jane, though she's not as obviously reticent as Austen purists would probably like her to be. Matthew MacFadyen seemed all wrong as Mr. Darcy in the opening scenes (at least Colin Firth was cute under all that stoicism), but by an ending shot when he crosses a fog-filled meadow to get to Lizzie, I've never been more attracted to a sturdy, stodgy Englishman. The supporting cast is highlighted by Donald Sutherland, who delivers a wonderful father-daughter exchange with Lizzie toward the end of the film. And Judi Dench just elevates any movie she graces.
The film certainly stands well on its own merit, and will most likely find the harshest critics in ardent Austen and A&E fans (or husbands who get dragged to the film, for whom this genre simply isn't their cup of tea). Sure, the film can't go as deep on issues of class and gender in a mere two hours. But what it lacks in depth of plot and character development (at least to the degree that Austen fleshed these out in her book), it more than makes up for in luminous visuals, subtle thematic statements, and fine acting. And those die-hard Austen aficionados need only to remember one of Jane's recurring literary themes of not jumping to hasty, prejudiced conclusions (did we learn nothing from Lizzie?). In other words, keep an open mind, judge the film on its own merit, pay attention to the details (especially the birds!), and you'll find a lovely period piece that surely will stand the test of time.
Talk About It
Discussion starters
Make a list of who's prideful and who's prejudiced in the film. How do these character traits affect their relationships? How do they change these attitudes throughout the course of the movie? How do pride or prejudice affect your relationships?


How are shyer or more introverted characters misunderstood in the film?


After Charlotte gets engaged, she tells Lizzie she's a burden to her parents and says, "Not all of us have the luxury of romance." Do you think she was wise or foolish to accept the proposal? Why? What role should things such as need and romance play in choosing a mate?


After Jane makes an agreeable match, her mother says, "I knew she couldn't be so beautiful for nothing." In what ways has the role of beauty as currency for women changed over the years, and in what ways is it still the same?


In what ways do the presence of birds, spinning, storms, veiled faces or other visual elements mirror the plot? What do these visual devices underscore or communicate?
The Family Corner
For parents to consider
As the PG rating suggests, this is a safe bet for the whole family. Whether your kids can sit still for a two-hour period piece/romance/drama is your call.
Copyright © 2005 Christianity Today. Click for reprint information.
What Other Critics Are Saying
Jane Austen fans—beware.
If you don't like to see the prose of world's most beloved romance novelist altered, you may find reason to complain about the way director Joe Wright and screenwriter Deborah Moggach have abridged Austen's Pride & Prejudice. But if you're content to see classics abbreviated so you can escape the movie theater in less than three hours, well, you may join the chorus of critics raving about this film.
But critics aren't just comparing this version of Pride & Prejudice to its literary source. Wright's film, version, which stars Keira Knightley and Matthew MacFadyen, is being held up against what is considered the gold standard of Jane Austen adaptations—the popular, highly-praised, five-hour BBC adaptation of the same book.
"The MGM and BBC renderings were fine indeed, but the latest [version] is yet another splendid dramatization," says Harry Forbes (Catholic News Service). He praises the performances and direction, and concludes, "Apart from a subplot involving a rakish character who elopes with one of the daughters with dishonorable intent, there is nothing to preclude recommendation for all ages."
Michael Karounos (Christian Spotlight) says that non-Austen fans will enjoy the movie "because it is a good love story, with believable character development, interesting settings, and a brisk pace which makes the film's length seem shorter than its satisfying 127 minutes." Austen fans, meanwhile, will "concede that it's better than the 1940 Lawrence Olivier/Greer Garson, if not quite as satisfying as the fuzzy-lens romanticism of the 1995 BBC mini-series … that is everyone's favorite."
Mainstream critics are swooning.
Pride & Prejudice: "This is no mere chick flick," writes Gene Edward Veith (World). "Guys will like it too, if only to gaze upon the intensely beautiful Ms. Knightley. But men will especially appreciate the movie if they use it as a learning opportunity. … [Women] … resonate with a specific kind of masculine character: the forceful, honorable 'gentleman' that 21st-century guys would do well to emulate."
The only real problem with Keira Knightley in this film is the way that, no matter how hard the rain and the wrongdoing pound on her, her makeup is always picture-perfect, and that taints an otherwise winning performance. But that's a minor quibble about what it otherwise a surprisingly energetic, graceful, and delightful adaptation of a richly rewarding novel. In this season of overhyped disappointments, Pride & Prejudice is one of the few that is really worth the full ticket price. Director Joe Wright has made an auspicious debut, and I look forward to whatever he does next. My full review is up at Looking Closer.
Article continues below
Denny Wayman and Hal Conklin (Cinema in Focus) sum it up as "a wholesome film and an insightful exploration of social forces. … The power of the arts to help transition necessary social change is clearly seen in the works of Jane Austen. This film carries on this helpful gift as it takes the prideful prejudices of the past and shines a light on their presence today. It also shows that the power which can overcome both is love."
Josh Hurst (Reveal) poses the questions that had Austen fans worried: "Staging yet another remake of a Jane Austen novel? One that has already won the love of so many through its five-hour BBC adaptation? One that stars Keira Knightley? Madness! It seems like the kind of film that should have failed before it even got off the ground. But it didn't. On the contrary—it's one of 2005's best films."
Related Elsewhere:
A ready-to-download Movie Discussion Guide related to this movie is available at ChristianityTodayMoviesStore.com. Use this guide after the movie to help you and your small group better connect your faith to pop culture.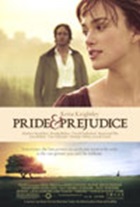 Browse All Movie Reviews By: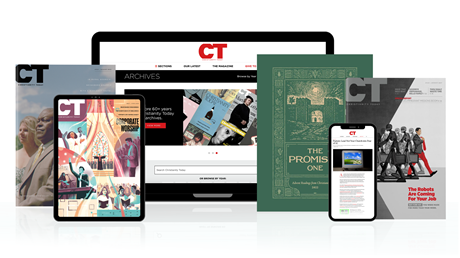 Annual & Monthly subscriptions available.
Print & Digital Issues of CT magazine
Complete access to every article on ChristianityToday.com
Unlimited access to 65+ years of CT's online archives
Member-only special issues
Subscribe
Pride & Prejudice
Pride & Prejudice