true
In interviews for Derailed, star Clive Owen has described the movie by saying it's about two married characters who choose to have an affair—and then pay big time consequences. This setup gives the impression that the film is a portrait of a marriage broken. One may assume the movie will attempt to dissect the real-world pain and consequences of breaking the marital bond and a relationship's trust.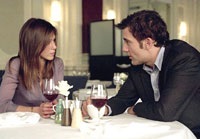 But that isn't what this movie is about. There are consequences, but they aren't what you might think. And there is some wrestling over decisions and guilt, but not because of the choice to commit adultery. Instead, very early on the movie sells out its focus on a family broken by infidelity to set up a convoluted and unoriginal crime/revenge plot.
As the film begins, we see that harried father and husband Charles Schine (Owen) greatly loves his diabetic daughter Amy, but his marriage to wife Deanna (Melissa George) has grown mundane. They no longer kiss in the mornings as they leave for work. Charles feels unappreciated at home and at work. But then one morning, he meets banker Lucinda Harris on the train to work. She takes interest in him, and Charles finds a new energy and excitement in Lucinda. Their morning train rides grow into lunches, and soon dinners after work. Before they know it, they kiss and make the decision to go to a hotel.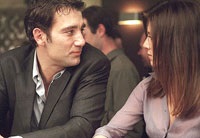 Up to this point, the film is a pretty fascinating portrait of a man, frustrated and reigned in by suburban life, taking slippery steps down a dangerous path. But then, the movie changes. Before Lucinda and Charles become intimate, a true nightmare strikes and sends Charles' life reeling. Now harassed and bribed by vicious criminals, Charles has to fight for his family with no one to turn to.
The movie's strength is when it sticks to Charles' family and the effects of his actions on it. There is an incredibly moving scene between Charles and his daughter, in which he allows her to play loud rock music while they study together because it drowns out the depressing sounds of her dialysis machine. Knowing where his actions could lead this loving family is heartbreaking. But that threat never materializes. While the movie does chronicle the lengths to which someone may go to hide the truth, we never really see the impact this has at home. Instead, the movie gets caught up in the standard thriller plot of supremely clever criminals playing with the hero's mind. In fact, when Charles does eventually reveal to his wife that he chose to have an affair, the director cuts away from the scene so that we don't even see Deanna's reaction.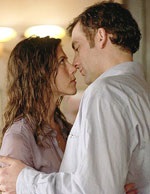 Instead of showing any kind of aftermath at home, the plot follows Charles as he takes care of the bad guys in typical action thriller heroics of murder and revenge. Then, he returns home to his happy, loving wife. The last thing we see is a smiling Schine family returning to happy life—with no sign of the pain leftover from deception and betrayal. Not only is there no aftermath, there's no sign of change in Charles. Even after the nightmare begins, Charles still wants to go ahead with the affair with Lucinda. And by the end of the film, Charles still clearly hasn't learned his lesson.
Had the plot been compelling even without addressing the effects of adultery, it could be forgiven. But the movie is just forgettable, derivative and predictable all the way around. In fact, a big reason why I daydreamed so much about where this film could have gone is because I knew exactly where it was going. The risk of filmmakers who base their entire script on shocker endings is that if it doesn't work or is predicted, your movie doesn't amount to much. Most regular moviegoers will predict Derailed's big plot point in the first half hour, if not from the commercials. That the filmmakers thought their surprise was surprising is almost an insult to the audience.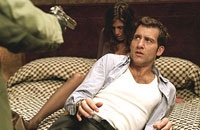 Every trick up this movie's sleeve has been seen hundreds of times in film—and done far better. This is one of those movies that forsakes real story for story-twisting surprises that lead to uneven storytelling. For instance, the criminals messing with Charles are either remarkably omnipresent or unbelievably stupid, depending on what the big twisty plot needs from them at any given moment.
There are a couple of decent surprises in Derailed. There's some true suspense with slight hints of Hitchcock. It has solid acting—especially from Owen and RZA in a small part. (Aniston, who really doesn't have that much screen time, comes off as disingenuous and fake as Lucinda. It is hard to tell if that's part of the complex character she plays or because of uneven acting.)
But what finally derails the movie is that it thinks it's a lot smarter than it is. It even references its own twisty plot in the beginning as Charles helps Amy with a book report and explains that many authors "intrigue their readers so you never know what is coming next." Too bad, it couldn't have lived by its own advice.
Talk About It
Discussion starters
Did you think Owen and Aniston had good chemistry? Why do you think Charles choose to have this affair? Is it believable?


What do you think Charles learned about family by the end of the movie? Do you think is unthinkable that he'd have an affair?


Do you think Charles' actions against the criminals were just? Did he need to do what he did in the end to protect his family? Or was it cold-blooded revenge?


The Family Corner
For parents to consider
The film is rated R for strong disturbing violence, language and some sexuality. Characters use the full gamut of swear words, including using the Lord's name in vain. There's brutal hand-to-hand violence, multiple bloody shootings and a vivid and frightening rape scene in which more is actually heard than seen. The sexuality includes passionate kissing and partial undressing between Owen and Aniston.
Copyright © 2005 Christianity Today. Click for reprint information.
What Other Critics Are Saying
compiled by Jeffrey Overstreet
from Film Forum, 11/17/05
This year's favorite tabloid victim, Jennifer Aniston, gets to star in something fictional for a change in Mikael Håfström's thriller Derailed. She stars as a happily married woman who stumbles into an affair with a stranger (Clive Owen) on … of course … a train. When their secret rendezvous is interrupted by a dangerous thug (Vincent Cassel), they end up in snares of blackmail and deceit.
He concludes, "Every trick up this movie's sleeve has been seen hundreds of times in film—and done far better. This is one of those movies that forsakes real story for story-twisting surprises that lead to uneven storytelling. … But what finally derails the movie is that it thinks it's a lot smarter than it is."
David DiCerto (Catholic News Service) says, "What could have been a smart cautionary thriller about the consequences of deceit is instead derailed by a predictable plot and a ridiculous, morally problematic ending, in which a character literally gets away with murder."
Christopher Lyon (Plugged In) finds himself "wondering if this film could have been more powerful had the director shown more restraint." While the story explores one character's moral failure, Lyon questions whether the character actually learns anything from the consequences. And he doesn't find this thriller very thrilling. "The much talked-about surprises in the film just aren't all that surprising. In fact, in retrospect, several events felt extremely convenient in moving the story where it needed to go. But even if they had shocked me, twists and double-twists are never enough to make enduring sexual violence and a barrage of bad language worthwhile."
Article continues below
From the perspective of Sheri McMurray (Christian Spotlight), certain content disqualifies the film from being proper viewing for any Christians at all. "On a Christian level, no one should see this one anyway. The acting is good and the story is pretty well written, but the vulgar language … and explicit sex, violence and godless behavior should keep the concerned Christian far away."
Mainstream critics take this film about as seriously as they take the weekly Aniston gossip.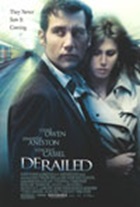 Browse All Movie Reviews By: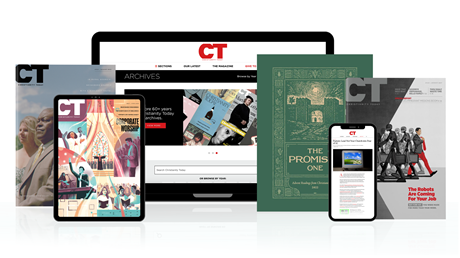 Annual & Monthly subscriptions available.
Print & Digital Issues of CT magazine
Complete access to every article on ChristianityToday.com
Unlimited access to 65+ years of CT's online archives
Member-only special issues
Subscribe
Derailed
Derailed