| | |
| --- | --- |
| | • |
A Tex-Mex restaurant in Romania, a medical supply company in a Muslim country, and an Indian outsourcing firm are just some of the ways in which Christians are ministering through business. Besides doing away with the need to raise support through donations, Christian businesses are able to meet needs and go places that traditional missionaries can't.
The New York Times this week covered a new trend in missions: kingdom business. Christians have been publishing on the phenomenon for a few years now, and the movement seems to be growing.
"One businessman from California, Jeri Little, visited Romania in 1988 on a church trip and was moved by the desperate conditions there," The Times reports. "But Mr. Little, a financial planner who now lives in Romania, wanted to do something beyond a quick fix. 'I realized that we needed to not just send them money and create another banana republic dependent on our aid,' he said. 'We needed people to create business.'"
So Little opened up a Tex-Mex restaurant, capitalizing on the then-popular American television show Dallas. "Some of the restaurant's profit this year will be put back into expanding the business, but the rest will go to local aid and ministry projects, Mr. Little said. These [projects] have included opening a kindergarten and day-care center in one of Iasi's poorest neighborhoods."
"The real power of the movement is that it's not donor-funded, it's basically globally funded," one Christian business owner told the Times. "There's no restraint in the capacity of this system, because you avert the donor and plug into globalization."
"The future generation of missionary will be the rank-and-file businessman," Steve Rundle, coauthor of Great Commission Companies, told the Times. "The wheel, he added, has come full circle: many of the first emissaries of the Gospel were tradesmen, not priests."
A different trend is picking up steam in the U.S. It seems to be more about niche marketing than Christian entrepreneurship.
Mark Pinsky of The Orlando Sentinel picks up the story in Florida. "Scores of business owners believe in this kind of affinity marketing, in which people of faith patronize each other. Some use symbols such as crosses, fish, or doves in their ads in the commercial Yellow Pages. Others advertise in Christian publications and directories, such as Florida Christian News and The Shepherd's Guide, a directory with more than a hundred listings that is distributed free."
"Yvonne Larocca, a sales associate with The Shepherd's Guide, says the number of listings in the book is 'definitely growing,'" Pinsky writes. The growth is because "we live in a dishonest world, and Christians have to answer to God. So therefore you have a better chance of them being honest."
But not all Christian businesses behave that way. "Some people think they're going to do better if there's a fish on the door, and it's not always true," says one Christian business owner.
Other U.S. companies prefer to just do business. The News-Herald in Suffolk reports the local Popeyes Chicken and Biscuits will be serving chicken dinners to the homeless this Thanksgiving. "It's the spirit of what is right, as a part of a community and as a Christian," said Hung Ngo, senior vicepresident of operations and franchise development for Saratoga Food Group, which owns the Popeyes chain.
Some say that's a result of the privately-held company's values.
Company founder S. Truett Cathy, 84, operates on the philosophy that biblical principles applied in the workplace can help a company succeed, said Jerry Johnston, a spokesman with the Atlanta-based company.
In addition to being closed on Sunday, the company's corporate purpose includes the phrase "To glorify God by being a faithful steward of all that is entrusted to us."
Readers may also be interested in papers on Marketplace Ministry and Business as Mission from the Lausanne Committee on World Evangelization.
More Articles
Missions & ministry:
Honouring a good man in Africa | Lemmy Nyande knows every rapid, rock and sandbank on his home stretch of the Zambezi, upriver from Victoria Falls. He is one of the river's "master mariners"—an expert paddler of the makoro. The dug-out canoe is still used by fishermen and villagers a century and a half after a similar canoe carried an obscure medical missionary from Scotland to the lip of Mosi-oa-Tunya, "the smoke that thunders". On November 16, 1855, Dr David Livingstone, who was soon to become a national celebrity, renamed the stupendous cataract for his British queen. (The Herald, UK)
Thanks to faith, dealer free pending sentence | A convicted methamphetamine dealer has been granted a rare exception under federal law, thanks to a winning argument from her attorney that she has kicked her addiction through religion. (Knoxville News Sentinel, Tenn.)
Jackhammers shake a refuge for the weary | At the very bottom of Manhattan island, where black skyscrapers blunt the sunlight and most people leave by dusk, there sits a small building of brick at 7 State Street. (The New York Times)
Racing winter to reach Pakistan's quake victims | As winter approaches in hilly northern Pakistan, where tens of thousands of earthquake victims remain without solid shelter, a number of Pakistani Americans are urgently trying to raise funds to airlift aid that would take six weeks to reach the country by sea. (Washington Post)
The manly men of God | No women allowed into the Promise Keepers, but that didn't stop Infiltrator from getting on the Prayer Team (San Francisco Weekly)
Church magazine trumpeting a message of justice to the nation | As publisher of Trumpet Newsmagazine, Wright has been charged with transforming a magazine that originated in a Chicago South Side church into a nationally distributed publication for the larger African-American community. (Chicago Tribune, via Fort Wayne News Sentinel, Ind.)
Church life:
Baptists toughen gay policy | North Carolina's largest religious organization voted overwhelmingly Tuesday to kick out any member church that "knowingly affirms, approves or endorses homosexual behavior." (Greensboro News Record, N.C.)
Texas Baptists hear message of unity | 1st Vietnamese pastor to address convention says group must show 'love by action' (Houston Chronicle)
Church, temple to make swap this weekend | Lay pastor to speak at Temple B'nai Israel, rabbi at The Park Church. (Elmira Star-Gazette, N.Y.)
Texas Baptists elect first black president | The Rev. Michael Bell, pastor of Greater St. Stephen First Baptist Church in Fort Worth, succeeds the group's first Hispanic president, the Rev. Albert Reyes, the Austin American-Statesman reported. (The Washington Times)
St. Andrew's Anglican Church holds C.S. Lewis evensong | St. Andrew's Anglican Church will hold an Evensong service in memory of C.S. Lewis, Tuesday, Nov. 22, at 7 p.m. Nov. 22 is the anniversary of Lewis' death. (The Chattanoogan)
Adrian Rogers:
Adrian P. Rogers, 74, Leader of Conservative Baptist Group, Dies | The Rev. Adrian P. Rogers, the three-time president of the Southern Baptist Convention who led a conservative takeover of the powerful denomination that helped usher in a resurgence of conservative Christians on pulpits and in politics, died on Tuesday in Memphis. (The New York Times)
Southern Baptist leader Adrian Rogers dies | Adrian Rogers, a three-time president of the Southern Baptist Convention who helped religious conservatives take control of the 16 million-member denomination, died Tuesday at age 74. (Associated Press)
Adrian Rogers | The Rev. Adrian Rogers was a Southern Baptist preacher shaped in the mold of that church's most influential pulpiteers. (Editorial, Daily Journal, Miss.)
Virginia Episcopal church joins African diocese:
Va. Episcopal church joins African diocese | An Episcopal congregation in Virginia has left the US church to affiliate with an Anglican diocese in Uganda -- the latest fallout from the ordination of an openly gay American bishop, which has shaken the denomination worldwide. (Reuters)
Episcopal church withdraws from Va. diocese in theological split | A small church in Loudoun County has announced its withdrawal from the Episcopal Diocese of Virginia, the first church in the diocese to take such action after two years of conflict over the consecration of an openly gay bishop in New Hampshire. (Associated Press)
Queen opens Church of England General Synod:
The Queen defies al-Qaeda | The Queen affirmed her belief in the "uniqueness" of the Christian faith as a point of reference in the modern world. (Times, London)
Queen extols the 'unique' power of Christianity | The Queen opened the Church of England's General Synod yesterday with a ringing endorsement of the "uniqueness" of the Christian faith. (The Telegraph, UK)
Church & state:
Speaker blasts religious right | 'We can't possibly let them win,' minister tells crowd (Rocky Mountain News, Col.)
Air Force coach DeBerry won't leave team | Air Force coach Fisher DeBerry, a self-described "tough old bird," said Tuesday he plans to stay on with the Falcons despite the troubles he has brought upon himself the last two years, both on and off the field. (Associated Press)
AFA defends cadets' meetings with Christian group | The Air Force Academy is defending cadet meetings overseen by an off-campus evangelical Christian group, saying the group got no special treatment and must follow rules on religious tolerance. (Associated Press)
ACLU sues to expand Bible tax break | Acting on behalf of a seller of spiritual books, the American Civil Liberties Union has filed a lawsuit arguing that a Georgia law exempting the Bible from sale taxes is discriminatory and should be extended to all publications dealing with the meaning of life. (Associated Press)
December dilemma:
Lights go out on Christmas | A politically-correct council has outlawed the term "Christmas lights" from its festive switch-on ceremony. (Edinburgh Evening News, UK)
Treason Greetings | It's time to reclaim Christmas from the Christians. (Philadelphia Weekly)
Education:
Connecticut school: Read a book, buy a goat | Worthington Hooker students will collect pledges for every book they read. The money will be donated to Heifer International, an Arkansas-based nonprofit that sends livestock overseas. (Associated Press)
Baptist group lets go of college | Georgetown will be self-governing (The Courier-Journal, Louisville)
Religion & politics:
State senate limits stem cell research | The Ohio Senate on Tuesday passed limits on embryonic stem cell research and human cloning that researchers say would apply to a practice that the bill appears to protect. (Associated Press)
Can I Get a Little Privacy? | If the Republicans can propose a constitutional amendment banning gay marriage, why can't the Democrats propose a right to privacy amendment? (Dan Savage, The New York Times)
Death penalty bill fails in House | Romney initiative roundly defeated (Boston Globe)
Catholic bishops denounce capital punishment | Draw distinction with abortion (Boston Globe)
Alito:
Death Penalty Case Gives a Clue to Alito's Methods | As partisans work feverishly to dissect the judicial record of President Bush's latest choice for the Supreme Court, one point may easily be lost: judges do not actually spend much of their time on high-profile issues like religion or abortion. (The New York Times)
Nominee Plays Down Remarks on Quotas and Abortion | Seeking to tamp down a political uproar over a 1985 document in which he denounced racial quotas and said the Constitution did not protect the right to abortion, Judge Samuel A. Alito Jr. told senators on Tuesday that the sentiments were simply the views of "an advocate seeking a job." (The New York Times)
Alito Downplays 1985 Abortion Statement | The Samuel Alito who argued against abortion rights in 1985 was "an advocate seeking a job" with the conservative Reagan administration, the Alito who is now a Supreme Court nominee told Democrats on Tuesday. (Associated Press)
US court nominee downplays old anti-abortion memo | U.S. Supreme Court nominee Samuel Alito on Tuesday downplayed a 1985 job application in which he opposed abortion, saying that as a federal judge he rules on law without personal opinion, a Democratic senator said. (Reuters)
A coauthor says Alito was instrumental in Roe v. Wade brief | Samuel A. Alito Jr. played a major role in constructing the Reagan administration's 1985 brief that argued for overturning the Supreme Court decision legalizing abortion, according to one of the coauthors. (Boston Globe)
Ignore the Man Behind That Memo | A memo that Judge Samuel Alito Jr. wrote in 1985 strongly suggests that he is far outside the legal mainstream. (Editorial, The New York Times)
Religion & politics (non-U.S.):
Pope enters Italy pre-electoral abortion debate | Pope Benedict warmly praised pro-life activists on Wednesday as the Italian government was considering deploying them into abortion advice centres to try to dissuade women from terminating pregnancies. (Reuters)
Serbia Rejects Independence for Kosovo | The Serbian government on Tuesday unanimously adopted a resolution rejecting independence for Kosovo in U.N.-mediated talks on the future of the province expected to begin next month. (Associated Press)
Church official: Lenin should be buried | top Russian Orthodox official said Tuesday the church believes the body of Bolshevik leader Vladimir Lenin should be removed from a Red Square mausoleum and buried, Russian news agencies said. (Associated Press)
Bosnia looks beyond Dayton a decade after war | Ten years after the ceasefire in Bosnia, the Dayton peace treaty that stopped Europe's worst conflict since World War Two is in need of a serious overhaul. (Reuters)
Religious freedom & human rights:
Korean reds targeting Christians | A woman in her 20s executed by a firing squad after being caught with a Bible. Five Christian church leaders punished by being run over by a steamroller before a crowd of spectators who "cried, screamed out, or fainted when the skulls made a popping sound as they were crushed." (New York Sun)
Orthodox Christians protest against a law on personal data | Some 300 people took part in a meeting 'In defense of rights and national sovereignty of Russia, against a draft law to be passed by State Duma concerning collection and use of individual personal information about all RF citizens'. (Interfax)
Venezuela orders US religious group out | Venezuela gave a US evangelical missionary group a 90-day deadline to leave indigenous communities after President Hugo Chavez accused them of spying and ordered them out of the country. (New Zealand Herald)
Members of the Muslim community survey fire damage in Catholic church | Members of the Muslim community survey fire damage in the Catholic church of Cure d'Ars in Romans, southeastern France November 16, 2005 after an arson attack during the night by unidentified people. (Reuters)
Panel: No religious freedom in N. Korea | There is no freedom of religion in North Korea although there are four churches in the capital of Pyongyang, where some elderly people worship, an independent federal commission reported Tuesday. (Associated Press)
Sudan: Clashes erupt between communities in Western Equatoria | Clashes between communities in the southwestern Sudanese state of Western Equatoria have left several people dead and forced humanitarian agencies to evacuate international staff, a senior UN official said on Wednesday. (Reuters)
Zealots fan tensions between Christians, Muslims | Overzealous missionaries are fanning tensions between Christians and Muslims and within their faiths, creating potential conflicts that religious leaders must defuse urgently, a leading Catholic cardinal said on Wednesday. (Reuters)
Catholicism:
Catholic bishops approve proposals on lay workers | The United States Conference of Catholic Bishops approved a set of recommendations for lay workers in the church on Tuesday but did not publicly address a number of contentious issues at its meeting here this week. (The New York Times)
Bishops define ministerial laypeople | More than 30,000 laypeople work at least 20 hours a week in paid ministerial positions in Roman Catholic parishes in the United States, and 80 percent of them are women. But the church has no uniform system for training and authorizing them -- and is not even sure what they should be called. (Washington Post)
Catholic bishops turn to lay ministers | The nation's Roman Catholic bishops took a big step Tuesday to acknowledge and deal with one of the church's nagging problems: the growing shortage of priests. (Associated Press)
Abuse:
Judge orders release of priest sex abuse records | A judge has ordered the release of church records and documents relating to the clergy sexual abuse scandal that are held by the attorney general's office. (Boston Globe)
Pastor charged with having child porn | A rural Mazomanie church pastor was charged Tuesday with possessing child pornography after a computer technician found sexually explicit images of children on the pastor's computer. (Wisconsin State Journal)
Spirituality:
Doubt is their co-pilot | More Americans are shunning traditional religions and turning to upstart faiths such as Universism, whose sole dogma is uncertainty. (Stephanie Simon, Los Angeles Times)
Fortune-telling thrives in N.Korea's religious void | The art of divination and shamanism are apparently finding enough of a following in North Korea to prompt those meant to crack down on the practice to consult fortunetellers themselves, the U.S. Commission on International Religious Freedom claims. (Chosun Ilbo, South Korea)
The Virgin Mary gaining admirers | They're wearing "Mary Is My Homegirl" T-shirts and bracelets, and not all of them are Roman Catholic. (Knight Ridder Newspapers)
Why myths still matter | The religious rituals that surrounded them are gone, but we're still drawn to stories that transform the world -- and ourselves. (Salon)
Film:
`Mana' -- but is it from heaven? | Unique documentary explores belief systems around the planet (Charlotte Observer, N.C.)
The right cure for box-office blues | Hollywood has been chattering nervously about bad box office this year. Film attendance is down a wrenching 12% from 2004. Here's an easy fix: The more culturally and morally conservative movies Hollywood makes, the better its returns will be. (Los Angeles Times)
More articles of interest:
Site of pagan well to be restored | One of Wales' oldest wells, thought to be a pagan site rededicated by early Christians, is to be restored. (BBC)
Clay Crosse comes clean about porn | Christian recording artist Clay Crosse says a career-threatening infection was a sign from God for him to come clean about his porn addiction. (UPI)
Ga. examines law that allows kids to wed | Ever since her 13-year-old niece wed a 14-year-old boy last year, Sharon Cline has sent lawmakers a slew of letters begging them to change a Georgia law that allows children of any age to marry _ without parental consent _ as long as the bride-to-be is pregnant. (Associated Press)
Related Elsewhere:
Suggest links and stories by sending e-mail to weblog@christianitytoday.com
See our past Weblog updates:
November 16 | 15 | 11 | 10 | 8
November 4b | 4a | 3
October 31 | 27 | 24 |
October 19 | 12 | 11
October 6 | September 30 | 29 | 28
September 22 | 21 | 20 | 19
Weblog
Launched in 1999, Christianity Today's Weblog was not just one of the first religion-oriented weblogs, but one of the first published by a media organization. (Hence its rather bland title.) Mostly compiled by then-online editor Ted Olsen, Weblog rounded up religion news and opinion pieces from publications around the world. As Christianity Today's website grew, it launched other blogs. Olsen took on management responsibilities, and the Weblog feature as such was mothballed. But CT's efforts to round up important news and opinion from around the web continues, especially on our Gleanings feature.
Ted Olsen is Christianity Today's executive editor. He wrote the magazine's Weblog—a collection of news and opinion articles from mainstream news sources around the world—from 1999 to 2006. In 2004, the magazine launched Weblog in Print, which looks for unexpected connections and trends in articles appearing in the mainstream press. The column was later renamed "Tidings" and ran until 2007.
Previous Weblog Columns: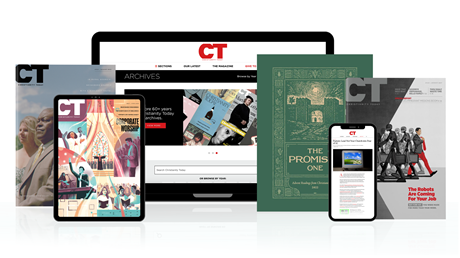 Annual & Monthly subscriptions available.
Print & Digital Issues of CT magazine
Complete access to every article on ChristianityToday.com
Unlimited access to 65+ years of CT's online archives
Member-only special issues
Subscribe
Why Should Wall Street Have All the Good Companies?
Why Should Wall Street Have All the Good Companies?