| | |
| --- | --- |
| | • |
Christian conservatives who withheld their support from Supreme Court nominee Harriet Miers are coming out in droves to support the President's latest pick, federal appeals court judge Samuel A. Alito Jr.
Alito is a 15-year veteran of the U.S. Court of Appeals for the Third Circuit and has argued 12 cases before the Supreme Court. Many Christian conservative groups immediately lauded Alito's credentials and case history.
"He's a great choice," said Bill Saunders, human rights counsel for the Family Research Council. "He's an outstanding lawyer with a great record who seems to show a consistent philosophy of judicial conservatism. He understands that we don't have a government by judiciary but a separation of powers where the legislators make the laws and the judges interpret and apply them."
If confirmed by the Senate, the 55-year-old Alito will succeed retiring Justice Sandra Day O'Connor, whose decisive votes in some high-profile cases reversed Alito's Third Circuit rulings.
"He's exactly the kind of justice the President said he would nominate," said Americans United for Life attorney Clarke Forsythe. "He will strictly construe the Constitution."
Liberal senators and groups announced their determination to block the nomination. MoveOn.org has launched an "Emergency Petition to Stop Alito," dubbing him "a notoriously radical judge."
Liberals and pro-choice activists are highlighting Alito's partially dissenting opinion in the Third Circuit's 1991 case Planned Parenthood v. Casey. The case involved five sections of Pennsylvania law. Alito concurred with the court on striking down all five sections except for the state's provision that would have required some women seeking abortions to notify their husbands.
"Alito basically concluded that spousal notice, along with its various exceptions, would be constitutional under the guidance of Justice O'Connor's opinions," Forsythe said.
The Supreme Court struck down the law the following year. "He was applying what he thought the Court had said," said Gregory Baylor, director of the Christian Legal Society's Center for Law and Religious Freedom. "The fact that the Supreme Court later disagreed with him said more about the Supreme Court's inconsistency with itself, than about Alito's inconsistency with the Court."
In a 2000 abortion case that concerns some pro-life groups, Alito voted with the majority to strike down a New Jersey law banning late-term abortions, arguing it did not include a sufficient health exemption for the mother.
On religious liberty, court watchers note his application of the First Amendment's religion clauses to protect religious practice and expression.
"Under the Free Exercise Clause, he's upheld claims of conscientious objection by Muslims and Native Americans. And under the Establishment Clause, he's upheld a city's holiday display precisely because it was religiously diverse," said Anthony Picarello, president and general counsel of the Becket Fund. "Any suggestion that he's outside the mainstream on these issues is outside the mainstream."
In Fraternal Order of Police v. City of Newark, Alito held that Newark had violated the rights of Muslim police officers by failing to exempt them from a police department ban on beards.
"There's a fair amount of uncertainty in Free Exercise Clause jurisprudence," Baylor said. Under the Supreme Court's 1990 Employment Division v. Smith ruling, Baylor said, "The Supreme Court changed Free Exercise Clause rules and made them less religion friendly. In the wake of that decision, there has been disagreement among courts over how to apply the new rules. Alito has applied [the clause] in a more religion-friendly fashion."
In ACLU v. Schundler, Alito upheld Jersey City's holiday display since it portrayed diversity: a menorah, plastic Santa and Frosty the Snowman, and Kwanzaa symbols in addition to a Christian crèche scene.
Court watchers say Alito's intellectual fortitude would be a strong asset to the Court. "His experience on the Third Circuit the last 15 years is an excellent training ground for the Supreme Court," Forsythe said. "He'll hit the ground running."
Sheryl Henderson Blunt is senior news writer for CT.
Related Elsewhere:
Other recent CT articles on the Supreme Court include:
Evolution, Not Revolution | Christians need to lower their Supreme Court expectations. (Nov. 1, 2005)
Miers Withdrawal Shows Split Among Religious Conservatives | High-profile cases underscore stakes for next nominee. (Oct. 27, 2005)
What If They Threw a Judicial Confirmation Battle and Nobody Came? | Though Roberts nomination looks certain, groups say they'll spend resources on the debate—and set the stage for the next one. (Aug. 8, 2005)
In Perspective
Where Does Feminists for Life Fit in the Pro-life Community? | Group brings unique niche strategy to the movement. (July 29, 2005)
Weblog: Jane Roberts for Supreme Court Justice! | Questions on John Roberts's abortion stance, but none regarding his wife (July 21, 2005)
Conservative Religious Groups Praise 'Originalist' Roberts Nomination | But in 2003 nominee said he was uncomfortable with the label. (July 20, 2005)
Weblog: Is Gonzales Pro-Life? Does it Matter? | Inside the "originalist" Gonzales opinion that has pro-lifers so upset (July 12, 2005)
Supreme Court Opening Will Test Strength of Religious Conservatives | Conservative groups say this is why they pushed for Bush's re-election. (July 01, 2005)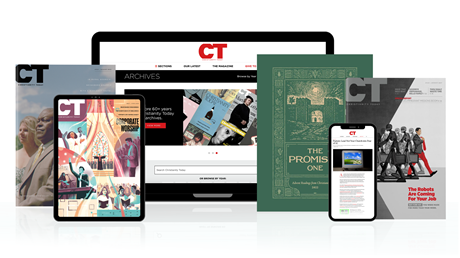 Subscribe to Christianity Today and get access to this article plus 65+ years of archives.
Home delivery of CT magazine
Complete access to articles on ChristianityToday.com
Over 120 years of magazine archives plus full access to all of CT's online archives
Subscribe Now
Alito Nomination Pleases Christian Conservatives
Alito Nomination Pleases Christian Conservatives