| | |
| --- | --- |
| | • |
I love Halloween, and I hate to see it melting away like the Wicked Witch of the West. But two factors are working against my favorite holiday.
First, there's safety. It seems every generation is less likely to let the kids out after dark than the generation before.
Second, there's religion. Many Christians are becoming uncomfortable with the dark image of Halloween, so they're trying to co-opt it into "harvest festivals" and sanitized "trunk or treat" parties. Personally, I don't see how a harvest festival — common to just about every ancient religion except Christianity — is considered more palatable.
So I've been pondering how to combat these two trends and keep alive the old-fashioned Halloween that I love.
I envision a new line of costumes.
Safety? Each costume is topped by a big balloon with a tiny light inside, so the wearer is illuminated on the darkest night. It's sort of like a floating halo.
Religion? Each balloon is inscribed with a brief Bible verse that helps you think about the costume in a whole new light.
A few examples:
Skeleton: "You are like whitewashed tombs, which look beautiful on the outside but on the inside are full of dead men's bones" (Matthew 23:27).
Wolfman: "His whole body was like a hairy garment; so they named him Esau" (Genesis 25:25).
Devil: "Jesus went around doing good and healing all who were under the power of the devil" (Acts 10:38).
Ghost: "Touch me and see; a ghost does not have flesh and bones, as you see I have" (Luke 24:39).
Dr. Jekyll and Mr. Hyde: "A double-minded man is unstable in all his ways" (James 1:8).
Frankenstein: "The whole body, joined and held together by every supporting ligament, grows and builds itself up in love, as each part does its work" (Ephesians 4:16).
I can't decide what to do about a witch's costume. There are plenty of citations in the Bible against witchcraft and sorcery, so I have to be careful. I may adapt 1 Samuel 28, in which the witch of Endor conjures up the spirit of the dead Samuel, scaring herself and King Saul half to death. If that's too wild, my backup is a prophecy in Isaiah against Babylon, in which God declares, "I will sweep her with the broom of destruction."
I think I'm on to something here. But if my costume line doesn't sell, I'll keep hunting for a way to counter those who would say, "Boo? Humbug!"
Doug Mendenhall is a writer for the Huntsville Times in Huntsville, Ala.
Related Elsewhere:
Past Christianity Today stories on Halloween include:
In Perspective: The Christian and the Jack-o'-Lantern | The September 11 terrorist attacks force Americans to rethink Halloween—something Christians have done for a long time. (Oct. 31, 2001)
Christian History Corner: Festival of Fears | What's scarier than Halloween? The anxieties that drive it. (October 26, 2001)
Hallowing Halloween | Why Christians should embrace the "devilish" holiday with gusto—and laughter. (Oct. 5, 2000)
Good News for Witches | Every Halloween, thousands of Wiccans descend on Salem, Massachusetts—and local churches reach out. (October 23, 2000)
Is Halloween a Witches' Brew? | Or have Christians been spooked out of celebrating a part of their rich tradition? (October 22, 1982)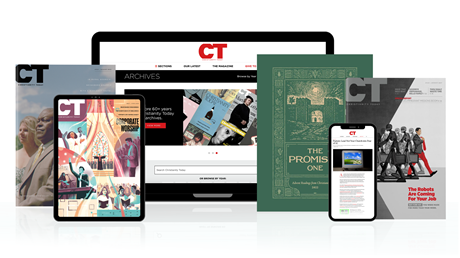 Annual & Monthly subscriptions available.
Print & Digital Issues of CT magazine
Complete access to every article on ChristianityToday.com
Unlimited access to 65+ years of CT's online archives
Member-only special issues
Subscribe
A Halloween Solution
A Halloween Solution