Somehow, I missed the story. You see, I drove to Calvin College for President Bush's commencement address on May 21 looking to report a fight—not a physical altercation, mind you, but something more suited to reserved Dutch Reformed intellectuals, like the righteous indignation of a cold stare. All I really got for the trouble was a lousy display of political diversity, academic celebration, and Christian charity.
I heard that Karl Rove had finally been hoodwinked. Author of the great plan to win evangelicals for President Bush, Rove couldn't even tell his Calvin from his Wheaton. Oh, the Calvin profs would teach him. They said so much. Ken Pomykala, chair of Calvin's department of religion, obliged The Washington Post and set the record straight. Calvin has "a much more positive view of the intellect and participation in the broader culture than is characteristic of American evangelicalism," he explained in late April, "much of which is anti-intellectual (e.g. 'creation science') and escapist (e.g. the Left Behind series), not to mention morally barbaric (e.g. opposition to stem-cell research; anti-gay)."
So would he protest Bush? "I plan on reading a book during the President's speech—probably My Pet Goat." Of course. I can only hope Pomykala feels better after brandishing the credentials of his liberal sensibilities for the Post.
He sure wasn't alone, though. David Crump, another religion professor, apparently risked tenure to tell the Detroit Free Press, "The largest part of our concern is the way in which our religious discourse in this country has largely been co-opted by the Religious Right and their wholesale endorsement of this administration." Dale Van Kley, a longtime Calvin history professor who left for Ohio State a few years ago, told the same Free Press reporter, "I can see that the Bush administration is gaining capital from this appearance, but I don't see what it does for Calvin." Other than national exposure for a small liberal-arts school in Grand Rapids, Michigan, I couldn't see the benefit for Calvin, either.
It didn't take much more than a few outspoken professors to change media minds about Calvin. Even before Bush visited, media outlets ushered Calvin a healthy distance left on political spectrum. When one-third of the college's faculty agreed to sign a letter critical of Bush, we had a story. How would Bush respond when ambushed by this cabal of dissident academics?
Imagine my disappointment on the big day. Welcomed to campus by a host of helpful guides, I soaked in the warm sunrays before scurrying through security to await the President for three hours with about 5,000 others in the Calvin Fieldhouse. Bush's speech turned out to be quite bland; I couldn't help but wonder why he traveled so far to say so little.
The protest, too, fizzled. Buttons stamped with "God is not a Democrat or a Republican" dotted the students and faculty seated on the Fieldhouse main floor. The few students and faculty who remained seated during the standing ovations were lost in the crowd. While parents, graduates, and professors mingled together following commencement, I spoke with a couple of the faculty letter's signatories. Nothing radical there—just the kind, thoughtful professors you wish you had in college. If the professors I spoke with had been the subject of initial inquiry, this whole exercise may have been more informative for the press, if less newsworthy.
Undeterred by reality, The New York Times struggled the morning after commencement to maintain the Rove-tricked-by-Calvin storyline. In "Preaching to the Choir? Not This Time," Times White House correspondent Elisabeth Bumiller wrote, "At first glance, it seemed as if a mainstay of Mr. Bush's base, the Christian Right, had risen up against him. At second glance, the reality was more complex. The protests at Calvin showed that Mr. Bush's evangelical base was not monolithic and underscored the small but growing voice of the Christian Left."
What we have here are two common journalistic mistakes: assuming something is news if the reporter didn't know about it before, and reaching for a trend that doesn't really exist. In fact, Bumiller gets things exactly backward: For the vast majority of American history, evangelicals have been anything but a monolithic voting bloc. They helped Democrats hold the Solid South under segregation, fueled William Jennings Bryan's unsuccessful Democratic bids for a populist presidency, and gave moral impetus to Republican abolitionist and Reconstruction efforts.
As for the growing Christian Left, this trend is hard to prove. Remembering the vibrant Christian Left that sided with FDR and LBJ, left-leaning evangelicals may well lament how Bush actually upped his white evangelical support from 68 percent in 2000 to 78 percent in 2004.
Undaunted, Bumiller further explained that Calvin "is politically more progressive than other evangelical colleges. (Faculty members estimate that about 20 percent of students opposed Mr. Bush in 2004.)" I suppose that if you assume universal evangelical support for Bush, 80 percent seems progressive. But since Bush garnered 78 percent white evangelical support in 2004, the students of Calvin College might actually be a bit more conservative than the evangelical mainstream.
Bush's trek to Calvin showcased a healthy diversity of evangelical thought and political opinion that too often escapes unfamiliar observers. "If ever there [was] a story about respectful dialogue, the kind of political engagement which this country needs right now, there it was," Nate Bulthuis, outgoing chair of Calvin College Republicans, told me Monday. "But by the very nature of its respectfulness, the news media didn't have the time to cover it." It's not that the Times and Post didn't have time, Nate. Who needs reality when fantasy is more fun?
Collin Hansen is assistant editor of Christianity Today.
Related Elsewhere:
Hansen's coverage of the story includes:
Bush Commissions Calvin Grads to Serve | Pre-visit controversy gives way to cheers at commencement. (May 23, 2005)
Bush Visit to Calvin College Exposes Divisions | Commencement address invigorates debates about the Reformed relationship to American politics and evangelicalism. (May 20, 2005)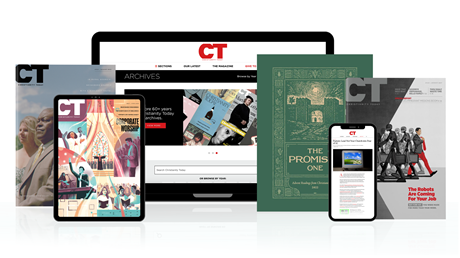 Annual & Monthly subscriptions available.
Print & Digital Issues of CT magazine
Complete access to every article on ChristianityToday.com
Unlimited access to 65+ years of CT's online archives
Member-only special issues
Subscribe
Not All Evangelicals Voted for Bush. That's News?
Not All Evangelicals Voted for Bush. That's ...