true
"I am terrified of all things/Frightened of the dark, I am/You are taller than a mountain/Deeper than the sea, you are … I was closer to you back then/I was happier, I was/You are fading further from me/Why don't you come home to me?" — from "Hold Me"
For a band best known for the sort of ultra-catchy melodic rock epitomized by their hit first hit "Buddy Holly," Weezer has endured a surprisingly heavy share of offstage drama. Rivers Cuomo—the band's frontman, guitarist, and songwriter—went through a deep bout of depression after Weezer's second album Pinkerton (1996). More recently, Cuomo squabbled with Geffen Records over making 2002's Maldroit available to fans for free over the Internet. In 2002, the best-selling band also faced a lawsuit by ex-bassist Matt Sharp for lost royalties, though things now seem to be settled.
Weezer has also struggled with consistency, alternating between sugary modern rock (their self-titled blue and green albums in 1994 and 2001, respectively) and darker sounds (Pinkerton and Maldroit). The band is often defined by their sweeter melodies—an Entertainment Weekly critic once described their sound as Brian Wilson raised on hair metal and '70s sitcoms. Yet it's the heavier albums that have paradoxically endeared fans over the years, despite mixed responses by critics and listeners.
This is a band more complicated than one would suspect, so maybe it's surprising that his band has now delivered an album of seemingly spiritual self-reflection—or maybe not, since hearts tends to change after the darkest times. Granted, there's nothing definitive here beyond replacement bassist Scott Shriner thanking God "most importantly" in the liner notes. But Make Believe is a mix of the band's catchy style with Cuomo's most straightforward, humble, and hopeful lyrics yet.
At times, it's hard to peg where he's coming from. For example, is he admiring or lamenting the extravagant life in the infectious sing-along single "Beverly Hills?" Despite the suspicious title, "We Are All on Drugs" apparently decries the lifestyle while suggesting we all struggle with addictions of our own. Cuomo expresses more dissatisfaction in life with "The Other Way," about turning temptation aside. With the anthemic "Perfect Situation," his lonely heart yearns for real love: "Tell me there's a logic out there leading me to better prepare/For the day that something really special might come/Tell me there's some hope for me/I don't want to be lonely for the rest of my days on earth."
This change of heart is further reflected in songs of reconciliation. The Cars-styled '80s throwback "This Is Such a Pity" seeks to replace hate with love in a relationship, while asking to let go of "The Damage in Your Heart" to heal the brokenness. Rock ballad "Peace" also looks for an end to hurt and confusion: "I don't have a purpose, scattered on the surface/I need to find some peace."
Based on the wording and Weezer's penchant for romantic angst, some of these songs are more likely about everyday relationships. The who is not so clear in "Pardon Me," a plainly worded plea for forgiveness: "So I apologize to you and to anyone else that I hurt too/I may not be a perfect soul but I can learn self control … I never thought that anyone was more important than the plans I made/But now I feel the shame/There's no one else to blame/For all the broken hearts are scattered on the field of war."
In the buoyant "My Best Friend," he sings, "When everything is wrong I come talk to you/You make things alright when I'm feelin' blue/You are such a blessing and I won't be messing/With the one thing that brings light to all my darkness … There is no other one who can take your place." And with the passionate power ballad "Hold Me," excerpted above, is it too far fetched to wonder if Cuomo is singing about another kind of relationship?
It'd be a stretch to say this album is evidence that Rivers Cuomo has found religion. He's either a seeker or else he's wording hope generically enough for wide interpretation. Still, there's enough on Make Believe to suggest that the title has double meaning. Wishful thinking for things to improve or a hopeful prayer for increased faith—either way, the man clearly wants to change his life for the better.
Unless specified clearly, we are not implying whether this artist is or is not a Christian. The views expressed are simply the author's. For a more complete description of our Glimpses of God articles, click here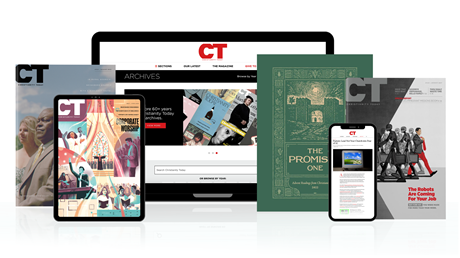 Annual & Monthly subscriptions available.
Print & Digital Issues of CT magazine
Complete access to every article on ChristianityToday.com
Unlimited access to 65+ years of CT's online archives
Member-only special issues
Subscribe
Make Believe
Make Believe