true
There are only two members of the Rock and Roll Hall of Fame who are ordained ministers—Al Green and Richie Furay. Green pastors a large congregation in Memphis, where his church is a tourist attraction; Furay serves a small out-of-the-way church in Broomfield, Colorado—a humble venue for a humble man. Furay was lead singer of Buffalo Springfield and founder of Poco, two bands that pioneered the sound that came to be called country rock. After a highly publicized conversion to Christianity in 1974, Furay made a few solo albums that remain favorites for fans of "classic CCM"—and then slipped into relative obscurity, devoting his time and talents to his congregation. But now he's back, at the age of 61, with a stellar album of praise songs called I Am Sure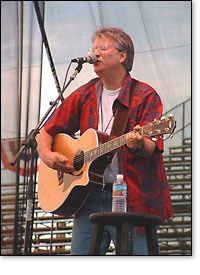 Mark Allan Powell, author of the Encyclopedia of Contemporary Christian Music, recently spent a weekend with Furay, observing him in action—baptizing ten people in Boulder Creek, preaching about Noah's ark on Sunday morning. Afterward, they chatted while seated on the veranda of Furay's home on Sugarloaf Mountain, sipping Santa Fe lemonade.
Tell us about the songs on I Am Sure.
Richie Furay: The style is basic country-rock, or what I would call "Americana"—a little bluegrass in there, some R&B. But lyrically, they're all addressed to the Lord, and a lot of the words come right from Scripture. It's actually a follow-up to a similar collection of songs I did in 1997 called In My Father's House.
Both of those projects have been well received, but they don't really fit the mold of "praise and worship."
Furay: No. They might get classed that way—as worship albums—but I would call them collections of "devotional songs." These aren't just choruses to sing in church but full-bodied songs like you would find on any country-rock album. It's just that we're singing them to God, so they're about praise and adoration and thanksgiving—all those things that are in our hearts for God. "With thanksgiving let my heart overflow …"
That one ("Overflow") is a song of passionate beauty. Do you have other favorites?
Furay "Jesus Eternal King" is over ten years old—we wrote that for my daughter Timmie's wedding. "So Far to Go" is a concert favorite, with the fiddle, and it gets your toes tapping. "Come and Praise Him" works really well in congregational worship. But all of these songs, they are among the best I have ever done. I have no doubt of that. There are songs from before that I'm really proud of—some of my Poco, some of my Springfield—but I've been writing with Scott [Sellen, worship leader at Furay's church) for many years and we've just developed this amazing rapport. I love these songs because they express what is in my heart, but I'm also enough of a musician to know that as songs, they are some of the best material I've ever done. And the guys in the band, they all get that too.
Talk about the band.
Furay: This is the dream team—the finest folks in Nashville—and they were so into it. Dan Dugmore (steel guitar) was supposed to be recording with Martina McBride and he got that postponed so he could do this project. And Garth Brooks' studio guitarist [Chris Leuzinger] called up and wanted in. And we got guys from my old bands and from the Nitty Gritty Dirt Band, and there's Chris Hillman [The Byrds] and Jimmy Messina [Loggins & Messina]. It was just awesome! They are the best musicians Nashville has to offer and yet, they're just the sweetest guys. They were completely into the music and into making every song come alive and be what it was supposed to be.
So what makes for a good praise song?
Furay: First, that it honors the Lord. He is the one worthy of our praise. If it does that, if you are pouring out your heart in adoration to the Lord, then it's going to come back to you and bless you, because you're not going to give to him more than he wants to give back to you. If you touch the heart of God, then he will turn right around and touch your heart.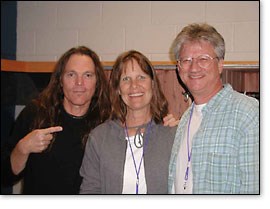 Musically
Furay Well, musically, a song ought to have a familiar ring to it, something you can remember, that just gets ingrained in your mind. And yet it's got to be distinctive. I think we did that on this record, and on In My Father's House. A lot of "praise and worship" music just sounds the same, formulaic. But there are 23 songs on these two albums and no two of them sound alike. They have hooks and melodies that set them apart, but that also draw you in. That's the trick, I guess—it sounds like nothing you've ever heard before and like everything you've always loved.
Do you still tour and perform?
Furay I do, when it doesn't interfere with my church and with my role as pastor. I still play with Poco when they're in the area. And I did one with Loggins & Messina. Scott and I played at the Fillmore in San Francisco and we did a mix of old songs and current ones. Someone who was a Poco fan ended up sending this e-mail around to music sites saying that he was not a Christian but really loved our "gospel tunes"—he was doing my witnessing for me, just saying, "Let me tell you, this was some concert!" So, anyway, I do get out of Colorado now and then and I list whatever's coming up at my website.
Can you give us the quick version of how you came to Christ?
Furay I was at a successful point in my career but empty within. Al Perkins, a member of my band, was a Christian and he started witnessing to me and playing some tapes by Chuck Smith of Calvary Chapel. At first it was annoying, but the Lord softened my heart and I prayed with him to receive Jesus Christ as my Lord and Savior. That was in 1974. Then I wrote an article about it in Crawdaddy, which was this big rock magazine of the time, and all of a sudden I was a "Jesus freak." I got that label and was pigeonholed as a Christian singer.
You made four solo albums.
Furay I am still proud of those records—every one of them has songs that hold up well today. But, you know, I thought I was going to be an openly Christian singer making records for the general market, and people didn't know what to do with that. The world didn't want to hear songs from a Christian, no matter what they were about. And the Christian stations didn't know what to do with it either. I was writing songs about life and love and struggles and dreams, all from a Christian perspective, but back then that's not what Christian singers were expected to do; they were expected to just sing about God.
So how would you evaluate your own role in rock history
Furay Well, I don't want to be vain, but I think I have been an innovator. A pioneer. I bridged that gap between country and rock long before it was popular, and then The Eagles came along and hit huge. And I tried to bridge that gap between Christian music and what you might call the "secular world," but that wasn't popular yet either, the whole crossover thing. I think I made some pretty significant contributions without ever hitting it really big in terms of commercial success.
You are in the Rock and Roll Hall of Fame.
Furay And that's a thrill. I have to say, when I walk in that building and see my name on a wall with all those other names—I never dreamed that would happen. But it's nothing compared to knowing my name is written in the Book of Life. I never dreamed I'd be admitted to the Rock and Roll Hall of Fame, but then I never thought I'd make it into the Kingdom of God either.
Are you a preacher who sings or a singer who preaches?
Furay Well, I'm both, but I like to think I'm just a servant. You know, when I was a child, I thought I might want to be a doctor or a fireman—then I grew up and figured I wasn't really smart enough to be a doctor or brave enough to be a fireman. But one thing I never thought as a child was, "When I grow up, I want to be a servant." And now that's all I want to be. Preaching or singing, I just want to be a servant of Jesus Christ and the people he loves.
So have you ever regretted writing that piece for Crawdaddy?
Furay Never! That was something I had to do, putting my hand to the plow and not looking back. Jesus Christ has transformed my life, put everything in perspective, and I am not ashamed of the gospel!
What's up next?
Furay Next year I have another mainstream album, the first in twenty-five years. It's just love songs—for my wife, Nancy, and my daughters. I'm a romanticist, I guess. We're calling it Heartbeat of Love. Stephen Stills plays on it, and the guys from Poco, and we do a remake of Buffalo Springfield's "Kind Woman," which I wrote for Nancy almost forty years ago. Neil Young and Kenny Loggins sing on that and my daughter Jesse adds these incredible backing vocals—it is the definitive version of that song. Scott and I, we had a batch of these great American love songs, and we got the opportunity to record them and just hopped on it. They're just fun songs—catchy tunes, filled with hooks and melodies. I think people will love it, if they don't get stuck on it being by "some pastor."
Read more about Furay at his official website. A biography, Picking Up the Pieces: The Heart and Soul of Country Rock Pioneer Richie Furay, is scheduled for release in April, 2006.
Furay isn't the first Rock and Roll Hall of Famer we've interviewed. Also check out our conversation with Roger McGuinn of The Byrds.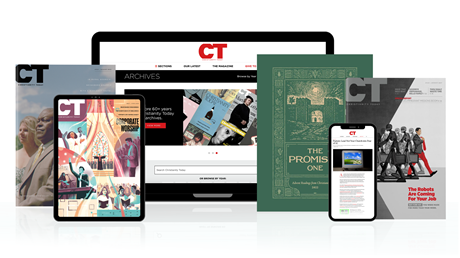 Annual & Monthly subscriptions available.
Print & Digital Issues of CT magazine
Complete access to every article on ChristianityToday.com
Unlimited access to 65+ years of CT's online archives
Member-only special issues
Subscribe
The Sound of the Furay
The Sound of the Furay