true
There seem to be two types of holiday family dramas: the kind that move you with an inspiring poignancy (think Meet Me in St. Louis or It's a Wonderful Life), and the kind that make you think, Well, at least my family isn't that bad (think Home Alone or Home for the Holidays). The Family Stone is definitely one of the latter category.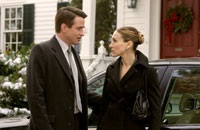 At the outset we see Meredith (Sarah Jessica Parker) and Everett (Dermot Mulroney) heading to his family's house for Christmas. She's the nervous girlfriend meeting the family for the first time, he assures her they'll love him. Oh, the poor naïve souls. Have they never been to a cinematic family holiday gathering before?
Before they arrive at the magnificent Tudor house that will serve as dysfunction junction over the next week, we meet the rest of the Stones. There's Mom, Sybil (Diane Keaton), who's both universally accepting and outspokenly caustic. Dad, Kelly (Craig T. Nelson), is the long-suffering peacemaker of the family. Pregnant daughter, Susannah (Elizabeth Reaser)—who has a world-wise ten-year-old daughter, Elizabeth (Savannah Stehlin), in tow—appears to be the most normal one in the family (read: she's the most unexplored character). The rest of the large, bustling brood seem to come straight out of the Stereotyped Family Handbook. There's Amy (Rachel McAdams), the snarky single daughter complete with her frumpy clothes and NPR tote bag. Ben (Luke Wilson) is the slacker son who's unshaven and mismatched and whose inappropriate antics are laughed off by the rest of the family. Thad (Tyrone Giordano) is the gay son, who also sports the family disability—he's deaf. His partner, Patrick (Brian J. White), is African American, and they're trying to adopt a baby together. Everett is the overachieving eldest child. And Meredith is the anal-retentive girlfriend the large messy family is prepared to hate.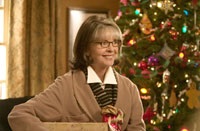 The first third of the movie centers on Meredith's introduction to the Stone clan. As you can predict, it doesn't go well. There are many mean comments and lots of storming out of rooms. What I kept waiting for, to no avail, was some back story on why Meredith is so prim and pinched. "You know this is hard for me," she whines to Everett about meeting his family, and I figured an explanation was forthcoming—an abusive mother, a personality disorder, a childhood spent in the care of wild dogs, something. Nope. She's just humorless. And for some reason, Everett really digs her. These are the first two of many unanswered "why"s strewn throughout the movie.
Everett digs Meredith so much he's planning to propose to her on Christmas, an act his entire family seems bent on discouraging, especially his grumpy mom who refuses to give him the previously promised family ring to pass along to this woman. And just when we think the movie is going to turn on the Meredith axis, we learn there are bigger issues afoot. This isn't just an introducing-the-pinched-girlfriend-nobody-likes drama, this is a Family Drama. There's a secret illness in the family. Meredith's sister, Julie (Claire Danes), shows up at Meredith's request for backup—turning a couple of romances on their ear. And then there's a tangential and painfully awkward discussion about homosexuality at dinner one night after which Meredith storms off … again.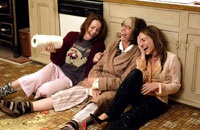 But this time it isn't Everett who goes after her, it's slacker brother Ben who's the only Stone who's shown her any kindness since she arrived, though mostly by hitting on her. He takes her to a bar where he gets her drunk and dispenses the root of her problem: "You have a freak flag, you just don't fly it." At this astounding revelation, something seems to break loose in her. Finally. Also finally, Everett decides to go in search of Meredith, and her sister, Julie, decides to join him. Except that they seem to do more chatting cute on the main street of their quaint town than earnestly searching for their MIA loved one. In fact, Everett seemed instantly smitten with Julie the minute he picked her up from the bus station. Why? Well, as far as I could tell because she wears her lovely blonde hair down and flowing instead of in a fussy little bun like her sis. Otherwise, who knows? Throughout the evening, new love alliances are made, and no one in the family seems fazed by the sibling switcheroo. Again with the unanswered whys. Why these sudden affections? Why is no one surprised by the swap?
The main thing dogging this impressively cast family drama is the many unanswered whys and the uneven pacing. The first third of the movie is Meredith vs. the Stones. The next third moves to romantic comedy/drama, which culminates in a slapstick sequence of brother-chasing-brother through the house and Meredith, Amy, and Sybil dropping an uncooked casserole on the floor (cue the requisite sloppy slip-sliding). The final third offers more family drama, with a few somber discussions about the serious illness in the family. I found myself tearing up at once poignant scene and then soon after slapping my forehead at the sheer cheesyness of another. These various emotions and themes can coexist in one movie, and when they do so well, it's golden. But that requires careful finessing and well-written transitions. For the most part, those don't exist here.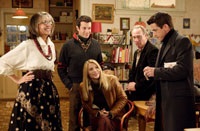 The thing is, I wanted to like this movie. Who doesn't enjoy a good family drama that captures well the goofy joy and awkward dysfunction of family holiday gatherings? And this one had a lot going for it. I mean Rachel McAdams, Craig T. Nelson, and Luke Wilson are the kind of people I want to do coffee with. They're just likable. And some of the situations this talented cast is given are relatable and funny and poignant. But the overall plot and pacing kept getting in the way. Some things are belabored (the annoying girlfriend bit, the homosexual conversation) and others aren't explored enough (why do various love interests like each other?). And couldn't the writers have put a little more creativity and unexpectedness into the characters instead of drawing on so many stereotypes? This talented cast does the best they can with what they're given; I just wish they'd been given more.
In the end, the movie feels a lot like slacker brother Ben: a little sloppy, mostly predictable, some flashes of surprising poignancy and wisdom, but ultimately doesn't live up to its potential.
Talk About It
Discussion starters
Do you think Meredith and Everett really love each other? If so, why? If not, what are they doing together? His mom offers a theory—do you think she's right?


Do you think Meredith was wise or foolish to check into the inn? Have you ever "run away" from family friction? When is that a wise boundary and when is it failure to deal with the issues at hand?


Meredith seems universally disliked by the Stones. Is there a "black sheep" in your family? Who—and why? Is there anything you can do this holiday season to help create or restore harmony with that person?


What are your views on the dinner-table discussion of nature vs. nurture in homosexuals?


What do you think about who pairs off with whom by the end of the movie? Do you think these are wise couplings?
The Family Corner
For parents to consider
The Family Stone is rated PG-13 for some sexual content including dialogue, and drug references. This family drama is mostly safe for the older members of the family. Most of the potentially problematic material is in discussion only (one female character does wake up in someone else's bed—only to discover later that nothing happened). The homosexual couple and a big dinner-table discussion about that lifestyle bring up some interesting issues worth discussing with your kids. There are some passing references to drug use, but none is ever shown. And sleeping arrangements for Meredith and Everett create a small stir, with both Everett's mom and his grade-school-aged niece assuming they'd sleep together.
Copyright © 2005 Christianity Today. Click for reprint information.
What Other Critics Are Saying
compiled by Jeffrey Overstreet
from Film Forum, 12/22/05
Let's be honest—many of us approach Christmas with some sense of worry, or even dread, because family gatherings can be stressful and difficult events. That's the dynamic that makes a movie like The Family Stone so popular at Christmastime. We laugh knowingly as we watch the clash of family personalities, the tense moments when someone brings their significant other to the table for the first time, the contrary traditions of celebration.
Unfortunately, The Family Stone is apparently too unpleasant for Christian film critics.
Camerin Courtney (Christianity Today Movies) says, "There seem to be two types of holiday family dramas: the kind that move you with an inspiring poignancy … and the kind that make you think, Well, at least my family isn't that bad … The Family Stone is definitely one of the latter category." She adds, "In the end, the movie feels a lot like slacker brother Ben: a little sloppy, mostly predictable, some flashes of surprising poignancy and wisdom, but ultimately doesn't live up to its potential."
Tom Neven (Plugged In) says, "This story had potential, but it fails many times on the most basic level. … Various people say and do things, not because they logically grow out of their character, but because they're needed merely to advance the story." He also protests the film's "casual attitude toward illicit sex," "the not-so-subtle glorification of homosexuality," and "the drug abuse and the profanity."
Harry Forbes (Catholic News Service) disagrees: "Writer-director Thomas Bezucha's low-keyed film takes its sweet time getting started, and the easy pace doesn't at first yield much in the way of dramatic dividends, but about midway through the story grabs you, and tugs at the heart, building to a moving life- and family-affirming fade-out. The performances are all excellent." He concludes, "Flaws and all, this is a worthy and ultimately touching addition to that ever-popular genre, the Christmas movie."
Mainstream critics are bickering over the movie like a family during the holidays.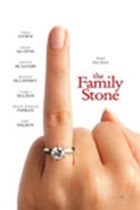 Browse All Movie Reviews By: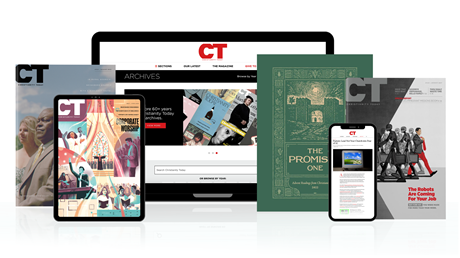 Annual & Monthly subscriptions available.
Print & Digital Issues of CT magazine
Complete access to every article on ChristianityToday.com
Unlimited access to 65+ years of CT's online archives
Member-only special issues
Subscribe
The Family Stone
The Family Stone