Australia's riots spread to churches:
Now churches are targeted | Four churches in Sydney's southwest have been attacked in 24 hours as the city's riots spread from race to religion (The Australian)


Church fire follows beach riot | A church hall was set ablaze and shots were fired near a primary school in Sydney yesterday, fuelling fears of an escalation in violence between ethnic Arabs and whites (The Times, London)


Religious leaders call for calm | Religious leaders are calling for unity and calm after a spate of attacks on places of worship linked to days of race-fuelled violence in Sydney (The Age, Melbourne, Australia)


More coverage: Anglican Media Sydney


War & terrorism:
U.S. activists rebuffed at Guantanamo | Members of the Christian-oriented Witness Against Torture began a hunger strike at the checkpoint on Monday after a five-day march from the eastern Cuban city of Santiago (Associated Press)


Living non-violence not for the weak | Are those who practise non-violence really prepared to sacrifice their lives? (Nicole Langlois, The London Free Press, Ont.)


Israel:
Presbyterians hold back on divestment | Chicagoans to revisit question in February (Chicago Tribune)


Bethlehem mayor asks pilgrims to visit | The mayor of Jesus' traditional birthplace on Wednesday asked pilgrims to visit in large numbers during Christmas and help pressure Israel to dismantle the barrier that separates the city from Jerusalem (Associated Press)


Persecution:
Religious freedom:
A small church's worries | I'm glad that there are still religious people in America concerned about religious liberty, like the Adventists. I only wish more would speak up (Kevin Eigelbach, The Cincinnati Post)


Freedom to believe | Iran's Christians have a high price to pay (Kenneth R. Timmerman, National Review Online)


Human rights:
Pope condemns both terror and violations of Geneva Pact | Apparently in a reference to allegations the U.S. tortured terror suspects, the pope condemned lack of respect for international law (The New York Times)


Angolan radio station faults limits on range | Broadcast restriction on Catholic station seen curb on freedom (The Boston Globe)


In a shift, anti-prostitution effort targets pimps and johns | Behind the scenes, an unlikely coalition of evangelicals, feminists, liberal activists and conservative human rights advocates are pushing the issue (The Washington Post)


Crime:
Abuse:
Eight who said priest abused them can testify | Eight men may testify that Michael Edward Wempe sexually abused them decades ago to bolster charges that the Roman Catholic priest molested a boy at Cedars-Sinai Medical Center in the early 1990s, a judge ruled Wednesday (Los Angeles Times)


Jesuit defends secrecy in priest sex case | In a previous post, SU leader didn't report abuse (Seattle Post-Intelligencer)


Catholicism:
Priest resigns post over Vatican document | A priest at St. John's University said he was resigning his leadership position because of the Vatican's latest statement that homosexuals should be barred from entering the Roman Catholic priesthood (Associated Press)


Anglican Communion:
Court rules all saints' parish owns property | More than a year after its highly publicized split from the Episcopal Diocese of Los Angeles and the national church in favor of Ugandan leadership, a judge ruled this week that All Saints' Church is entitled to keep its Belmont Heights property (Long Beach Gazette, Ca.)


Sydney Anglicans defiant on colonizing outsiders | Sydney's Anglican diocese has defied the national church over whether it should be able to colonize other dioceses with its evangelical brand of Christianity in a move that could see rival Anglican churches operating in the same towns (The Australian)


Church to sell bishops' 13th century castle | After 140 years of deliberation, the Church of England has decided to sell 800-year-old Hartlebury Castle, home of bishops of Worcester since the 13th century (The Guardian, London)


Church life:
Closing church on Christmas:
Some churches join Christmas closings | With the holiday on a Sunday, others plan less drastic changes (St.


PetersburgTimes, Fla.)


Christmas controversy | Some megachurches cancel Dec. 25 services (Ft. Worth Star-Telegram, Tex.)


Churches closing on Christmas worrisome | Ministers plan big Christmas Eve services—and issue DVDs for Sunday (Kevin Leininger, The News-Sentinel, Ft. Wayne, Ind.)


Between the stay-at-homes and the shout-it-outs, Christians diminish Christmas | Now, I'm all for modernizing church. I can abide liturgical dancing, 1,001 ministries to address the storms of life, and even, on occasion, some hip-hop gospel singing. But canceling Christmas services? (Betty Bayé, The Courier-Journal, Louisville, Ky.)


Christmas wars:
Barnegat church mounts sign campaign to reinforce religious nature of Christmas | On Wednesday, Volker, a Stafford Township resident, was assembling signs at St. Mary's in Barnegat that read "Keep Christ in Christmas! Merry Christmas!" (Press of Atlantic City, N.J.)


Mason's Christmas kvetch | The phrase "Happy Holidays" is an insult, comedian Jackie Mason kvetched yesterday. He wasn't joking (Newsday)


'Soldiers' gear up to defend Christmas | 832 lawyers are ready to charge any municipality or public school that dares excise the mention or observance of the world's most widely celebrated holiday (The Washington Times)


'Happy Holidays' also rooted in religious meaning | The irony is that while the White House, along with other government officials and retailers this year, opts to use the word "holiday" as its generic, non-religious alternative to "Christmas," linguists point out that the word "holiday" itself has religious etymological roots (Chicago Tribune)


America's right rally to protect a Christmas 'under siege' | The appearance of Santa Clauses, fir trees and fairy lights are a sure sign that it is combat season once more in America's culture war. But this time it is a do-or-die battle, some of the nation's best-known conservatives are warning (The Guardian, London)


Activist judge cancels Christmas | Liberal Judge Stephen Reinhardt ruled that the celebration of Christmas, and any directly related good cheer, is unconstitutional (The Onion, satire)


Talking points | There is no "liberal plot" against the holiday. But there is a growing respect for America's religious diversity (Editorial, The New York Times)


The Christmas complex has spread to other faiths | The fight over the greeting 'Merry Christmas' vs. 'Happy Holidays' may only be solved by speaking Spanish (Julia Gorin, The Christian Science Monitor)


Merry Christmas to all | (Even you, Fox News!) (Joe Conason, The New York Observer)


Santa assaulted left and right | The self-appointed culture warriors now view this issue (and the growing backlash) as a sword to be wielded in future political skirmishes (Vinay Menon, The Toronto Star)


Eliminating Christian words causes more bad feeling than it prevents | In my experience, the great majority of the Jews I know — I know very few Muslims — are thoroughly used to the appearance of Christian expressions in all sorts of oral and written communications, and take no serious offense at them (William Rusher, The Canton Repository, Oh.)


Uncool yule duel over holiday messages makes for unhappy Christmas | Instead of arguing, live the spirit of Christmas, or Hanukkah, or the winter solstice, or the bleak chasm of atheism -- whatever you prefer (Mark O'Brien, Pensacola News Journal, Fla.)


Christmas wars: Right's fault:
Interfaith Christmas:
A happy hipster Hanukkah | An increasing amount of irreverent and sometimes R-rated Hanukkah productions are popping up, largely in reaction to what many Jews say is an overwhelming amount of Christmas hoopla (The New York Times)


Interfaith families, inlaws can make holiday peace | For only the third time in 100 years, Christmas and the start of Hanukkah fall on the same date. For some interfaith families, this may be an inconvenience. For others, it may be a downright catastrophe (The Boston Globe)


Singing a different tune: Inclusive pageant a hit | Just a few weeks before Christmas, kids in a church performed "Sing of Chanukah," "Hanukkah, O Hanukkah" and "Turn to Allah" (Richard Roeper, Chicago Sun-Times)


Celebratory style:
Spiritual or spectacle? | Lavish Christmas extravaganzas appeal to some, offend others who prefer humble celebrations (San Diego Union-Tribune)


Cathedral gets offspring of ancient tree | The National Cathedral will celebrate the holidays this year with an unusual Christmas tree: a pine seedling whose parent is said to be the oldest known tree on earth (Associated Press)


Macabre Christmas display makes statement | It's usually easy to tell where a person stands in the culture wars, but whose side is someone on when his Christmas decor is a blood-spattered Santa Claus holding a severed head? (Associated Press)


In U.S., Christmas bows to the dollar | You want to show allegiance to the Jesus in the manger? Then take Santa down from the throne from which he rules as a presence more real and adored than the God in our churches (Carl Hoover, Waco Tribune-Herald)


Christmas at school:
PISD wants O'Reilly retraction | District says host wrong about red-green policy; attorney defends show (The Dallas Morning News)


On a 'Christmas' crusade | Parent 'fed up with the political correctness' in schools (South Bend Tribune)


Religious neutrality is not hostility | Springfield schools handle faith issues well (Editorial, Springfield News-Leader, Mo.)


Court nullified strict separation | It is utterly ridiculous the words "Christmas" and "Easter" were removed from the Springfield schools calendar. It is time to put it back (Dee Wampler, Springfield News-Leader, Mo.)


Christmas & state:
Nativity scene joins Wellington display | It's not a holiday miracle, just good planning, say village officials after erecting the village's first Nativity scene Wednesday less than 24 hours after its approval (Palm Beach Post, Fla.)


Christmas battle of global import erupts in capital | As the hype over secularists' "War Against Christmas" reaches fever pitch, a Christmas battle of sorts will be fought today on Capitol Hill between Senators Santorum and Kennedy over the holiday's meaning (The New York Sun)


'Political climate' bugs Sir Cliff | "I was so upset when they said they were going to call the lights in London winter lights." (PA, U.K.)


The game of 'Whose holiday is it?' is especially wacky this year | A tree is a tree is a tree, unless of course it's the 65-foot Engelmann spruce sitting in front of the US Capitol. Then it's a political football. (Dante Chinni, The Christian Science Monitor)


Church & state:
Bible monument case thumps its way through courts | The court's ruling in the case is expected within a month (Austin Chronicle, Tex.)


FEMA finds faith | Storm relief funds earmarked for faith groups (Bill Berkowitz, WorkingForChange)


Prayer in the Indiana House:
Bosma appealing House prayer ban | Republican House Speaker Brian Bosma said he will use "all legal means" to ensure prayer continues in the Indiana House, including going to the U.S. Supreme Court if necessary (The Journal Gazette, Ft. Wayne, Ind.)


Prayer ruling appeal in works | Indiana House Speaker Brian Bosma said Wednesday a legal team would ask U.S. District Court Judge David F. Hamilton to reconsider his ruling barring sectarian references in the official prayers opening House sessions (Courier & Press, Evansville, Ind.)


The politics of prayer | There is no religious issue or constitutional crisis in the great Indiana House debate (Editorial, The News-Sentinel, Ft. Wayne, Ind.)


Bush petitioned to protect chaplains' rights:
Bush asked to protect chaplains' rights | House lawmakers concerned that proposed military guidelines are restricting some Christian chaplains' abilities to pray said Wednesday they will deliver a 6-inch-thick petition to President Bush this week asking him to intervene (Associated Press)


Prayer petition now has 160,000 names | Congressmen seeking an executive order to permit Christian chaplains to pray according to their faith announced Wednesday that they had collected about 160,000 signatures in a petition they hope to deliver to the White House (Air Force Times)


Religious protests against budget:
Democrats take heat for Christian fish joke:
Democrats under fire over fish parody | The state Democratic Party is catching heat for posting an item on its Web site that parodies the popular Christian fish symbol commonly seen on the back of cars (The Seattle Times)


Wash. Democrats apologize for magnet | The state's Democratic chairman has apologized for a political gimcrack that parodied a popular Christian automobile adornment (Associated Press)


Hateful ads taint Democratic site | It's "fun" to openly ridicule the Christian faith and the God Christians call Savior? (Carol Van Drie, Lansing State Journal, Mi.)


Religion & politics:
Abortion & life ethics:
Groups concerned by grants promoting pregnancy over abortion | With Texas soon to award $5 million in grants to crisis pregnancy centers that promote childbirth over abortion, some abortion rights groups complain the money is being taken from clinics that provide medical care and contraception (Associated Press)


No charges to be filed in clash between abortion protesters and parade-goers | The question of who was naughty and nice at Granite City's Santa parade this year won't be answered by Madison County prosecutors (Belleville News-Democrat, Ill.)


One in four pregnancies terminated | The first national abortion figures show more than 84,000 pregnancies are terminated each year, or one in four pregnancies (The Australian)


What's Plan B, governor? | Not surprisingly, the pharmacist rule has led to a legal showdown. We doubt that's what Gov. Rod Blagojevich envisioned when he made Illinois the only state in the nation to have such a rule (Editorial, Belleville News-Democrat, Ill.)


Cloning:
Korean scientist said to admit fabrication in a cloning study | The South Korean scientist who claimed a series of advances in cloning and stem cell research has admitted that critical parts of one discovery had been fabricated (The New York Times)


Also: Clone scandal: 'A tragic turn' for science | Scientists and ethicists caution that the full story is not in, but they are staggered by how the research has unraveled so far (The New York Times)


Charges of fabrication target cloning pioneer | News reports raise doubts on research (The Boston Globe)


Intelligent design & evolution:
U.S. court to weigh evolution disclaimer | A federal appeals court is set to consider whether stickers on text books calling evolution a theory, not fact, were unconstitutional (Associated Press)


Kansas, where hankering for the past is the future | Beside the interstate highway that stretches from the snow-covered peaks of the Rocky Mountains in Colorado down into the vast prairie of Kansas one battle in America's culture wars is being fought (Michael Gawenda, The Age, Melbourne, Australia)


Education:
Teacher settles lawsuit over curriculum content | A social studies teacher who claimed that his First Amendment rights were violated when he was reprimanded for teaching about non-Christian civilizations has settled his federal lawsuit against his Aroostook County school district (Associated Press)


Student-run radio station fighting for air | Since October, the FCC has been reviewing public comment after it tentatively awarded WAVM's frequency to Living Proof Inc., a Christian broadcaster based in Bishop, Calif. (The Boston Globe)


Parents upset over sex-ed speaker | Evangelical to talk today at Berkley High about abstinence (Detroit Free Press)


God and admission requirements | If you want to go to public schools — such as any of the UC campuses — the requirement is that students share some common principles, facts and operating principles, and that's where UC is right and Calvary is wrong (Patt Morrison, Los Angeles Times)


Christian higher ed:
Christian colleges rebound | Enrollment has increased 70.6% since 1990 (USA Today)


Flames' dreams flicker | Liberty's evangelical mission hasn't prevented most of its teams from making I-A grade, but football remains far short of the goal (The Baltimore Sun)


Charity:
America's charities impressed by donors | Donor fatigue? Not this year. Even after the outpouring of donations for the Indian Ocean tsunami and Hurricane Katrina, holiday giving is robust this season and 2005 could well set an overall record, U.S. charity officials are reporting (Associated Press)


A double standard in charity | Giving to the poor lags this year despite a rise in donations to hospitals and religious groups (The Philadelphia Inquirer)


Money & business:
Ford backs down, will advertise in gay publications:
Ford, reversing decision, will run ads in gay press | The decision followed a wave of criticism from gay rights groups (The New York Times)


Ford to advertise in gay press | Reversal follows condemnation (The Washington Post)


Ford to run ads in gay publications | The company's ads in the publications will promote all of its lines (Associated Press)


Same-sex & plural marriage:
Gays sue Iowa for right to 'marry' | Six Iowa same-sex couples who want to "marry" filed a lawsuit yesterday, while three Iowa lawmakers pledged to work to pass a constitutional amendment to uphold traditional marriage (The Washington Times)


Latvia alters constitution, blocking gay marriage | Latvian lawmakers blocked same-sex marriages by changing the Baltic state's constitution on Thursday, infuriating gay rights activists who said they may take their case to the European Court of Human Rights (Reuters)


Polygamists' lawyer offers freedom of religion as defense | Pretrial motions point to plural marriages (Las Vegas Review-Journal)


People:
Pat Robertson says pie not delicious (The Onion, satire)


Illusionist puts wine-from-water and other biblical accounts to the test | Nashville illusionist Brock Gill will host the three-hour special, "Miracles of Jesus," which will be shown on the Discovery Channel on Christmas Eve (Associated Press)


To the church, he's public enemy No. 1 | Researcher of religion's link to social ills comes under withering attack (MSNBC)


Bethany Hamilton: Triumph of a free spirit | In 2003, 13-year-old Bethany Hamilton's arm was ripped off by a huge shark. Weeks later she was back in the water. Now she's riding high (The Independent, London)


Television & film:
Hallmark unit agrees to deal to avoid suit | Crown Media Holdings Inc., a subsidiary of Hallmark Cards Inc. and operator of the cable network Hallmark Channel, has agreed to produce a number of television shows, specials and movies to avoid a lawsuit from a religious coalition (Associated Press)


Cable relents on channels for the family | Yielding to pressure from regulators, lawmakers and interest groups, the country's biggest cable companies say they expect to introduce packages of family-friendly channels as early as the first quarter of 2006 (The New York Times)


Christians roared over 'Passion' but not 'Narnia' | It's big. Just not Gibson big. (Des Moines Register, Ia.)


Oh Davey, Oh Goliath! | Or how the leaders of the Evangelical Lutheran Church shattered my belief in faith-based talking animals (Bill Forman, Metro Santa Cruz, Ca.)


Books:
Bart Ehrman's 'Misquoting Jesus' | Scholar Bart Ehrman's new book explores how scribes -- through both omission and intention -- changed the Bible. Misquoting Jesus: The Story Behind Who Changed the Bible and Why is the result of years of reading the texts in their original languages (Fresh Air, NPR)


The wardrobe in the classroom | Even though it's a Christian allegory, the Chronicles of Narnia are taught in U.S. public schools without controversy—mostly (Beliefnet)


Spirituality:
The religious and other beliefs of Americans 2005 | That very large majorities of the American public believe in God, miracles, the survival of the soul after death, heaven, the resurrection of Jesus Christ, and the Virgin birth will come as no great surprise. What may be more surprising is that significant minorities believe in ghosts, UFOs, witches, astrology, and in reincarnation (press release, The Harris Poll)


Gallup: Poll finds Americans' belief in God remains strong | A new Gallup survey released today finds that four decades after the "God Is Dead" controversy was first noted, Americans retain a strong belief in a higher power. Some 94% think God exists. (Editor & Publisher)


"Happy Holidays" rings hollow for most Americans | One-third bothered by the generic greeting (The Gallup Poll)


Related Elsewhere:
Suggest links and stories by sending e-mail to weblog@christianitytoday.com
See our past Weblog updates:
December 14 | 12
December 9 | 7 | 6
December 2b | 2a | November 30
November 23 | 22 | 21
November 18 | 17 | 16b | 16 | 15
November 11 | 10 | 8
Weblog
Launched in 1999, Christianity Today's Weblog was not just one of the first religion-oriented weblogs, but one of the first published by a media organization. (Hence its rather bland title.) Mostly compiled by then-online editor Ted Olsen, Weblog rounded up religion news and opinion pieces from publications around the world. As Christianity Today's website grew, it launched other blogs. Olsen took on management responsibilities, and the Weblog feature as such was mothballed. But CT's efforts to round up important news and opinion from around the web continues, especially on our Gleanings feature.
Ted Olsen is Christianity Today's executive editor. He wrote the magazine's Weblog—a collection of news and opinion articles from mainstream news sources around the world—from 1999 to 2006. In 2004, the magazine launched Weblog in Print, which looks for unexpected connections and trends in articles appearing in the mainstream press. The column was later renamed "Tidings" and ran until 2007.
Previous Weblog Columns: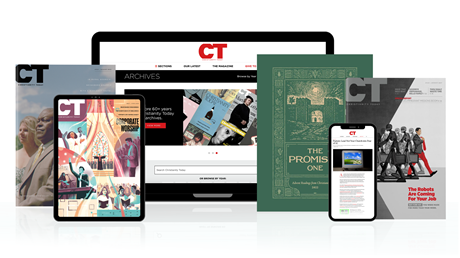 Annual & Monthly subscriptions available.
Print & Digital Issues of CT magazine
Complete access to every article on ChristianityToday.com
Unlimited access to 65+ years of CT's online archives
Member-only special issues
Subscribe
Sydney Churches Burn
Sydney Churches Burn