Weblog will be on vacation next week, and is highly unlikely to post anything before January 3. Fresh articles, including news, will continue to appear on the Christianity Today website from Dec. 27-30.
Merry Christmas. God bless us every one.
ID ruling (news):
ID ruling (editorials):
Ruling on 'intelligent design' is one for the history books | The problem with comparing evolution with intelligent design is that ID is a matter of faith, not science. It can't be tested. Evolution, by contrast, is backed by overwhelming scientific evidence (Editorial, USA Today)


Intelligent Design derailed | Any community that is worried about the ability of its students to compete in a global economy would be wise to keep supernatural explanations out of its science classes (Editorial, The New York Times)


Religion, science and civility | By writing that science and religion need not be sworn enemies, however, Jones offers Americans something valuable: a way to think and talk, respectfully, about issues that divide us (Editorial, Chicago Tribune)


Judge right: ID theory isn't science | ID flunked. So did the conservatives on the Kansas State Board of Education (Editorial, The Wichita Eagle, Kan.)


Intelligent design bad choice for state | Judge overturns school board policy (Editorial, Rocky Mountain News, Denver)


ID ruling (editorials): Predictable headlines:
ID ruling (opinion):
Down but hardly out | Intelligent Design and the courts (Charles Colson, Breakpoint)


Idea not based on religion | Evolutionists used to style themselves the champions of free speech and academic freedom against unthinking dogmatism. But increasingly, they have become the new dogmatists, demanding judicially-imposed censorship of dissent (John G. West, USA Today)


What's the big deal about Intelligent Design? | In the current showdown between materialists and theists, it's easy to forget that science itself is a creation of Western Christian thought (Dan Peterson, The American Spectator)


Beyond Dover:
Teaching the Bible:
Texas district adopts disputed text on Bible study | Trustees in one school district decided that high school students would use a course published by a religious advocacy group for studying the Bible in history and literature (The New York Times)


Board chooses Bible course | Trustees vote 4-2 for National Council on Bible Curriculum in Public Schools (Odessa American, Tex.)


Board decision draws mixed reaction | Both sides of debate express strong opinions (Odessa American, Tex.)


Odessa school board approves Bible course | Ector County schools to offer elective on King James version. (Associated Press)


Education:
Book is in limbo | 'Of Pandas' remains in Dover's library, but it's unclear where it will be shelved (York Daily Record, Pa.)


Christian school faces discrimination suit | In what one state official is calling the first case of its kind, two students and their parents are suing a private, Christian high school for expelling the two students for allegedly being lesbians (North County Times, San Diego, Ca.)


School 'Christmas' break:
No 'Christmas' in D-11's break | The Colorado Springs School District 11 board rejected a proposal to change winter break to Christmas vacation, voting instead Wednesday night to include Christmas Day on school calendars (Colorado Springs Gazette)


District forges Christmas pact | Springs schools keep "Winter Break" but change Dec. 25 on calendar. A board member who objected to a tree marking the holiday instead of the word "Christmas" wins a partial victory in a compromise vote (The Denver Post)


Christmas wars:
Christmas:
Bethlehem at Christmas:
Bethlehem's Christians cling to hope | They endure economic hardships while facing political uncertainty (BBC)


Christmas behind Israel's wall | Bethlehem residents say the wall and a new checkpoint may harm tourism and jobs (The Christian Science Monitor)


Web boosts Bethlehem's woodcarving trade | This Christmas in Bethlehem, the centuries-old craft is coming alive again through a combination of tradition, technology and foreign sales (Associated Press)


Christmas & Hanukkah:
Jews & Christmas:
Closed churches:
Christmas comes on Sunday, but some churches are closed | The debate goes on. But this story has some good quotes (The Baltimore Sun)


Ironic Christmas custom: Closing church | Churches planning to close should rethink their decision. Christmas is the day Santa Claus gets a rest. It's an odd time for a Christian church to go dark and quiet (Editorial, The Tampa Tribune)


Christmas & business:
Away in the mangers, the business is booming | Nativities' rising realism is keeping animals busier (The Washington Post)


Christmas conflict Christians seek religious, secular balance | Because while Santa looms large this time of year, those celebrating the birth of Jesus strive to balance the secular and the sacred, a task becoming more difficult when malls erect holiday displays in October and gift catalogs fill mailboxes daily (The Arizona Republic)


A subversive story of self-sacrifice and deprivation | To celebrate the nativity story with a consumerist orgy is to misunderstand a myth that venerates the outcast and dispossessed (Karen Armstrong, The Guardian, London)


Pope 'dresses like Santa':
Catholicism:
Condom-covered Madonna embarrasses Catholic weekly | An advertisement for a statue of the Virgin Mary veiled in a condom has embarrassed the publishers of the U.S. Catholic magazine America, and prompted some heated comment on Catholic Web sites (Reuters)


Sign of hope at closed parishes | Priests will say Christmas Mass at 3 churches (The Boston Globe)


Pope recalls 'fright' at being elected | Pope Benedict XVI recalled the "fright" he felt at being elected pope, telling cardinals during his year-end speech Thursday that he never imagined he would be chosen and only agreed to it because he had great faith in God (Associated Press)


St. Louis parish control:
New pastor arrives at St. Stanislaus | A day after he pulled into town, the Rev. Marek Bozek, the new pastor of St. Stanislaus Kostka church, introduced himself to the St. Louis media. Literally (St. Louis Post-Dispatch)


Excommunicated priest wants to lead parish | "It's not my intention to be a hero or to dispute canonical issues," the Rev. Marek Bozek said Wednesday. "I am coming to St. Stanislaus to be its pastor, a parish priest, and nothing else. A good shepherd will feed and care for his sheep. This is my purpose in life." (Associated Press)


Canada defines decency down:
Canada court okays group sex in 'swinger' clubs | Wednesday's ruling, written by Chief Justice Beverley McLachlin, said group sex among like-minded adults in private does not meet the test of indecency (Associated Press)


Swing shift | Supreme Court ruling clarifies indecency laws (Edmonton Sun)


Sex club ruling redefines 'indecency' | In a ruling that sex clubs are legal, the Supreme Court of Canada has changed the definition of acceptable behaviour (The Toronto Star)


Church of England congregation blesses vicar's same-sex marriage:
Church blessing for homosexual vicar | A homosexual vicar flouted Church of England guidelines yesterday by having his "marriage" blessed in church (The Telegraph, London)


Vicar's blessing ignores guidelines from bishops | A vicar who had his civil partnership blessed at a church service yesterday could face disciplinary action from the Church of England (The Times, London)


Gay pride or unholy alliance? | Church leaders made few public comments but their discomfort over the reform is well known (The Telegraph, London)


Marriage & family:
Divorced father appeals ban of girlfriend | The ACLU said it would appeal to the state Supreme Court on behalf of Christian Muller, whose ex-wife sought the court order based on an 1838 state law that makes "lewd and lascivious cohabitation" a crime. Michigan is one of only seven states with such a law on the books (Associated Press)


Walls ruin community spirit, says archbishop | The new Archbishop of York has compared houses and estates surrounded by walls and large gates to "prisons" that undermine the spirit of neighbourliness (The Telegraph, London)


Same-sex marriage:
Same-sex couples say 'I do' in Britain | Stephen Green, director of the British evangelical group Christian Voice, was quoted as saying the partnerships were "an absolute abomination" that would disgust "ordinary people" (Los Angeles Times)


Earlier: Evangelical Alliance responds to Christian Voice | "Stephen Green, like anyone else, is entitled to his opinions and should be free to express them. Whether he represents the voice of the majority of Christians in the UK, however, is a different matter. Feedback suggests that relatively few people would agree that he does" (Evangelical Alliance U.K., Oct. 3)


Petition vs. gay marriage advances | Number of signers breaks state record (The Boston Globe)


Gay rights supporters outspend opponents by 3 to 1 | Gay rights supporters outspent opponents by a 3-to-1 margin during this year's campaign over a Maine gay rights law (Associated Press)


Religion & politics:
Thou shalt what?? Ralph Reed's flack writes a little blue in a red state | Ralph Reed 's longtime spokeswoman, Lisa Baron is popping up in print these days with the shockingly saucy -- often downright ribald -- weekly column she writes for the Sunday Paper, an alty sort of weekly aimed at Atlanta's young upscale types (The Washington Post)


A political puck says religion, government do mix | Christian conservatives won big Nov. 8 when voters resoundingly banned gay marriage in the state constitution. The same night, lo came Bill Ratliff, speaking on Christianity and government. (W. Gardner Selby, Austin American-Statesman)


Is God green? | Strange bedfellows take up the fight to save all things bright and beautiful (Boise Weekly)


Oversized hammer | Hurricanes derail Congress from dealing blows to nonprofits (World)


Church and state:
Community's ban on common-area worship upheld | A Port St. Lucie retirement community is allowed to prohibit religious services in common areas such as its clubhouse, a federal judge has ruled (Palm Beach Post, Fla.)


Britishness test for preachers to be scrapped | The government has abandoned its plans to introduce controversial 'Britishness' tests for foreign-born religious ministers, it has emerged (The Guardian, London)


Fade to gray | Proposed military guidelines could muzzle evangelical officers and chaplains (World)


Persecution:
U.S. Embassy warns of threat in Indonesia | Maps and explosives obtained in a police raid on a terrorist's hideout last month indicated the al-Qaida-linked militant group Jemaah Islamiyah was in the advanced stages of planning attacks, the embassy said in an e-mail to citizens (Associated Press)


China priests, nuns defiant in police standoff | Almost 50 Chinese Catholic priests and nuns holed up for a week in a building they claim as their own and surrounded by police vowed to stay put on Thursday until they get their way (Reuters)


Missionaries shot by terrorists | Two British aid workers were shot in Africa by Islamic terrorists, an inquest heard (BBC)


Also: Shot missionaries' inquest opens | An inquest into the deaths of a missionary couple who were shot in the school in Africa they helped to build is due to open in London (BBC)


Supporters rally for medical release of Jean-Juste | Efforts to free Haitian political prisoner the Rev. Jean Juste have gone unrewarded, and now supporters fear he may be in need of medical treatment (The Miami Herald)


Church life:
Spirituality:
History:
Priest's hunch finally uncovers Porto's hidden holy scrolls | A medieval holy ark—a nook in the wall of a synagogue where Torah scrolls are kept, was discovered in a building recently purchased by a church. Only two other arks from the period have been found in Portugal (The Independent, London)


Ancient prayer book to be shown at Victoria and Albert Museum | Thanks to scholarly detective work, a 15th century Book of Hours, written for King Louis XII of France, has been pieced back together and will go on display for the first time (The Telegraph, London)


Stones indicate earlier Christian link? | A Chinese theology professor says the first Christmas is depicted in the stone relief from the Eastern Han Dynasty (AD 25-220) (China Daily)


People:
Local congregation stunned by pastor's death | Nzubamunu Mitete was shot to death while working as a jitney driver to make extra money for the holidays (KDKA, Pittsburgh)


Also: Shooting victim was minister, worked as jitney driver | Six years ago, Nzubamunu Mitete, a charismatic evangelical minister, followed a dream to Pittsburgh. Tuesday night, the dream ended when the 51-year-old Pentecostal pastor was shot to death in Lincoln-Lemington (Pittsburgh Post-Gazette)


No. 9 Texan of the Year: Joel Osteen | Americans are embracing his feel-good gospel (Editorial, The Dallas Morning News)


Television:
Leaping into faith | It's hard not to be skeptical of national reporting on religion (Brian Montopol, CBS News)


Heaven has no signposts | It's a rule in my business: Don't pose a question unless you eventually answer it for the reader (Susan Ager, Detroit Free Press)


Narnia:
Xmas in Narnia | Have yourself a merry little Aslanmas? (John J. Miller, National Review Online)


Values come roaring from the closet | Secularists have nothing to fear from a film financed by Christian money. Quite the opposite (Peter Craven, The Age, Melbourne, Australia)


More articles of interest:
Related Elsewhere:
Suggest links and stories by sending e-mail to weblog@christianitytoday.com
See our past Weblog updates:
December 21 | 16 | 14 | 12
December 9 | 7 | 6
December 2b | 2a | November 30
November 23 | 22 | 21
November 18 | 17 | 16b | 16 | 15
November 11 | 10 | 8
Weblog
Launched in 1999, Christianity Today's Weblog was not just one of the first religion-oriented weblogs, but one of the first published by a media organization. (Hence its rather bland title.) Mostly compiled by then-online editor Ted Olsen, Weblog rounded up religion news and opinion pieces from publications around the world. As Christianity Today's website grew, it launched other blogs. Olsen took on management responsibilities, and the Weblog feature as such was mothballed. But CT's efforts to round up important news and opinion from around the web continues, especially on our Gleanings feature.
Ted Olsen is Christianity Today's executive editor. He wrote the magazine's Weblog—a collection of news and opinion articles from mainstream news sources around the world—from 1999 to 2006. In 2004, the magazine launched Weblog in Print, which looks for unexpected connections and trends in articles appearing in the mainstream press. The column was later renamed "Tidings" and ran until 2007.
Previous Weblog Columns: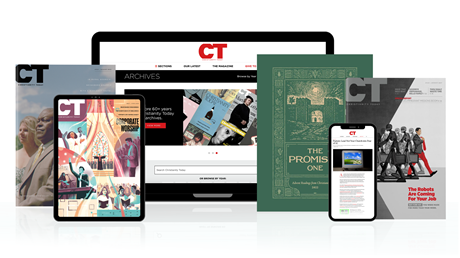 Annual & Monthly subscriptions available.
Print & Digital Issues of CT magazine
Complete access to every article on ChristianityToday.com
Unlimited access to 65+ years of CT's online archives
Member-only special issues
Subscribe
Weblog Bonus: Three Dozen Editorials on Intelligent Design, But Only One Opinion
Weblog Bonus: Three Dozen Editorials on ...