true
Saint Ralph opens in a confession booth, and the litany of adolescent sins confessed tells us succinctly—and humorously—that 14-year-old Catholic schoolboy Ralph Walker (newcomer Adam Butcher) is certainly no saint. But by the time the hapless Ralph has discovered that his confessor is not a priest but rather his fellow students enjoying a laugh at his expense, the audience has already learned to like the awkwardly earnest young man.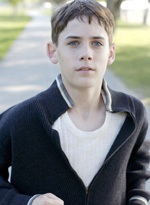 Ralph is infamously prone to wander (a scene of accidental arousal in a public swimming pool will be funny to some viewers, objectionable to others), and for the first twenty minutes the movie is perhaps a little too eager to show us the various ways Ralph stumbles into "self-abuse." But if Ralph's body has a mind of its own, his heart is good—yet also burdened. Ralph's father is dead, and his mother Emma (Shauna MacDonald) is gravely ill. When he's not at school or his mother's bedside, Ralph is alone in his parents' house, keenly aware of his odds of becoming an orphan … and already living like one.
Meanwhile, Ralph is a thorn in the side of Father Fitzpatrick (acclaimed Canadian actor Gordon Pinsent), who is the archetypal stern headmaster and priest. After learning of the "Old Testament depravity" of the pool incident, Father Fitzpatrick threatens expulsion and sentences Ralph to daily 6 a.m. Mass and, as an outlet for the boy's "energies," a stint on the cross-country running team. The moment Ralph saunters up to his first practice, extinguishing a cigarette on the way, both the boy and the film take on a new energy and focus.
The team is coached by the enigmatic but empathetic Father Hibbert (Campbell Scott, Secret Lives of Dentists). Ralph already knows Father Hibbert as the Nietzsche-quoting teacher of his ninth-grade religion class, and he's already been pestering him to explain the nature of miracles. Told it will take a miracle to bring his mother out of her coma, Ralph is in search of one. When Hibbert cracks a joke about the cross-country team training for the Boston Marathon, Ralph misunderstands and takes him seriously. The priest tries to correct Ralph's misperception by saying, "Anyone on this team winning the Boston Marathon would be a miracle to match the loaves and fishes." That's all Ralph needs to hear: He figures if he can win Boston, he'll have the miracle necessary to wake his mother.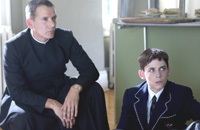 But Ralph has also learned—in Father Hibbert's religion class—that there's still more to making a miracle. Specifically, these three criteria: faith, purity and prayer. Ralph sets to work on all three, aided by his friend Claire (Tamara Hope), the girl who has spurned his affections by declaring her intention to become a nun. Claire tackles Ralph's spirituality like a school project, coming up with various unorthodox ways of improving his prayer life, and their obvious blossoming teenage attraction in the wake of their religious quest is both funny and a welcome antidote for Ralph's loneliness. Claire gives Ralph a book on the martyrs, and Ralph begins to apply the guidance given on discipline and self-sacrifice to the fourth criteria necessary to his miracle: becoming a great marathoner. The spiritual and sporting disciplines are strikingly symbiotic, and Ralph discovers he is a natural and driven runner.
Set in 1953 and 1954 in Hamilton, Ontario, Canada, the first half of the film is a coming-of-age-in-Catholic-School story that manages to include most of the clichés of that genre (awakening sexuality, the bullying peers who eventually come to respect the protagonist, the oppressive headmaster, the inspiring, iconoclastic teacher, the standoffish love interest.) The second half of the film is an underdog sports story that comes down to the Big Finish, and it likewise contains many familiar elements. But screenwriter and director Michael McGowan, himself a former marathon winner, tells us a story we care about, and young actor Adam Butcher gives us a Ralph we want to cheer. The film's climax is enormously compelling, and there are subtleties along the way that more than compensate for the clichés and contrivances.
Christian viewers who can bear the pubescent indulgences of the film's first twenty minutes will enjoy watching Ralph's journey into the beginnings of emotional, and even spiritual, maturity. Finding a passion greater than self-gratification expands and refines Ralph's personality and character—and profoundly affects the people around him, even rekindling the faith of a priest who at first isn't sure he believes in much of anything any more. Ever since the Apostle Paul, believers have been likening our spiritual quest to the running of a race, and the film does a lovely job of showing those parallels in a whimsical, entertaining, and ultimately inspiring way.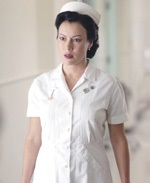 The movie is by no means a theological treatise—Ralph's God appears to him in a Santa Claus suit, and it's hard to know if that detail is a quirky glimpse into the boy's psyche or a pointed commentary on just what or whom we believe in. Still, the Catholic framework of the film, while often mined for laughs, does tend to give a capitol "G" to the God Ralph is learning to pray to and believe. And, in a reworking of a Nietzsche quote that comes up repeatedly in the film, Father Hibbert brings Christ himself into the mix, pointing out that Christ was more than willing to break societal or religious rules to do what love required.
Shot in Canada, featuring mostly Canadian actors (including the notable Jennifer Tilly as a sympathetic nurse), and made for much less money than the average major release film, this is not a Big Movie. But there are some Big Ideas, which are explored in a refreshingly small, wonderfully old-fashioned way—by telling a story. There are a few bits of unnatural dialogue and an oddly intrusive soundtrack that occasionally distract and detract, but these miscues don't stop us from caring about young Ralph and his quest. For the jaded moviegoer who hasn't found much to care about on the screens lately, here's a little film that just might restore your faith—in movies and a whole lot more.
Note: Saint Ralph opened in limited theaters on August 5, but will expand to wider release in the weeks ahead.
Talk About It
Discussion starters
Father Fitzpatrick claims, "Chasing after miracles is blasphemy." Do you agree or disagree? Why?


Ralph claims to have heard directly from God, which prompts different reactions from the religious leaders around him. Do you believe it is possible to hear audibly from God? How can we determine if it's really God's voice?


Father Hibbert quotes Nietzsche: "The anarchist and the Christian often have a common origin," and decides eventually that "As anarchists go, Nietzsche had nothing on Christ." What do you think he meant? Does the church today follow Christ's example of valuing relationships over rules, and purity of heart over appearances?
The Family Corner
For parents to consider
Saint Ralph contains non-explicit but unmistakable scenes of masturbation, presented as a fact of teenage life—but a behavior that abates once the protagonist finds a greater passion. There is one scene of rear nudity. There is also frequent use of the Lord's name in vain, which, interestingly, is repeatedly confessed as a sin but also exploited for laughs. This film may present a dilemma for some families—it tells a great story with some enormously redemptive themes and messages, but some viewers may decide that the content of the first twenty minutes is too questionable to make this film appropriate viewing.
Copyright © 2005 Christianity Today. Click for reprint information.
What Other Critics Are Saying
compiled by Jeffrey Overstreet
from Film Forum, 08/18/05
One movie often celebrated by Christian film buffs is 1981's Chariots of Fire. More than two decades later, another film about a runner driven by faith has reached the screen: Saint Ralph. This runner is significantly younger. Ralph (Adam Butcher) is a high school freshman who wants to win the Boston Marathon in hopes that it will be the miracle required to wake his mother up from a coma.
Is the film as inspiring as Chariots? Or is it merely sentimental? Christian film critics are fairly impressed.
Harry Forbes (Catholic News Service) turns in a rave. "For adults and older adolescents, this is a lovely, extraordinarily touching film that conveys an admirable picture of filial devotion, self-sacrifice, faith, good sportsmanship and universal fellowship."
Mainstream critics are debating whether or not Ralph has emerged as a winner.
from Film Forum, 08/25/05
This film is now making the rounds in theaters, but Peter T. Chattaway, a critic for Christianity Today Movies, wrote about Saint Ralphin his blog months ago: "Watching Saint Ralph, I kept thinking back to Millions, which succeeds where Saint Ralph fails precisely because it sees the world through the eyes of a child (and in a way that is absolutely, convincingly childlike), and also because it just flat-out goes for the magic and gives the saints their own objective reality, whereas Saint Ralph hedges its bets and tries to hint at magic while staying within the tidy boundaries of that which can be rationally explained. (After bumping his head, Ralph may think he sees God in a Santa suit, but that doesn't mean he's actually there, does it?)"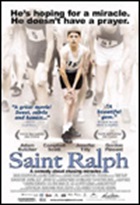 Browse All Movie Reviews By: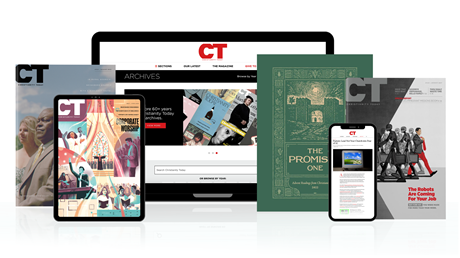 Annual & Monthly subscriptions available.
Print & Digital Issues of CT magazine
Complete access to every article on ChristianityToday.com
Unlimited access to 65+ years of CT's online archives
Member-only special issues
Subscribe
Saint Ralph
Saint Ralph