Some have classified your biography of Charles Colson as "warts and all." How would you classify it and why?
I think people who call it a warts-and-all biography are people who expected hagiography and have gotten biography. I'm a faithful biographer. I have told the story in the spirit of Thomas Carlyle's definition of a biographer—he should be an artist on oath. I haven't gone for any sensational stories or revelations. I've portrayed the Chuck Colson I know and admire at various stages of his journey. And the fact of the matter is that the man he's become is not the man he was.
When he was a young man, he was pretty wild at times. He was pretty ruthless. He had a sense of humor that vastly amused some people and offended others. If you're going to do a portrait of someone like that, you can't airbrush out some of the color. I haven't gone out of my way to tell prurient stories. But the kind of story that will probably excite people if they see it out of context, is the story of the young Chuck Colson who, first of all, fought tooth and nail to break a color bar in Boston and bring a young black lawyer into his law firm as a partner. This was a big step forward, a groundbreaking step forward, which is greatly to Chuck's credit.
It's extraordinary that their relationship was so warm and so friendly that Chuck thought he could play pranks on this guy. These were not racist pranks at all. But you could see why some people might raise their eyebrows and think otherwise. One of the pranks was Chuck burning a cross on this guy's lawn in the Boston suburbs. Now this was Chuck's strange sense of humor.
A lot of Chuck's youth was spent going over the top. That's there in his letters. It's there in his lifestyle. The authenticity of the biography comes from the fact that I don't suppress inconvenient and embarrassing stories. I don't put too many of them in, but I put enough of them in to make it clear that Chuck was a wild young man, a ruthless young man, a good young man in lots of ways. But there are strange dimensions to him that are out of kilter with the Chuck Colson who came to Christ.
And what is wonderful about the story is how much God changed Chuck. I don't think I'd do anyone a service by not indicating what he was changed from.
Now you said it's not hagiography, and yet as you're talking about him here it makes me think of the apostle Paul in some ways, a reorientation of a strong-willed person toward Christ.
That's absolutely right. Obviously I didn't know the apostle Paul but my sense is that Saul of Tarsus, and even the apostle Paul, was a difficult character with tremendous energy, tremendous genius who often rubbed people the wrong way. There are good, valid comparisons between Chuck Colson and the apostle Paul.
Why did Charles Colson choose you to do the biography?
We were kindred spirits in several ways. First of all, we think that we may be about the only two people in the world who have experienced both the great high of political power at a top level in our countries, then to have made terrible mistakes of arrogance and pride and faults of character, then to have crashed into disgrace and media vilification and imprisonment. We then have found God, thanks to wonderful Christian prayer partners, went through jail and found it a spiritually enriching experience despite all the pain, then came out and said we will dedicate our lives to the service of the Lord. That's a sequence of events that is difficult to find repeated, and it's a very strong bond.
Chuck Colson was a wonderful mentor to me when I was in the worst possible trouble. I also think Chuck liked my biography of Nixon, which, when it came out, some people said it's a warts-and-all biography, but the consensus developed that it was probably the most accurate, balanced portrait of Richard Nixon. Chuck, I think, is understandably sensitive, perhaps overly sensitive about this or that colorful anecdote, but actually they are few and far between.
He had no editorial control over the project?
No, he didn't. He read it all, and he never objected. He said, "that's uncomfortable, that's painful," but he corrected things on the grounds of fact. He couldn't have been a better subject in terms of cooperating. He gave me an enormous amount of time, he opened up all his private papers and letters, he let me go and talk to members of his family and so on. I think we spent well over 100 hours together in talking and looking at drafts and taping.
How much did you rely on Colson's book Born Again?
Born Again is a wonderful book and wonderful source. But what I found very useful was to talk to people who were around at the time, because very often they have slightly different perspectives on what happened, though not any serious factual corrections. I then had masses of new material, for example Chuck's prison diaries are much richer than the material in Born Again.
Did anyone know he had prison diaries? I wasn't aware of that.
They're all there in his Wheaton archives. They were daily dictations and writings, sometimes in handwriting, sometimes in dictation. He let himself go on paper much more than he did in Born Again.
There are also things that turned up that are completely new. For example, if I were to ask any Christian audience who planted the first seed in Charles Colson, the answer almost certainly would be Tom Phillips, a chap who ministered to him in the driveway of his house in Massachusetts in 1973.
I learned that while Chuck was onboard the USS Mellette steaming toward Guatemala with a taskforce of Marines to invade Guatemala back in 1954 or something like that, there was a young lieutenant named Brad Allen. He was the same age as Chuck and subsequently became an Episcopalian minister who was killed in a car crash.
Chuck's letters from the USS Mellette are full of him saying, "Brad Allen really got to me about religion. I think we should have prayer in our house. I think we should say grace before meals. Brad Allen tells me if I don't start having a relationship with the Lord, I will just end up another successful executive, president of the Westchester County Golf Club, and then die of a heart attack at age 50." There's no doubt from these letters that Chuck was ministered to. The USS Mellette in the end did not invade Guatemala. It was called off. Chuck went back to his ways of hard drinking, hard living, and ambitious self-centeredness. Chuck had completely forgotten about this, and when he saw the letters that his first wife, Nancy, gave me, he said, "I suddenly recognized that Brad Allen did have a big impact on my spiritual development."
What new ground does your book break?
On the political side there is some new material on Watergate. There's one story about how the President wanted to appoint someone to a post in the White House, and this chap said he couldn't take the appointment because he got ulcers. Chuck was desperate to fulfill the President's wishes, and he called up the White House doctor and said, "Give him a medical examination, tell him there's nothing to worry about regarding his ulcers."
There is also a tremendous amount on how big a contribution Chuck made to building the coalition of blue-collar workers, Catholic groups, and evangelicals, which has been the same coalition than helped Reagan and George W. Bush get elected.
It's interesting that now he is considered to be a leader by both evangelicals and Catholics.
Absolutely. And the whole of the story of Prison Fellowship has been told here and there in articles and speeches, but I don't think anyone has woven together the whole historical saga of how Prison Fellowship was built and how Chuck pioneered Evangelicals and Catholics Together.
I interviewed people like Avery Dulles and Richard John Neuhaus to get their perspectives on Colson as an amateur theologian, Colson as a unifier of Christians, getting people to understand their differences and how to work constructively. And of course there's a mess of new stuff on his early life.
What do you hope that this book will accomplish?
I hope it will be a contribution to the history of both the political United States and the Christian United States in the 20th century. Chuck is a much more significant figure historically, and as a spiritual leader, than he's been given credit for. But perhaps it took an outsider to see him in the full historical perspective. Just as I think I set Nixon in a somewhat different context, I've set Chuck in a larger perspective and seen him as a bigger, bolder Christian witness.
But above all, the book is in a funny way not really about Chuck Colson. It's about the transforming power of God's redeeming grace. It is an astonishing story that you can take someone as strong-willed and as difficult and badly behaved as Chuck was and turn him into a wonderful servant of the Lord, the Christian faith, and the community.
Do you wish that you had been able to incorporate information about "Deep Throat" that has just come out? Would that have affected your book any?
I would have enjoyed putting that in, although I don't think it would have really changed anything much. Chuck's views on Deep Throat are certainly interesting, and I probably will incorporate this in the paperback edition. I wish the timing had been such that I could have incorporated Chuck on Deep Throat and Chuck on Mark Felt, but it's not a major issue.
How has your experience in prison given you some fresh insights just about Colson the man?
I understand what it's like to go through the breaking experience of falling catastrophically from high political power to media vilification and the bottom of life's pile by going to prison with fantastic noise. I find it quite easy to empathize with what he went through in jail, what he felt when false stories were written about him in the media. I also understood very well what it means to have prayer partners who stand by you and guide you and mentor you. And how you still are tempted by the demon of spiritual pride, which goes on after you have thought you got rid of political pride. It creeps up on your shoulder, and I can see it every so often creeping up on Chuck's shoulders. He has to go on struggling. I understand that very, very well.
What do you think is next for Colson?
I think he will become even more of a sage. He's been an action man in terms of being a leader and building Prison Fellowship. I expect for him to move more into the field of leadership by inspiration, leadership by intellectual thought, leadership by reflection. I mean the old-fashioned word, a sage. People still think of Chuck as a can-do activist. But he's also teaching through things like the Centurion program. He's a major Christian leader. Probably as the era of Billy Graham is coming to an end, it's difficult to see anyone who's better known than Chuck. I think it was Socrates who said the crowning glory of old age is influence. Chuck, as a Christian teacher, Christian sage, and Christian thinker is extending his dimension of leadership.
Related Elsewhere:
Also posted today is a review of Aitken's biography of Chuck Colson.
Charles W. Colson: A Life Redeemed is available from Christianbook.com and other book retailers.
Chuck Colson's columns for Christianity Today are available from our website.
Colson's Breakpoint commentaries and more about his work with Prison Fellowship is available online.
Stan Guthrie interviewed Colson about the revelation of the identity of "Deep Throat."
Colson's latest book is The Good Life, which is available from Christianbook.com and other book retailers.
CT profiled Colson in 2001: The Legacy of Prisoner 23226 | Twenty-six years after leaving prison, Charles Colson has become one of America's most significant social reformers. (June 29, 2001)
Reviews of the biography published elsewhere include:
Born Again, Again | A new biography of Charles Colson is yet another cover-up. (Washington Monthly, July/August 2005)
Charles Colson's salvation | Now that Deep Throat's name has been revealed, perhaps it's time to examine another Watergate figure whose identity has confounded observers for over 30 years: Chuck Colson. British journalist Jonathan Aitken tries to set the record straight about the political life and the spiritual transformation of a man who never seems to be far from the headlines. (Washington Examiner, July 18, 2005
Better Not To Have Sinned | It is not every biographer who can claim that he, like his subject, has served a prison sentence. Jonathan Aitken, a former British M.P. and cabinet minister, served a seven-month sentence for perjury in a civil case. Charles Colson went to prison in the wake of the Watergate scandal. (New York Sun, July 13, 2005)
Article continues below
Editorial: Charles Colson and the Mission That Began with Watergate | There is nothing particularly unusual about a conservative Republican gravitating to evangelical Christianity, though given his record, his critics were skeptical. (Harriet Van Horne, the liberal columnist, wrote that "If he isn't embarrassed by this sudden excess of piety, then surely the Lord must be.") What is remarkable, though, is the other role he took on: impassioned, even radical, prison reformer. (The New York Times, July 25, 2005)
Slate magazine profiled Colson in 2000 and called him "one of America's greatest Christian leaders" but worried that he's becoming "just another Gary Bauer."
John Perry is author of an earlier Colson biography: Charles Colson: A Story of Power, Corruption, and Redemption. It is available from Christianbook.com and other book retailers..
Wikipedia has a short summary of Jonathan Aitken rise and fall. Aitken told his story at St George's Church (audio, scroll down), in Leeds. Holy Trinity Brompton has a transcript of a talk Aitken gave to an Alpha course there.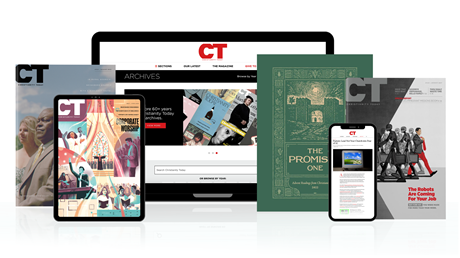 Annual & Monthly subscriptions available.
Print & Digital Issues of CT magazine
Complete access to every article on ChristianityToday.com
Unlimited access to 65+ years of CT's online archives
Member-only special issues
Subscribe
From Disgrace to Sage
From Disgrace to Sage