true
The House of D is the Women's House of Detention in downtown Greenwich Village. It sits on a busy street and women can be heard yelling out the barred windows to "visitors" below. Thirteen-year-old Tommy (Anton Yelchin) strikes up an ongoing conversation with an inmate he knows only as "Lady." Lady, who listens to the story of his growing pains and offers sage advice, is played by Erykah Badu, a well-known singer and musician also remembered for her deeply affecting role as the abused daughter in The Cider House Rules. Although her role in House of D is brief, it is essential to the story and she brings a soulful depth to her character. We bond to her almost immediately and see her not as a felon, but as an imprisoned fellow pilgrim.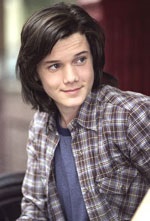 Tommy also enjoys a deep friendship with Pappass (Robin Williams), a mentally challenged adult who helps him on his job delivering meat for a neighborhood butcher. Their relationship has an odd equilibrium as the childlike Pappas and the maturing Tommy go about their business. Their shared childishness allows them, in a brief time span, to live and function as equals, although in an unconventional way. When Tommy decides they should buy tickets for an R-rated movie, he tells Pappass, "I need you to put on your Dad face."
At the heart of the film—written and directed by David Duchovny—is Tommy's conflicted relationship with his single mother, Mrs. Warshaw (Téa Leoni, Duchovny's real-life wife). A distraught widow, she chain smokes while making Tommy eat green vegetables so that he won't succumb to cancer like his late father. Tommy's mother holds a job, but spends most of her off time sitting in their cramped apartment smoking, taking sedatives, and lamenting the loss of her beloved husband. She is spiritually adrift and seeks, in Tommy, a soul mate as well as a son. Tommy tries to function as a substitute for his father, clowning around to make his mother laugh, checking to make sure that she is using, and not abusing, her medications. But it's a heavy burden to bear for a young boy trying to carve out his own place in life, no matter how tender his love for his mother. His attempts to find his own way are threatening to his mother, who becomes ever more desperate.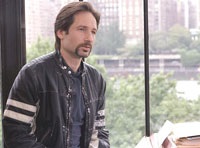 The film opens from the perspective of the adult Tom (played by Duchovny), a married father living in France. As Tommy remembers the events in his life that led him to leave home at an early age, he realizes he must return to make peace with those events. Puberty takes its toll in more ways than one, and Tommy, like any teenager, needs some emotional space as he navigates the minefield of his emerging manhood. That means breaking ties with his childhood friend, Pappass, and finding some independence from his mother. He meets a lovely girl (Zelda Williams) whom he initially insults, but later a brief, sweet friendship ensues. Unfortunately, a few key events set Tommy's world upside down and his brief sojourn into adolescence is replaced by an enforced early adulthood.
The movie is being marketed with the tagline, You never know who your angel is going to be. Other than possibly the character of Lady—who provides Tommy with insight, introspection and perhaps grace—that tagline seems a bit of a stretch for this film, because it's not clear who Tommy's "angels" really are.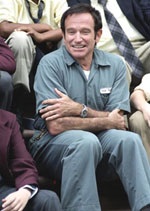 House of D is Duchovny's debut as a feature film director, although he directed several episodes of The X Files in his seven-plus-year tenure as its co-star. He acquits himself well in his first endeavor, saying he liked the idea of writing and directing his own film. "I was left alone," he told us in an interview, "and what you see, if you like it or hate it, is my fault." He says his preferred directing style is to give the actors their parts and their lines and then let them make the characters their own.
For the most part this approach works well. Yelchin, who recently turned 16, brings a strong, endearing presence to the character of Tommy. Duchovny says Yelchin was perfect for the role, and lauded the young actor's work ethic; Yelchin apparently read the entire script every night before going to bed.
Leone, as Tommy's downward-spiraling mother, turns in a brilliant performance. In just a handful of key scenes, she strikes a nuanced and impassioned balance between pathos, hope and despair.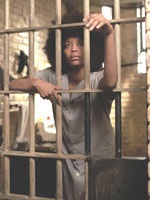 The friendship between Tommy and Pappass—an assistant janitor at Tommy's school—is sweetly rendered. Williams turns in a restrained performance, which lets us see the way the shared joys and trials of a friendship can, if only briefly, transcend age. For much of the film we are able to see Pappass, rather than Williams, which is no small feat. Instead of launching off on wild riffs, Williams works his comic gifts with more subtlety. At times, however, Pappass becomes less of a mentally challenged man/boy and more something of a wise elder. The fine line between childlike wisdom and adult insight is sometimes blurred.
While most elements of House of D are exceptionally moving, it is not without a few rough spots. It's a relatively low-budget movie by a first time director. Transitions from one scene to another are sometimes a bit jumpy. Tommy is an aspiring artist but we don't really see his artistic passion. What House of D gives us is its heart: a great script and fine performances. The adult Tommy must eventually return to his neighborhood to make peace with his past. Until he does, he is emotionally crippled.
Unlike so much of the computer-generated action junk that shows up in theaters, House of D is about something true and compelling. It's a delightful coming of age drama/comedy that deals with weighty matters of the soul. It lingers in the mind like a fine meal lingers on the palate.
Talk About It
Discussion starters
Why do children have to break away from their parents as they grow older? At what age does this process begin? How can parents help this inevitable process?


What is it about childhood friendships that makes some of them temporary while others endure?


Why do Tommy and Pappass find it impossible to tell the truth about the theft to the minister?


Discuss a time when you felt you had to go back to re-examine, and make peace with, a painful part of your life?


What did you think of the mother's dependence on Tommy? Was that a healthy relationship? How could it have been better?


The Family Corner
For parents to consider
House of D is rated PG-13 for sexual and drug references, thematic elements and language. Although the subject matter will be most interesting to adults, it's appropriate for thoughtful teenagers.
What Other Critics Are Saying
compiled by Jeffrey Overstreet
from Film Forum, 04/21/05
Your reaction to the first film directed by X-Files star David Duchovny, The House of D, may depend on your reaction to this telling detail: Robin Williams plays a mentally disabled janitor.
If that brings back bad memories of Patch Adams of Jakob the Liar, well, you might want to think twice. But according to Christian press critics, the film has its virtues and may be worth your time.
The story concerns an American expatriate (Duchovny) who prepares to return home and face the ghosts of his upbringing. As a child, he struggled to endure life with his depressed mother (Tea Leoni, Duchovny's real-life wife), and found comfort in the friendship of a man named Pappass (Williams).
"While most elements of House of D are exceptionally moving, it is not without a few rough spots," reports Stefan Ulstein (Christianity Today Movies), citing "jumpy" transitions. "What House of D gives us is its heart: a great script and fine performances. Unlike so much of the computer-generated action junk that shows up in theaters, House of D is about something true and compelling. It's a delightful coming of age drama/comedy that deals with weighty matters of the soul."
Article continues below
Harry Forbes (Catholic News Service) writes, "Despite flaws, House of D imparts overall admirable messages about the importance of honesty, friendship, filial devotion and the finding of your roots, even if served up in platitudinous doses. The performances are excellent. At first, it's difficult to accept Williams as the simple-minded but wise man-child he plays here, but it's to his credit that we finally accept his impersonation as much as we do."
Most mainstream critics might be tempted to give it a "D." Paul Clinton (CNN) says, "Duchovny claims he wrote the screenplay for House of D in only six days. It shows."
Copyright © 2005 Christianity Today. Click for reprint information.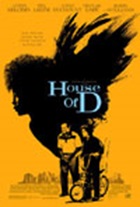 Browse All Movie Reviews By: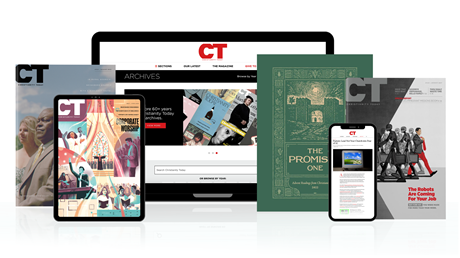 Subscribe to Christianity Today and get access to this article plus 65+ years of archives.
Home delivery of CT magazine
Complete access to articles on ChristianityToday.com
Over 120 years of magazine archives plus full access to all of CT's online archives
Subscribe Now
House of D
House of D