Let's begin with something fundamental: Help: The Original Human Dilemma, by Garret Keizer (HarperSanFrancisco). Keizer, who has been an Episcopal priest and sometime teacher, writes ruminative books that violate most of the lessons they'll teach you in courses on "How to get published." He doesn't care; he goes his own way, equally at home whether he's demonstrating his unerring ear for the American vernacular, c. 2004, or quoting one of his favorites sages (and mine), Samuel Johnson. You may remember his previous book, The Enigma of Anger, an excerpt from which appeared in Books & Culture. His new book is similar in form, taking up the subject of help now from this angle, now from that with a patient intensity that kept me turning the pages to a stunning conclusion. The painting on the cover shows the Good Samaritan, and the questions posed by that parable will grip you as you read and won't let you go.
Keizer's book should be read alongside Allen D. Hertzke's Freeing God's Children: The Unlikely Alliance for Global Human Rights (Rowman & Littlefield), a case study in the complexities of "helping" that nevertheless comes firmly down on the side of action. Hertzke shows how evangelicals, galvanized by a new awareness of violent persecution of Christians, have joined in effective alliances with other advocates of global human rights. (Why was this story entirely missing from the long list of post-November 2 op-ed pieces bewailing the influence of evangelicals? It just didn't fit the script, I guess.)
Evangelicals (their forebears, at any rate) don't come off so well in Philip Jenkins' Dream Catchers: How Mainstream America Discovered Native Spirituality (Oxford Univ. Press), but then they have a lot of company in a tragicomic narrative full of misunderstandings and ironies as well as prideful bigotry. Jenkins shows how Indians—and their spirituality in particular—have been reinvented and reappropriated time and again in keeping with shifting attitudes in the larger culture. With his characteristic eye for nuance and his uncanny ability to master an enormous range of evidence and present it in a clear, compelling, provocative form, Jenkins has written an indispensable book.
Three books about war have caught my attention this season; I've shuttled between them and the news from Iraq. The first is a novel, A Distant Flame, by Philip Lee Williams (St. Martin's/Thomas Dunne Books), set in the Civil War yet framed by the protagonist's old age in the World War I years. Many contemporary novels about the Civil War feel anachronistic, as if the writer had transported characters from the 21st century to the mid-19th and fixed them up with period dress. By contrast, Williams seems to have learned how to inhabit another time, how to learn the archaic speech of our ancestors and make it real on the page, how to bring the past to us in all its poignancy and confusion. According to the dust-jacket, Williams—who is new to me—has published 11 books. I have some reading to do.
Peter Barham's Forgotten Lunatics of the Great War (Yale Univ. Press) has a great subject and a title that sounds a bit like a Monty Python parody. That's a warning of a disjunction that bedevils this big book. Barham himself is earnest to the point of tedium, but he has done yeoman's work in illuminating through his exhaustive research the fate of soldiers who—in many different ways, and in various degrees—went mad as a result of their experience in World War I. As I read Barham's book, I was haunted by the sense that—had I ever been in combat—I might well have ended up like one of his subjects.
Max Hastings' Armageddon: The Battle for Germany, 1944-1945 (Knopf) is one of the best books I've read this year; also one that seems particularly relevant to how we think and talk about war today. There is a basic lack of realism in so much of our discourse about war, the feebleness of which is rudely illumined in the light of Hastings' account of the bloody last stage of the war in Europe. You can't read Armageddon without wondering how the same battles would be covered by today's media, and with what result. Ditto the political tensions that divided the Allies even as they were fighting against as clearly defined an enemy as could be imagined; these make the current hand-wringing about "American unilateralism" look rather silly.
I am always on the lookout for bedside books, and I found two really good ones this season. The first is Brooke Allen's Artistic License: Three Centuries of Good Writing and Bad Behavior (Ivan R. Dee), a delightfully eclectic collection of essays on literary subjects. (How eclectic? Well, there's Byron and Bram Stoker, Laurence Sterne and Henry James, Samuel Pepys and Sinclair Lewis, Jane Austen and L. Frank Baum. … Satisfied?) You may have seen some of these essays in The New Criterion or elsewhere, but unlike so many magazine pieces they bear rereading, not least because every piece tells a shapely story, spiky with idiosyncratic particulars yet also exemplary in some way.
Very different from Brooke Allen's bracingly skeptical sensibility is Mary Lou Kownacki's Between Two Souls: Conversations with Ryokan (Eerdmans), with poems by Kownacki (a Roman Catholic nun) written in response to poems by the great Japanese Zen poet, Ryokan (1758-1831), the two juxtaposed on facing pages. It's a project that virtually invites disaster on many fronts, and doesn't always manage to avoid it, yet I for one am grateful that Kownacki was willing to take the risk—and grateful to Eerdmans too, for publishing this book, which both charmed and exasperated me. Here is Kownacki's concluding poem:
My legacy—
What will it be?
There is an old photo:
Just arrested
A young anti-war protestor
Leans out the bus window
Holding a rose in her teeth.
John Wilson is editor of Books & Culture magazine.
Related Elsewhere:
The books mentioned in this essay are available from Amazon.com, Christianbook.com, and other book retailers.
Freeing God's Children by Allen D. Hertzke was an Editor's Bookshelf selection. Elsewhere on our site, you can
Read an extended review of Freeing God's Children.
Read an extended interview with Allen D. Hertzke.
Read an excerpt from the book.
Books & Culture Corner appears every Tuesday. Earlier editions of Books & Culture Corner and Book of the Week include:
Reaching the Light | A review of On Broken Legs: A Shattered Life, a Search for God, a Miracle That Met Me in a Cave in Assisi. (Nov. 09, 2004)
The Prayers of a Self-Governing People | A psalm for Election Day. (Nov. 02, 2004)
In Memoriam: Jacques Derrida (1930-2004) | Remembering a philosopher who never forgot about death. (Oct. 19, 2004)
Whose Independence? | All the Founding Fathers of America celebrated "independence," but what the word meant depended on who was speaking. (Oct. 12, 2004)
Darkness Visible | An unsparing new memoir by the author of Slackjaw. (Oct. 05, 2004)
After Worldview? | A lively conference offers a state-of-the-art assessment of the concept of "worldview," with both advocates and dissenters represented. (Sept. 28, 2004)
A Forgotten Founder's Fatherhood | Race, nature, and patriarchy meet in Rhys Isaac's biography of early American diarist Landon Carter. (Sept. 21, 2004)
The Great American Hustle | The first volume of an ambitious new history of America highlights the engine of "worldly ideals"—and the role of evangelical religion in creating a distinctive American identity. (Sept. 14, 2004)
Article continues below
The Poet Who Remembered | Poland (mostly) honors Czeslaw Milosz upon his death. (Sept. 07, 2004)
Be Careful What You Pray For | The strange tale of the controversial Bishop Pike and his fatal quest for relevance. (Aug. 31, 2004)
Book 'Em! | The concluding installment of our three-part midyear book roundup (Aug. 24, 2004)
(Not Just) Summer Reading | Part 2 of our midyear report on outstanding books. (Aug. 17, 2004)
Real Fantasy | The first installment in a new Tolkien-inspired series shows genuine promise. (Aug. 17, 2004)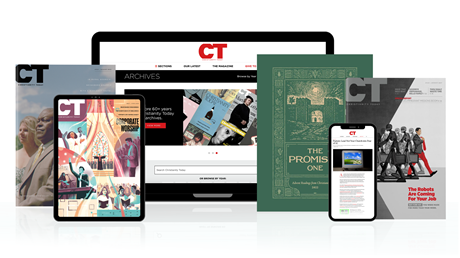 Annual & Monthly subscriptions available.
Print & Digital Issues of CT magazine
Complete access to every article on ChristianityToday.com
Unlimited access to 65+ years of CT's online archives
Member-only special issues
Subscribe
Autumn Books
Autumn Books