true
Four years ago, Peter Jennings of ABC News hosted a two-hour special on "The Search for Jesus." On Monday, he returns to the subject in an even longer documentary, Jesus and Paul: The Word and the Witness (8 p.m. ET). Dallas Theological Seminary New Testament professor Darrell Bock, who critiqued the 2000 program, talked to Jennings about this new project.
Why is ABC so committed to religious programming of this type?
I have lived in the Muslim world, covering the Middle East, Russia, and Africa among many other assignments. I saw it was important to understand or try to understand the intersection between religion, spirituality, and life. Events in these and other locales got me interested in covering religion as a "news story." This coverage shows the deep interest in and pervasive nature of religion.
When I got back to this country I understood how religion impacts people how it intersects with people's daily life. As such, it is important to cover. So we did a Prime Time hour on modern Protestantism, then on Jerusalem, and then Jesus. It seemed reasonable to do Paul next.
What does it mean to cover religion as a "news story"?
This considers the impact and use of religion in people's daily lives. Coming back from overseas, I saw football players give credit to God for touchdowns, saw prisons make efforts to deal with criminals through religion, saw the impact of religious faith on the military, saw religion impact social debates, which evoked deep religious responses often with great passion.
America has a religious dimension that needed coverage. So we have done stories to cover the impact of religion, first by hiring Peggy Wehmeyer as a religion reporter who helped us appreciate this dimension of life better, then through these various specials designed to consider the religious dimension of what makes people act and think.
What did you learn going through Jesus' story a second time?
We did not go back through the whole story. We simply wanted to make clear what the context of Paul's story was. Paul is more interesting, and there is more sense of continuity if Jesus is set as the backdrop for him. This did allow us to use both old and new material on Jesus.
It also allowed us a closer look at some details we raised the first time, such as the portrait of Pontius Pilate. I went to a screening of The Passion and I kept thinking, "Well, does that hold up about Pilate, is that true about Pilate?" Our advantage is that as reporters we can say, here's what scholars say. Jesus is the platform on which the Paul story has to be built.
What does Paul add to the mix?
Paul has a 21st century resonance. He discusses homosexuality, women, sexuality, anti-Semitism, treats issues of social behavior, and raises the issue of tolerance. He is Jewish, but ministered to Gentiles. He wrote 13 of the 27 books of the New Testament. He gives us real insight into a little first century movement that was so tiny and yet led into what became Christianity.
Paul gives us insight into the Christian movement of the first century because scholars think that his letters are probably the earliest documents of the Christian movement. Reading his letters is going back to our roots.
He was talented, passionate, towering, powerful, complicated, fascinating figure, and I don't think people know everything about him. He had a great historical impact. It is a news story to tell the amazing story of Paul's role in the growth of that tiny community into a worldwide movement.
We have been looking at what a reporter can put his hands on. The textual, hard evidence. What is amazing to me about this story is the life and impact—mostly the life of Paul. I hope it will have an impact on the audience.
I still marvel, I don't know anybody on the eve of Easter 2004 who cannot continue to marvel at the fact that this was a tiny movement that might have just disappeared—this small movement, Jesus and Paul, they might have just disappeared from history, but it is still here in 2004. I don't know how anyone can't marvel at that.
What do you hope people get out of viewing the special?
Knowledge—a greater knowledge of the birth of Christianity. Like what happened to me from when I started the special, to when it was finished. To hear the variety of scholars and what they have to say about him. Possibly also to foster debate, "not as a blood sport," but a genial debate, in the good sense of that term, about Paul and his impact.
I grew up going to church—the school I went to in Canada had chapel every morning and twice a day on Sunday. And they would read the words of Paul, and I remember thinking I was listening to people use Paul to tell me that I was doing bad stuff. Paul addressed things that are the cardinal sins of today's culture. He stirred up strife—you know, as a scholar—everywhere he went. He was controversial in the first century; he is controversial today. I also hope they appreciate how the nature of the Roman Empire made it possible for Christianity to travel out of the Middle East.
As a journalist, how would you ask evangelicals to assess the special?
They should assess it as I would ask anyone else to—does the special try to understand the life and impact of Paul, his role, and his continuity to Jesus? We are more fortunate with Paul, since we have his letters. We have more direct access to him. We were able to learn about what was different and what was alike about the early Christian movement and Christianity today.
By the way, do not just count the voices used and where they come from. Look to see how they are used, what they say, and how much they get to say, not just what group they belong to.
Related Elsewhere:
Also posted today is an interview with Robin Griffith-Jones, a guest on the show.
The ABC News site has more on Jesus and Paul.
Christianity Today also interviewed Jennings for his 2000 special.
Christian History magazine, a Christianity Today sister publication, has published issues on Jesus and Paul. The issues can be purchased in print or read through Christian History.
Christianity Today International's ChristianBibleStudies.com offers a six-session course on the early church, which includes a free lesson on Paul and his times, from the Christian History issue.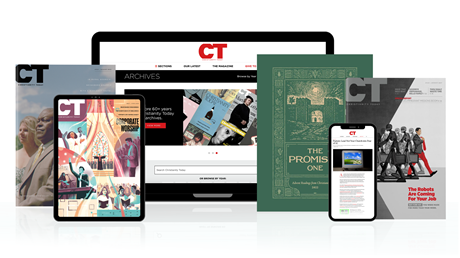 Subscribe to Christianity Today and get access to this article plus 65+ years of archives.
Home delivery of CT magazine
Complete access to articles on ChristianityToday.com
Over 120 years of magazine archives plus full access to all of CT's online archives
Subscribe Now
Peter Jennings Goes Back to the Bible
Peter Jennings Goes Back to the Bible