Bill McCartney's latest goal: Improving relationships between evangelicals and messianic Jews
Promise Keepers founder and former University of Colorado football coach Bill McCartney "has quietly founded Road to Jerusalem, a Denver-based group whose stated goal is to improve relationships between evangelical Christians and messianic Jews," Denver Post religion writer Eric Gorski reported yesterday. The Toledo Blade had reported in March that the group "will rally churches to support Israel and Jews." Here's what Blade reporter David Yonke wrote back then:
"With what the headlines are today, with what's going on, we must stand with the Jew and we must let him know we support him," [McCartney] said.
The Road to Jerusalem will not try to "assimilate" Jews into the Christian church, he said, disagreeing with critics who say that Jews who accept Christ as the Messiah are no longer Jews but Christians.
"That's not true. That can only be perpetuated by unbelievers. Read Romans 9:1-5," he said sternly, referring to scriptures in which Paul writes, among other things, that God's promises are for the people of Israel and that the ancestry of Christ is traced to the Jewish patriarchs.
"That's Paul. He's a messianic Jew. That's his heart, and that's the same heart I see in all these messianic Jews," he said. "I see a sacrificial heart, a courageous heart. I believe messianic Jews are among the most courageous people in the world."
It seems, however, that supporting messianic Jews may be a larger thrust of Road to Jerusalem than supporting the nation of Israel. After all, there are many conservative Christian organizations aiming to support Israel, but few designed to improve relationships between evangelicals and messianic Jews. It's doubtful that McCartney and Road to Jerusalem president and CEO Raleigh Washington (a popular black preacher who was Promise Keepers executive vice-president) would launch something that duplicates or repeats others' work.
A report from the Union of Messianic Jewish Congregations meeting earlier this month says that both aims are part of RtJ's mission. "Coach McCartney is calling Christians to express their love for Israel and the Jewish people by standing with the messianic Jewish community." Weblog can't find a website for Road to Jerusalem, though the UMJC report page lists an AOL e-mail address.
PCUSA aims to improve battered bridges with non-messianic Jews
Whenever you talk about messianic Jews, you can expect some degree of backlash from non-messianic Jews. But Jews right now are more frustrated with the Presbyterian Church (USA) than they are with Bill McCartney. B'nai B'rith has called for an end to interfaith dialogue with the denomination, calling its votes on messianic congregations and the Mideast conflict "hostile and aggressive declarations against the Jewish people and the State of Israel." The organization was upset with three resolutions passed at the General Assembly, one supporting messianic congregations, another to study whether the church should divest from companies doing business in Israel, and a third condemning the Israeli security barrier because it "ghettoizes the Palestinians and forces them onto what can only be called reservations."
Anti-Defamation League director Abraham H. Foxman also issued a press release, calling the votes "offensive and distressing." The American Jewish Committee has not issued a press release, but the group's James Rudin is quoted as calling the votes "a catastrophic disaster."
Religion News Service reports that PC(USA) headquarters "has been 'inundated' with hundreds of angry phone calls and e-mails from Jews" on the votes.
Tuesday, PC(USA) Stated Clerk Clifton Kirkpatrick issued a three-page statement clarifying and defending the votes. "These actions are rooted in a longstanding commitment to the secure existence of Israel and the Israeli people, in a similar commitment to the security and existence of Palestinians in their own state, and in a passionate vision of negotiated peace as the only viable way forward," Kirkpatrick said. "I encourage Presbyterians to maintain their relationships with people of other faiths, with sensitivity to the fragility of trust in the present climate of violence and terror."
More articles
Baylor:
Sloan speculation pursues Baylor regents | The fate of Baylor University President Robert B. Sloan Jr. is still up in the air and the next 48 hours will likely determine whether he continues to lead the university, administrative and regent officials said Wednesday (Waco Tribune-Herald, Tex.)
Take closer look and see where Baylor is failing | To erect these buildings, Baylor incurred a massive debt with severe consequences (Matt Dawson, Waco Tribune-Herald, Tex.)
Considering the unthinkable | The idea that Robert Sloan could be dismissed for making Baylor University one of the most important stories in higher education seems absurd. But it could be about to happen (Hunter Baker, The American Spectator)
Religion & politics:
Lecturer exhorts pastors to activism | A Republican National Committee-sponsored lecturer urged more than 100 pastors gathered Tuesday in Eugene to push their parishioners to register to vote and become more politically active (The Register-Guard, Eugene, Ore.)
Fighting class, culture wars-- for a big loss | How would Jesus vote? That appears to be the great unspoken question as President Bush and Sen. John Kerry engage in a culture war for the hearts and minds of the elusive mainstream voter (Clarence Page, Chicago Tribune)
Conservative no longer describes political right | Call them orthodox instead (Gerald Plessner, Pasadena Star News)
Women senators balk at controversial nominee | senators are expressing outrage at a controversial judicial nominee who co-authored a 1997 article with his wife in which he suggested biblical passages about wives being subservient to their husbands should be taken literally (Fox News)
Guess whom you endorsed | The political fringe has plenty of candidates for president this year, and one third-party candidate is already claiming support from a local conservative Republican. Not so, she says (Bud Kennedy, Ft. Worth Star-Telegram, Tex.)
Rules apply to Catholic politicians | Finally, news from the Roman Catholic hierarchy that doesn't involve a bankrupt diocese or the bankrupt souls of sexually abusive priests (Nicole Brodeur, Seattle Times)
'Our nation can be built on virtue' | Public office-holders, particularly, Christians have been advised to use their offices to reflect the glory of God (This Day, Nigeria)
Campaigns & religion:
Kerry makes a bid for Hispanic votes | "Faith," a campaign commercial, begins running today on Spanish-language television stations in 10 states (Associated Press)
Be wary of loud affirmations of faith | Some folks are so enamored with President George W. Bush that they nearly swoon when he says he is a Christian. Bush is wearing his "Christian" uniform to fool the faithful into believing he is a man of God, when he's nothing of the kind (Curt Andersen, The Green Bay News-Chronicle, Wis.)
Law and judges:
New campaign ads to target judges, from the left and the right | Bush nominees come under fire (The Boston Globe)
House to debate court stripping | The House will have a showdown today on an issue at the heart of American governmental power when members vote on a bill that would leave the issue of same-sex "marriage" to the states by stripping federal courts of power to make one state recognize another state's rules (The Washington Times)
Curbs on court action on gay marriage eyed | The House is considering legislation to keep federal courts from ordering states to recognize same-sex unions sanctioned outside their borders (The Boston Globe)
Abortion:
Judge awards $60,000 over failed abortion | The B.C. Supreme Court has awarded $60,000 to a single mother who underwent an abortion procedure but found out three months later that she was still carrying the child (CBC, Canada)
Differences within parties push abortion to background in campaign 2004 | Neither candidate has aired a national television ad on the subject. And neither seems troubled that same sex-marriage has pushed aside abortion as a priority in the 2004 election debate (Newhouse News Service)
Abortion by any other name … | … is still a murder (Shannen W. Coffin, National Review Online)
Triplet-tale trauma | New York Times unwittingly gives the pro-life movement new life (Jennifer Graham, National Review Online)
Owning up to abortion | Women need to acknowledge that an abortion for medical reasons is still an exercise of their right to choose (Barbara Ehrenreich, The New York Times)
Pro-life women's group settles lawsuit over meeting space | The Westchester County Board of Legislators has agreed to provide access to a pro-life group in order to settle a federal lawsuit (MidHudsonNews.com, N.Y.)
Abortion activist, clinic agree to deal | Peninsula battle over rights ends (San Jose Mercury News, Ca.)
Plan B should be birth control A matter | The Food and Drug Administration's extraordinary refusal to approve Plan B, an emergency contraceptive pill, for over-the-counter status is another example of politics trumping sound medical and public health considerations (Christopher J. Elias And Jane E. Hutchings, Seattle Post-Intelligencer)
UK allows 'designer babies':
'Designer baby' rules are relaxed | The fertility watchdog is to relax the rules on the creation of so-called "designer babies" to help sick siblings (BBC, video)
Green light for 'designer babies' to save siblings | The last barrier to the creation of babies specifically to save the life of an ailing brother or sister was swept away by the fertility regulatory body yesterday to the delight of scientists and alarm of those who fear the advent of a designer baby age (The Guardian, London)
Parents allowed to have donor babies | The fertility watchdog was accused yesterday of turning children into commodities after it relaxed the rules covering so-called designer babies (The Telegraph, London)
Now parents can design donor babies | Fertility watchdog changes rules so families may use IVF to create embryos that could save a sick child (The Times, London)
Ruling on embyros clears the way for 'designer babies' | The fertility watchdog gave the go-ahead yesterday for parents to create "designer babies" who can act as genetically-matched donors for their sick siblings (The Independent, London)
What the experts say | Opinions differ over rules change (The Guardian, London)
Religious freedom:
Bishop from Baghdad leads Mass in Winnetka | The situation in Iraq troubles the Archbishop of Baghdad. While he views the war as evil, he said he believes there is justification for it (Winnetka Talk, Ill.)
Over 100 unregistered church leaders nabbed in northwest China | Police arrested more than 100 church leaders in northwest China during a retreat to train Christian workers in the region, a U.S.-based religious group said Wednesday (Kyodo News)
Muhammadiyah airs concern over killing of Christian minister in Palu, C. Sulawesi | Indonesia's second largest Islamic organization, the Muhammadiyah, has expressed concern over violence in parts of the country (The Jakarta Post)
7,000 Christians booked under Hudood Ordinance, says APMA | About 2,000-2,500 Christians in Sindh and nearly 5,000 in Punjab have been suffering since 1986 under the Hudood Ordinance, Michael Javed, president of the All Pakistan Minorities Alliance (APMA) and a former member of the Sindh Assembly, told Daily Times on Monday. The police have booked these people on false charges of adultery, kidnapping and violating prohibition, he said (The Daily Times, Pakistan)
Sudan:
Sudan in denial | Khartoum fails, in its lengthy defense of itself, to address the gathering storm of evidence illustrating its complicity in what has been, at best, homicidal ethnic cleansing, and, at worst, genocide (Editorial, The Washington Times)
Blair draws up plans to send troops to Sudan | Army could be used to protect camps; A million lives at risk from starvation (The Guardian, London)
Missions & ministry:
New Christian adoption agency sets high standards, already garnering interest | Generations of Hope is a funded by an annual $67,000 grant from Curves International businessman Gary Heavin (Waco Tribune-Herald, Tex.)
Teens are okay in the chorale | Loudoun group reaches out to young singers (The Washington Post)
Amid the grandstanding, real rights issues languish | It's been depressing to watch in recent years as many of the most prominent organizations in Los Angeles — especially those that have been committed by history and tradition to advancing minority rights and civil liberties — have succumbed to the lure of headline grabbing (David A. Lehrer and Joe R. Hicks, Los Angeles Times)
We care about being good stewards of God's world | It still surprises people that evangelical Christians are concerned about environmental issues (Jim Ball, The Dallas Morning News)
Church life:
Affordable shelter for a church, and people | Plan to build housing atop chapel faces opposition (The Washington Post)
Bulgaria rebel priests forced out | Bulgarian police have evicted dissident Orthodox Christian priests from dozens of churches across the country, which they occupied in defiance of the law (BBC)
Merced pastor's ouster a real mess | A Merced priest visited a Web site where men try to arrange dates with other men. A small group of Roman Catholic parishioners at his church, using methods akin to the Spanish Inquisition, went after him like a pack of roaming pit bulls pouncing on a cat. Neither acted in ways that might be construed as godly, Christian or Catholic (Jeff Jardine. The Modesto Bee, Ca.)
Churches urged to restore credibility of Christianity | The out-going Moderator of the Presbyterian Church of Ghana, the Right Reverend Dr Sam Prempeh, on Wednesday lashed out at churches for deviating from their original call and said they should do more to restore the credibility of Christianity (GNA, Ghana)
Fraud:
Church group employee arrested for embezzlement | A 29-year-old Springdale man has been arrested in connection with the alleged embezzlement of $335,000 from the Fayetteville District Office of the United Methodist Church (Northwest Arkansas Times)
Cash-for-prayers in schools | At the Nairobi City Council , a church leader was accused of offering prayers for cash. In the Gusii region, sources say church leaders are doing the same in schools (School and Career, Nairobi, Kenya)
Abuse:
Springfield Diocese settles lawsuit on sexual abuse | Men said that abuse occured in Granite (Belleville News-Democrat, Ill.)
Judge won't hold cardinal in contempt | A judge declined Tuesday to hold Los Angeles Cardinal Roger Mahony in contempt of court and deferred a decision on whether to compel the cardinal's testimony about alleged child molestation by a priest he once supervised (Associated Press)
Diocese wins ruling in lawsuit | The Catholic Diocese of Erie has won a second straight court ruling in a defamation suit filed against Bishop Donald W. Trautman and retired Bishop Michael J. Murphy (Erie Times-News, Pa.)
Bishop begins Austria abuse probe | A Vatican-appointed bishop has begun investigating alleged sexual impropriety at an Austrian seminary (BBC, video)
Priest criticized for Christ comparison | A mother who attributes her son's drug-related serious illness and life punctuated by imprisonment to sex abuse by a Salesian priest criticized the accused Catholic cleric yesterday for comparing his case to that of a wrongly accused Jesus Christ (The Age, Melbourne, Australia)
Homosexuality:
Delegates, ticket differ on gay marriage | Democratic convention delegates generally are more open to the prospect of gay marriage than are John Kerry and John Edwards, their presumed nominees for the presidential ticket (Associated Press)
After gay parents split up | Custody can fall into a legal gray area when nontraditional families dissolve. Courts haven't kept up with social and technological changes (Los Angeles Times)
Gay pair seeks Canada's first same-sex divorce | Two Toronto women who were among the first same-sex couples to marry in Canada are now seeking what may be the first Canadian same-sex divorce (The New York Times)
Also: Canada gets 'first' gay divorce | One of the first gay couples married in Ontario has filed what is believed to be Canada's first same-sex divorce (BBC)
Also: Couple launches Canada's first same-sex divorce (Reuters)
Alter girl | "I gave up the homosexual lifestyle four years ago" (Masha Gessen, The New Republic)
Amish in the City:
Reality show turns Amish into TV stars | Television is not part of the traditional Amish world. But the Amish are now part of television, like it or not (Associated Press)
No Amish were harmed in the making of this show | The show is neither innovative nor particularly well-made. It has its emotional moments, scattered through the tedium like the occasional volunteer cornstalk in a field of oats (The Philadelphia Inquirer)
Film:
'Passion of Christ' for Christians only in Malaysia | No Muslims are allowed to see it (Reuters)
Screenwriter stirs up Christian controversy in Egypt | Film polarizes audiences with rare, honest look at national minority (The Daily Star, Beirut, Lebanon)
Music:
Jr. Jay-Zs for Jesus | Christian hip-hop exists in the Bay Area -- you just haven't heard it. Yet. (East Bay Express, Emeryville, Ca.)
Gospel rock | Faith, rock and souvenirs at Spirit West Coast at Laguna Seca Recreation Area (Monterey Herald, Ca.)
Related Elsewhere:
Suggest links and stories by sending e-mail to weblog@christianitytoday.com
Check out Books & Culture's weekly weblog, Content & Context.
See our past Weblog updates:
July 21 | 20 | 19
July 16 | 15 | 14 | 13 | 12
July 9 | 8 | 7 | 6
July 3 | 2 | 1 | June 30
June 25 | 24 | 23 | 22 | 21
June 18 | 17 | 16 | 15 | 14
and more, back to November 1999
Weblog
Launched in 1999, Christianity Today's Weblog was not just one of the first religion-oriented weblogs, but one of the first published by a media organization. (Hence its rather bland title.) Mostly compiled by then-online editor Ted Olsen, Weblog rounded up religion news and opinion pieces from publications around the world. As Christianity Today's website grew, it launched other blogs. Olsen took on management responsibilities, and the Weblog feature as such was mothballed. But CT's efforts to round up important news and opinion from around the web continues, especially on our Gleanings feature.
Ted Olsen is Christianity Today's executive editor. He wrote the magazine's Weblog—a collection of news and opinion articles from mainstream news sources around the world—from 1999 to 2006. In 2004, the magazine launched Weblog in Print, which looks for unexpected connections and trends in articles appearing in the mainstream press. The column was later renamed "Tidings" and ran until 2007.
Previous Weblog Columns: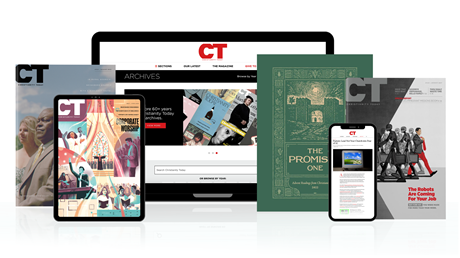 Annual & Monthly subscriptions available.
Print & Digital Issues of CT magazine
Complete access to every article on ChristianityToday.com
Unlimited access to 65+ years of CT's online archives
Member-only special issues
Subscribe
Promise Keepers Coach Has a New Team, Aiming to Unite Christians and Messianic Jews
Promise Keepers Coach Has a New Team, Aiming to ...