This is a week during which Christians all over the world will affirm their faith in the ultimate triumph of peace—celebrated in so many Christmas carols, imaged in the manger scene, present in blessed moments at least when we gather with our families. And yet how difficult it seems to be for us to live as if we really believed that promise! Even the words peace and peaceful are bones of bitter contention. Does our allegiance to the Prince of Peace commit us, for example, to pacifism (or the more popular variant, sort-of pacifism)? You say yes, I say no, and where do we go from there?
And what if we don't even share the same starting point? If our presuppositions are radically different? We need only look around—at the newspaper, the television, the blogosphere—for an answer. Where can we find good models for engagement, models that go beyond well-meaning bromides?
One place to begin is a project called Christians Engaging Culture, the brainchild of Harold Heie, senior fellow of the Center for Christian Studies at Gordon College in Wenham, Massachusetts, which sponsors the enterprise. Explicitly conceived to provide working models for public policy practitioners, politicians, and scholars—and, not least, for you and me—the project has generated three case studies, the first of which was presented at Gordon in November of this year by Susan Drake Emmerich.
Emmerich's story, which you may have encountered in the award-winning PBS documentary Between Heaven and Earth, centers on Tangier Island in the Chesapeake Bay, where an embattled fishing community was locked in a long-running conflict with the Chesapeake Bay Foundation (CBF), which was seeking to undo the consequences of profound environmental neglect. Distrust was strong on both sides; mutual incomprehension seemed to preclude progress.
Emmerich, who honed her negotiating skills in Africa and Asia for the U. S. State Department before taking a turn to academia, came to Tangier Island as a mediator, but not as a detached, aloof "expert." She shared the life of the Tangier people—and saw how influential women were in this highly traditional community. She saw, too, how Christian faith played a central role in the lives of many on the island, and it was by directly appealing to Scripture that she was able to help the Tangiermen see their situation differently. In a stunning act of collective repentance, a number of the watermen joined in a covenant, committing themselves to abide by the law, even when doing so went deeply against the grain of their familiar practices and seemed to threaten their already imperiled livelihood. The result was a breakthrough in the conflict with the CBF after years at an impasse—and a transformation in the everyday lives of the Tangier people.
Now a professor of biology at Trinity Christian College in Palos Heights, Illinois, Emmerich models engagement in a winsome fashion, at once intellectually persuasive and superbly practical. (Keep an eye out for an interview with her this coming year in Books & Culture.) And the session at Gordon was itself a model of productive conversation, with responses from convener Steve Bouma Prediger of Hope College; Vern Visick, executive director of New College in Madison, Wisconsin; and a panel of Gordon faculty; with plenty of time for questions from the audience.
The second case study, centering on the legislative experience of Michigan Republican Paul DeWeese, will be presented at Calvin College in May 2005. DeWeese will explain how, during his tenure in the Michigan House of Representatives, he "successfully promoted a variety of legislative initiatives due to his ability to cross political party lines on the basis of a set of principles informed by his Catholic Christian faith," forming "coalitions amongst fellow politicians having different religious and secular worldviews." (The White House should send someone to this session.)
In the fall of 2005, Jim Waller, professor of psychology at Whitworth College in Spokane, Washington, will present the third case study, recounting his interaction with scholars whose research is focused on the Holocaust and on genocide more broadly. As in the previous studies, there will be an emphasis on the transferable knowledge offered by an "empathetic interpersonal model" for engagement.
The range represented by these studies is encouraging. And the lessons they suggest are immediately applicable, as close at hand as Christmas dinner.
John Wilson is the editor of Books & Culture.
Other Books & Culture and Christianity Today articles on the environment include:
Tending the Garden | Evangelicals and the environment. (July 07, 2004)
Environment as Creation | Conquest vs. care for the wilderness. (Books & Culture, January/February 2004)
Bald Eagles and Babies | The case for compassionate conservationism. (June 27, 2001)
Eco-Myths | Don't believe everything you hear about the church and the environmental crisis (June 27, 2001)
Why We Love the Earth | Our belief in a Creator, not crisis scenarios, drives our environmental concerns (June 27, 2001)
Religious Leaders Rebuke Bush Administration Over Kyoto Protocol | Officials from the National Council of Churches, Presbyterian Church (USA), United Methodist Church, Disciples of Christ, and African Methodist Episcopal Church say U.S. must limit greenhouse gas emissions. (April 6, 2001)
Unholy Harvest? | Evangelicals join protests against genetically modified "frankenfoods." (May 9, 2000)
U.S. Churches Join Global Warming Debate | Environmental stewardship is an act of compassion toward the poor, say mainline Protestants and evangelicals, who are joining with other faith groups to reduce the effects of global warming. (Oct. 5, 1998)
God's Green Acres | How Calvin DeWitt is helping Dunn, Wisconsin, reflect the glory of God's good creation. (June 15, 1998)
Greening of the Gospel? | Evangelical environmentalists press to add creation care to the church's mission. (Nov. 11, 1996)
Evangelical Environmentalism Comes of Age (Nov. 11, 1996)
More on Christians and creation can be found in Books & Culture's Science Pages.
The Evangelical Environmental Network has more information about its activities on its website.
Other Christian Environmentalism associations include Christian Environmental Council (an offshoot of the Evangelical Environmental Network), the Interfaith Council for Environmental Stewardship, Evangelicals for Social Action, and Green Cross.
Books & Culture Corner appears every Tuesday. Earlier editions of Books & Culture Corner and Book of the Week include:
Modern, All Too Modern | Tom Wolfe's new novel, largely reviewed as a satiric report on the sexual mores of today's college students, is fundamentally about the nature of the human will. (Dec. 14, 2004)
Unfashionably Good | A savory collections of essays by Alan Jacobs. (Dec. 07, 2004)
Communicating Communication | A roundup from the National Communication Association's annual convention. (Nov. 30, 2004)
"Summer's Ebullient Finale" | A richly varied anthology offers a "spiritual biography" of autumn. (Nov. 15, 2004)
Autumn Books | Some that stand out in this season's plenty. (Nov. 15, 2004)
Reaching the Light | A review of On Broken Legs: A Shattered Life, a Search for God, a Miracle That Met Me in a Cave in Assisi. (Nov. 09, 2004)
The Prayers of a Self-Governing People | A psalm for Election Day. (Nov. 02, 2004)
In Memoriam: Jacques Derrida (1930-2004) | Remembering a philosopher who never forgot about death. (Oct. 19, 2004)
Whose Independence? | All the Founding Fathers of America celebrated "independence," but what the word meant depended on who was speaking. (Oct. 12, 2004)
Darkness Visible | An unsparing new memoir by the author of Slackjaw. (Oct. 05, 2004)
After Worldview? | A lively conference offers a state-of-the-art assessment of the concept of "worldview," with both advocates and dissenters represented. (Sept. 28, 2004)
A Forgotten Founder's Fatherhood | Race, nature, and patriarchy meet in Rhys Isaac's biography of early American diarist Landon Carter. (Sept. 21, 2004)
The Great American Hustle | The first volume of an ambitious new history of America highlights the engine of "worldly ideals"—and the role of evangelical religion in creating a distinctive American identity. (Sept. 14, 2004)
The Poet Who Remembered | Poland (mostly) honors Czeslaw Milosz upon his death. (Sept. 07, 2004)
Be Careful What You Pray For | The strange tale of the controversial Bishop Pike and his fatal quest for relevance. (Aug. 31, 2004)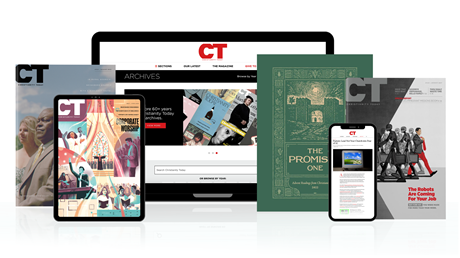 Annual & Monthly subscriptions available.
Print & Digital Issues of CT magazine
Complete access to every article on ChristianityToday.com
Unlimited access to 65+ years of CT's online archives
Member-only special issues
Subscribe
Can We Talk?
Can We Talk?