Israel's Antiquities Authority begins investigation of James ossuary, wants Joash tablet
A first-century limestone box that may have held the bones of James, the brother of Jesus and leader of the early church, is back in Israel after its display at the Royal Ontario Museum. The Antiquities Authority has created two separate commissions of archaeologists, geologists, and language experts to study the ossuary, the Associated Press reported yesterday. It's trying to authenticate the box and its inscription. Many scholars already accept their legitimacy, though there is some question about whether the inscription "James, the Brother of Jesus" must refer to the biblical men.
There's still plenty of mystery surrounding the James ossuary—questions of where it was found, for example, may forever remain unclear—but a bigger biblical archaeology tempest is swirling around the Joash inscription, which describes repairs to the First Temple in language very similar to 2 Kings 12.
The Tel Aviv newspaper Haaretz reports that the inscription is "stirring controversy and suspicion among archaeologists, historians, religious and state authorities, and even the police."
Biblical Archaeology Review says the inscription is big news, whether it's real or fake:
If authentic, it may provide evidence for Israel's claim to the Temple Mount. If a forgery, some Israeli may be trying to manufacture evidence of Israel's claim to the Temple Mount. Or some Palestinian may be trying to plant an obvious forgery in order to undermine supposed evidence of Israel's claim to the Temple Mount. If authentic, it would support the historicity of the Book of Kings. If authentic, it might even show that the First Temple—Solomon's Temple—was decorated with gold. If authentic, it would cast doubt on the ability of epigraphers and philologists and Biblical scholars to detect a forgery. If a forgery, it would cast doubt on the ability of geologists to detect a forgery.
But it might be difficult to get to a decision either way. "The unnamed owner of the tablet had given it briefly to the Geological Survey, which dated it back to the 9th century B.C. and said it could have actually been a part of Solomon's Temple," the Associated Press says. "The owner of the artifact has since taken it from the institute, and police are investigating its whereabouts."
That's complicated, says Haaretz, since no one really seems to know who the owner is, and investigation into that question reads like an episode of Alias:
When the story broke in January, the Israel Antiquities Authority and the police decided to question many of the experts who had been given the stone to examine by a mystery man identified only as "Isaac Tzur."
Following a number of leads, including a cellular telephone number left with Professor Yosef Naveh of the Hebrew University, the police arrested a man at Ben Gurion Airport who allegedly held a cellular telephone with that number. However, at the Jerusalem Magistrates Court later that month, despite positive identification by another of the experts questioned, the man denied all connection with the affair and was released under restricted conditions.
Haaretz reports that the best bet on the real owner is Oded Golan, who also owns the James ossuary. He denies it, but Isaac Tzur was apparently a pseudonym used by a private detective hired by Golan.
If you're really into these archaeological mysteries and debates, be sure to check out Biblical Archaeology Review's article by Richard A. Freund, who apologizes for a press release claiming his team discovered the bones of John the Baptist— and claims he's been libeled by one of his colleagues.
Salem stock takes major hit
For Christian radio giant Salem Communications, bad news breeds bad news. Yesterday the company's fourth-quarter results fell short of most analysts' estimates, and it said the first quarter would be even worse—it will lose 20 to 22 cents a share.
There's the economic uncertainty created by the possibility of war, of course, but the radio network also faces increasingly intense competition from conservative talk stations. Salem has shifted much of its programming from religious shows to news-talk formats.
Wall Street didn't like the news, and the price of Salem stock dropped by 22 percent (or 24 percent, or "as much as 27 percent," depending on who's counting) yesterday. As Weblog is being posted, it's sinking even lower.
More articles
Ash Wednesday and Lent:
War with Iraq:
Church and state:
Bush and faith:
Persecution and religious freedom:
Congressional prayer:
Crime and investigations:
Clergy sex abuse:
Life ethics:
AIDS relief:
Pledge of Allegiance:
Other stories of interest:
Related Elsewhere
Suggest links and stories by sending e-mail to weblog@christianitytoday.com
See our past Weblog updates:
March 5 | 4 | 3
February 28 | 27 | 26 | 25 | 24
February 21 | 20 | 19 | 18 | 17
February 14 | 13 | 12 | 11 | 10
February 7 | 6 | 5 | 4 | 3
January 31 | 30 | 29 | 28 | 27
and more, back to November 1999
Weblog
Launched in 1999, Christianity Today's Weblog was not just one of the first religion-oriented weblogs, but one of the first published by a media organization. (Hence its rather bland title.) Mostly compiled by then-online editor Ted Olsen, Weblog rounded up religion news and opinion pieces from publications around the world. As Christianity Today's website grew, it launched other blogs. Olsen took on management responsibilities, and the Weblog feature as such was mothballed. But CT's efforts to round up important news and opinion from around the web continues, especially on our Gleanings feature.
Ted Olsen is Christianity Today's executive editor. He wrote the magazine's Weblog—a collection of news and opinion articles from mainstream news sources around the world—from 1999 to 2006. In 2004, the magazine launched Weblog in Print, which looks for unexpected connections and trends in articles appearing in the mainstream press. The column was later renamed "Tidings" and ran until 2007.
Previous Weblog Columns: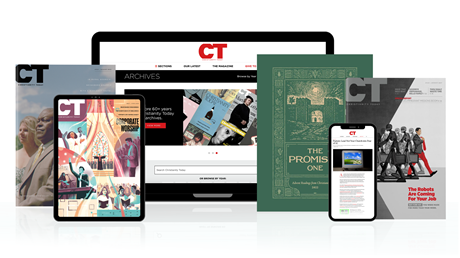 Annual & Monthly subscriptions available.
Print & Digital Issues of CT magazine
Complete access to every article on ChristianityToday.com
Unlimited access to 65+ years of CT's online archives
Member-only special issues
Subscribe
"Weblog: Israel Inspects James Ossuary, But Joash Tablet Has Disappeared"
"Weblog: Israel Inspects James Ossuary, But Joash ...