Several years ago, as a new TV season was about to begin, my daughter Katy asked me if I would watch The X-Files with her. I'd heard a lot about the show, of course—Rodney Clapp wrote an interesting piece about it in B&C (May/June 1997, not currently online, alas)—but I had never seen an episode and wasn't particularly eager to start. I almost never watch TV these days, though my brother and I grew up on Perry Mason and Bonanza and other favorites we watched each week with our mother and grandmother. I told Katy sorry, I just don't have the time.
The look of disappointment on her face set me back. She was then in middle school, and our relationship was at an all-time low. We didn't do much together. I told her on second thought, I would give the show a try.
What started as a duty quickly became a pleasure. Unlike Katy, I wasn't swooning over David Duchovny (whose larger-than-life-size photo adorned her wall) or even Gillian Anderson, but the show was much better than I had expected, and Katy and I had a great time speculating about individual episodes and overarching plotlines. We began to borrow, rent, and occasionally buy (when they were on sale) videos of earlier episodes. When I was magazine shopping, I kept an eye out for X-Files stories that Katy would enjoy.
Not that every episode was rewarding. There were too many with crazed serial killers—some of which we skipped altogether. Some of the "funny" episodes were labored. And Chris Carter and his team were cavalier about the elaborate "mythology" at the heart of the show, the convoluted story of aliens and a U.S. government conspiracy, sometimes developing it with a richness that was stunning but too often merely cheating and manipulating the audience.
Still, there were two constants. One was the relationship between Mulder and Scully. The other was the way the show wrestled with faith and skepticism and the reality of all that challenges the tidy, complacent rationalism of secular thought.
As Mulder and then Scully faded from the scene, Katy and I became gradually detached from the show. We didn't watch it much. When I came across a long discussion of the series last year in Paul Cantor's book, Gilligan Unbound: Pop Culture in the Age of Globalization, I felt a pang of nostalgia. Cantor's analysis is brilliant, and if you're suffering symptoms of withdrawal in the wake of last night's final episode, you might want to look it up. He reads the show as a kind of allegory of globalization and loss of confidence in the nation-state, and he makes many penetrating observations.
And yet, in the end, it seems to me that Cantor misses the big picture. While he touches lightly on the place of religious experience in the series, that doesn't figure significantly in his account of what the show is really about.
Last night's two-hour finale didn't tie up every loose end—ten hours wouldn't have been enough for that—but it did provide the clearest exposition ever of the whole curve of the story, and it showed what matters most.
At the very end, there's no resounding triumph over the forces of evil. The "final invasion" of the aliens is scheduled for 2012, and they've already infiltrated high levels of the U.S. government. Scully and Mulder are in a darkened motel room in Roswell, New Mexico (even at this final moment, there is humor), and Mulder is saying he has failed. He's parodying words he spoke earlier in this episode, to deceive a brutal guard—black humor, again—but this time he means it. Can there be any hope?
Scully asks him, You say you want to believe, but believe in what? And Mulder answers as straightforwardly as anyone could expect. He says he wants to believe that the dead are not lost to us, that they can still speak to us. He wants to believe that even if he fails in his quest, even if evil seems to triumph, there is something greater that gives us the power to save ourselves.
Scully smiles, a beautifully serious smile, and says, Then we believe the same thing. Mulder takes in his hand the cross she wears, and for a moment it is large on the screen, shining in the darkness. He lies down beside her. Maybe there is hope.
If you take an X and give it a twist, you get a lopsided cross. A Christian wouldn't say Jesus gives us the power to save ourselves. He saves us, period. Nevertheless, the cross is there, lopsided or not, and the message comes through. Sorry, Paul Cantor, it's not about globalization. It's about love and faith—and hope in the face of the little apocalypse we all face, sooner or later.
I'm thankful to my daughter for that invitation. What I might have missed. …
John Wilson is editor of Books & Culture and editor-at-large for Christianity Today.
Related Elsewhere
Visit Books & Culture online at BooksandCulture.com or subscribe here.
BreakPoint Online columnist Alex Wainer wrote at the beginning of this season that The X-Files needed to be closed. While once a powerful presence in pop-culture—and one with important thoughts for Christians—the Fox series was merely limping, Wainer says. Christianity Todaylooked at Wainer's argument and other television critiques at the mid-season mark this year.
Article continues below
Books & Culture Corner appears Mondays at ChristianityToday.com. Earlier Books & Culture Corners include:
And the Next Thing Is … | Marxism (or not). (May 13, 2002)
God Bless the Eliminator | Mother Jones magazine makes known a shocking discovery: evangelicals are sending missionaries to Muslim countries! (May 6, 2002)
'A Peculiar People' | The uniqueness of the Jews. (April 29, 2002)
'Nebuchadnezzar My Slave' | Was the Holocaust God's will? (April 15, 2002)
'In the Beginning Was the Holocaust'? | Blasphemy, rage, memory, and meaning of the Shoah. (April 8, 2002)
The Gospel According to Biff | A conversation with novelist Christopher Moore. (April 1, 2002)
Baseball 2002 Preview | Part 2: Saving the game? (March 25, 2002)
The State of the Game | After one of the best World Series ever, baseball faces a crisis. (March 18, 2002)
America's Homegrown Islam—and Its Prophet | The strange story of Elijah Muhammad, leader of the Nation of Islam and onetime mentor of Malcolm X. (Mar. 11, 2002)
'Must Be Superstition' | Rediscovering spiritual reality. (Mar. 4, 2002)
Science Holds a Meeting | A report from the annual convention of the AAAS. (Feb. 25, 2002)
Saint Frodo and the Potter Demon | The Lord of the Rings and Harry Potter series spring from the same source. (Feb. 18, 2002)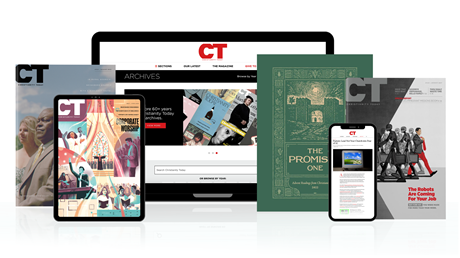 Annual & Monthly subscriptions available.
Print & Digital Issues of CT magazine
Complete access to every article on ChristianityToday.com
Unlimited access to 65+ years of CT's online archives
Member-only special issues
Subscribe
Closing The X-Files ...
Closing The X-Files ...