Nearly two months ago—on May 22, to be precise—the Ethics and Public Policy Center in Washington, D.C., held a meeting on "Evangelicals and Political Engagement: Assessing the Past, Scouting the Future." The political scientist and master interpreter of survey data, John Green, director of the Ray C. Bliss Institute for Applied Politics at the University of Akron, led off with a paper on "Evangelicals and Civic Engagement: A View from (near) the Top." That was followed by the main event, pitting columnist Cal Thomas against Focus on the Family's VP of Public Policy, Tom Minnery, authors of dueling books on the subject. (Thomas' coauthor was Ed Dobson, a refugee from the Land of Falwell who repents of his former ways). The debate sputtered, in part because "political involvement" was never clearly defined and thus real differences were never substantively and clearly articulated—Thomas' passion surfaced in recurring complaints that James Dobson has repeatedly refused to meet personally with him to air their differences, an issue that hardly seemed relevant to the question at hand—but the conversation caught fire around a slightly different but important subject: how a pastor, in his role as preacher and not considered as a private citizen, should or should not speak to political issues from the pulpit.
I have been thinking about that debate-that-wasn't off and on ever since, wondering what form a real debate on the subject might take. It's a puzzle because I have a hard time imagining how one would go about building a case that Christians should shun political involvement across the board. (I know that various Christians have held that view over the centuries in many different times and places. I guess I should have said, "building a persuasive case.")
That question came to mind most recently when I was rereading The Politics of Revelation and Reason: Religion and Civic Life in the New Nation, by John G. West, Jr. (Univ. Press of Kansas, 1996), a book I highly recommend. Particularly valuable is West's account of evangelical reformers in the early 19th century. He devotes one chapter to evangelical battles against Cherokee removal during the administration of Andrew Jackson—an episode in evangelical history unknown to me until I read West's book.
If you are a reader of Books & Culture, or simply a regular visitor to our website, you may have seen Kenneth Moore Startup's fine piece, "Red, White, and Gray," a review of two books on Jackson and Indian removal published in our July/August issue and now posted on the web. West's chapter concerns an aspect of this sorry tale not covered there.
In order to evict the Cherokees from the lands they had occupied before the first Europeans settled in the Georgia colony, Jackson had to brazenly disregard treaties that the United States had signed with the Cherokees, who had already been persuaded to sell a good deal of the land "granted" to them in those treaties but who didn't want to give up their ancestral lands altogether. Persuasion having failed, Jackson and many of his fellow Americans were ready to resort to force.
Looking back, insofar as we ever do look back at this event, we have the impression that it proceeded with very little opposition. But in fact, just as many Americans of that period were against slavery—which still reigned supreme in the South—so there were many who were deeply uneasy at the prospect of removal. (History is always messy, as Startup observes: West mentions in a note on the Cherokee Constitution that it explicitly denied rights to blacks and mulattoes; many Cherokees were slaveholders.)
What galvanized opposition, however, was a series of 24 essays—published in countless newspapers and journals and then as a pamphlet under the pen name "William Penn"—written by Jeremiah Evarts, an evangelical missionary who had spent time among the Cherokees and who was currently serving as corresponding secretary for the American Board of Commissioners for Foreign Missions. (West describes the series of essays as "the most celebrated piece of political journalism since The Federalist." They are available in a modern edition, Cherokee Removal: The "William Penn Essays" and Other Writings by Jeremiah Evarts, edited by Francis Paul Prucha, published by the Univ. of Tennessee Press in 1981.)
West tells the story of Evarts, the courageous missionary Samuel Worcester (who risked great harm and was for a time imprisoned), and the campaign against removal with narrative economy and drive. He also has valuable things to say about the way in which Evarts drew upon both "natural reason" and Christian revelation in making his case. ("Chief Justice John Marshall," West notes, "called the essays the 'most conclusive argument that he ever read on any subject whatever.' ") And yet finally it makes for very painful reading.
As West writes, despite the rightness of the cause and the persuasiveness of the advocate, "the fact remained that many Americans were not prepared to treat the Cherokees as equals. In Evarts's mind this raised a terrible question about America's identity. In the end what defined America—a common racial identity or devotion to a common ideal?"
Evarts and the others who fought against removal lost, but as West shows, the outcome was not inevitable, any more than the modern civil rights movement and its outcome were inevitable. As Jackson tried to ram the bill through Congress, there was considerable debate, and removal was nearly defeated.
It's interesting to learn that one of the sleaziest advocates of removal, Georgia Congressman Wilson Lumpkin (who was also a vice president of the American Sunday School Union), "decried those Christians who left their proper realm and sought to involve themselves in politics as 'canting fanatics.' He said he had no trouble with 'pure religion' (that is, religion that steered clear of politics), 'but the undefiled religion of the Cross is a separate and distinct thing in its nature from the noisy cant of the pretenders who have cost this Government, since the commencement of the present session of Congress, considerably upwards of $100,000 by their various intermeddlings with the political concerns of the country.' "
While we're remembering Evarts and Worcester, let's also remember that Dickensian figure, Wilson Lumpkin, the patron saint of Christians undefiled by politics.
John Wilson is editor of Books & Culture and editor-at-large for Christianity Today.
Related Elsewhere
Visit Books & Culture online at BooksandCulture.com or subscribe here.
World magazine publisher Joel Belz wrote editorials on the issue both before and after the debate between Minnery and Thomas.
Books & Culture Corner appears Mondays at ChristianityToday.com. Earlier Books & Culture Corners include:
The Pledge Controversy | Asking the wrong questions? (July 8, 2002)
Reading Danny Pearl | How would the murdered journalist want to be remembered? (July 1, 2002)
A Cry for Help | Sudanese Christians gather in Houston and ask for U.S. support. (June 17, 2002)
Agrarians of the World, Unite! | Wendell Berry's vision, and how Christians should respond to it. (June 10, 2002)
Stop, Drop, and Cover … | Then hack your lungs out and die. (June 3, 2002)
Death of an Evolutionist | RIP Stephen Jay Gould. (May 31, 2002)
Closing The X-Files … | … with the sign of the Cross. (May 20, 2002)
And the Next Thing Is … | Marxism (or not). (May 13, 2002)
God Bless the Eliminator | Mother Jones magazine makes known a shocking discovery: evangelicals are sending missionaries to Muslim countries! (May 6, 2002)
Article continues below
'A Peculiar People' | The uniqueness of the Jews. (April 29, 2002)
'Nebuchadnezzar My Slave' | Was the Holocaust God's will? (April 15, 2002)
'In the Beginning Was the Holocaust'? | Blasphemy, rage, memory, and meaning of the Shoah. (April 8, 2002)
The Gospel According to Biff | A conversation with novelist Christopher Moore. (April 1, 2002)
Baseball 2002 Preview | Part 2: Saving the game? (March 25, 2002)
The State of the Game | After one of the best World Series ever, baseball faces a crisis. (March 18, 2002)
America's Homegrown Islam—and Its Prophet | The strange story of Elijah Muhammad, leader of the Nation of Islam and onetime mentor of Malcolm X. (Mar. 11, 2002)
'Must Be Superstition' | Rediscovering spiritual reality. (Mar. 4, 2002)
Science Holds a Meeting | A report from the annual convention of the AAAS. (Feb. 25, 2002)
Saint Frodo and the Potter Demon | The Lord of the Rings and Harry Potter series spring from the same source. (Feb. 18, 2002)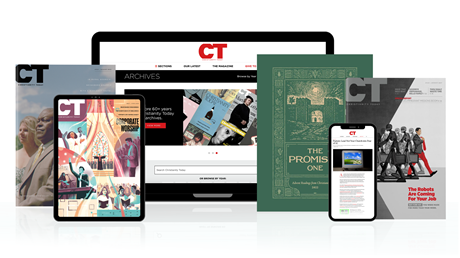 Annual & Monthly subscriptions available.
Print & Digital Issues of CT magazine
Complete access to every article on ChristianityToday.com
Unlimited access to 65+ years of CT's online archives
Member-only special issues
Subscribe
Why Evangelicals Can't Opt Out of Political Engagement
Why Evangelicals Can't Opt Out of Political Engagement