One of the most striking features of the mass of reporting and commentary that has appeared in the aftermath of September 11 is the sheer volume of misinformation and disinformation dispensed. Typical is a story by Barry Bearak from the September 19 The New York Times, "Taliban: From Vigilantes to Strict Rulers."
"Time and again," Bearak writes,
America and other nations have accused Mr. bin Laden of terrorism and demanded his surrender to stand trial. Mullah Omar [the Taliban's leader] has refused.

One can speculate about the reasons. They might include the Afghan consecration of hospitality, the need the Taliban have for the Saudi multi-millionaire's support and a sincere belief in his innocence. Most Afghans presume that Mr. bin Laden's notorious reputation is undeserved.
One can speculate, yes, and one wishes that one could attribute a wicked irony to Bearak's suggestion that the "Afghan consecration of hospitality" accounts for the Taliban's intransigence. But Bearak appears to be writing for an infantilized public presumed to be incapable of critical thought, let alone the detection of irony.
What does it mean, for instance, to speak of "a sincere belief" in bin Laden's "innocence," when he has said quite openly that it is the duty of good Muslims to kill Americans? Elsewhere the Times has reported that bin Laden is widely regarded as a hero in Afghanistan and in many other Islamic countries. What is he a hero for? His hospitality?
But then much that we've been told about the Taliban doesn't make sense. A widely circulated piece first posted on Salon, "An Afghan-American Speaks," describes the Taliban as "a cult of ignorant psychotics who took over Afghanistan in 1997." The author, Tamim Ansary, explains that "the people of Afghanistan" had nothing to do with the ascendancy of the Taliban or the crimes of bin Laden:
When you think Taliban, think Nazis. When you think bin Laden, think Hitler. And when you think "the people of Afghanistan" think "the Jews in the concentration camps."
This piece has been forwarded to me by half a dozen Christian friends and acquaintances as an exceptionally valuable testimony. But wait a minute. How did the Nazis come to power? Who was it who adored Hitler? Why are there many Afghans outside Afghanistan who believe the Taliban are on the right track? The Times reports conflicts at mosques in the United States between Taliban supporters and critics. Isn't it likely that "the people of Afghanistan" are also divided, some supporting the Taliban and bin Laden, some not? Why are Afghanistan's neighbors—especially Pakistan—so worried that the influence of the Taliban will fuel Islamic fundamentalist uprisings in the region? And even in a time when everyone under the sun is ready to co-opt the Holocaust, doesn't Ansary's reference to the concentration camps strike a grotesquely false note?
The truth doesn't come packaged like this, for consumption that requires no thought. A good place to start digging is a book published last year by Yale University Press, Taliban: Militant Islam, Oil, and Fundamentalism in Central Asia. The author, Ahmed Rashid, is a journalist who has covered Afghanistan for many years.
Rashid reminds us—no one in Washington seems to remember—that initially U.S. policymakers supported the Taliban. And while strategic calculations—such as the notion that the Taliban would be helpful to U.S. interests as a thorn in the side of Iran—were paramount, Rashid makes it clear that U.S. business interests were also involved, particularly in a spectacularly ambitious plan for a gas pipeline from Turkmenistan through Afghanistan to Pakistan, to be built by the American company Unocal.
According to Rashid, the decisive influence in changing U.S. policy toward the Taliban (and eventually scuttling Unocal's pipeline plan) was the vigorous campaign by feminists in the United States, outraged by the Taliban's treatment of girls and women. "As always with the Clinton agenda," he writes, " domestic political concerns outweighed foreign policy-making and the wishes of allies. Clinton only woke up to the Afghanistan problem when American women knocked on his door," figuratively speaking, of course.
Rashid doesn't explain the rise of the Taliban by reference to psychotic cults, nor does he suggest that "the Afghan people" had nothing to do with it, though he says that the spirit of Islam as it has been practiced in Afghanistan is quite alien to rigid fundamentalism. He stresses several themes: the anarchy that preceded the Taliban's rule (the memory of which, he suggests, keeps many Afghans willing to support them, even if with great reluctance), the extraordinary brutality with which they established their regime, and their efforts to manipulate various factions (ethnic, regional, and so on) within Afghanistan to maintain control. His account is strong on political and economic matters—and he includes a very helpful timeline in an appendix—but there is very little about the religious aspect of the Taliban, nor does he give us a sense of their inwardness. Without that, a huge piece of the puzzle is missing.
And however valuable it is as a starting point, Rashid's book is one man's account. There is in fact a great deal we simply don't know about the Taliban. Now that President Bush has issued his ultimatum, we may be learning a lot more, fast.
John Wilson is editor of Books & Culture and editor-at-large for Christianity Today.
Related Elsewhere
In August, Christianity Today.com's In Perspective focused on the Taliban, The Friendliest Murderous Militants in the World.
BBC offers a look at Who are the Taliban? and Who is Osama Bin Ladin?
A recent Reuters article reported that Muslim countries as divided as Iran, Pakistan, and Turkey cringe at the Taliban's strict and extremist interpretation of Islam.
Human Rights Watch has extensive information on Afghanistan—especially the Taliban and the continuing civil war.
PBS's Online Newhour has a collection of archived and continuing coverage of Afghanistan going as far back as 1983.
MSNBC's Pariah Nation: A Journey Through Afghanistan follows MSNBC.com's Preston Mendenhall travels through the country this spring. There, he found a surprising resistence to Taliban rule.
Previous Christianity Today coverage of the Taliban includes:
Aid Workers Held Captive | Taliban alleges housing group's staff engaged in evangelism. (Aug. 13, 2001)

Diplomats Receive Visas Into Afghanistan, but Will Only Meet with Officials | Over a week after raid on Shelter Germany, future for workers still unclear. (Aug. 13, 2001)

Taliban Threatens Death to Converts | Afghanistan's Islamic army also says it will kill any non-Muslim seeking converts. (Feb. 15, 2001)
Christianity Today's previous coverage of the September 11 attacks include:
Where I Minister, Grace Abounds Over Sin | At Ground Zero, a New York pastor strives to be a symbol that God is present and available. (Sept. 24, 2001)
Now What? | A Christian response to religious terrorism. (Sept. 21, 2001)
To Embrace the Enemy | Is reconciliation possible in the wake of such evil? (Sept. 21, 2001)
After the Grave in the Air | True reconciliation comes not by ignoring justice nor by putting justice first, but by unconditional embrace. (Sept. 21, 2001)
Film Forum: Shock Waves Tear Through a Shock-Value Industry | How can we think of movies at a time like this? (Sept. 20, 2001)
Was September 11 the Beginning of the End? | Observers say geography and gravity of attacks have led to little prophecy speculation. (Sept. 19, 2001)
Article continues below
The End of the World (Trade Center) | Dispatches from out of the dust. (Sept. 19, 2001)
Active Christian on Flight 93 Hailed as a Hero | Wheaton College graduate and others "figured out how to do extraordinary things" aboard United plane. (Sept. 19, 2001)
With Grief and Anger, the U.S. Mourns Its Losses | A week of official services and impromtu demonstrations follows shocking attacks. (Sept. 18, 2001)
Orthodox Church Near Ground Zero Hopes to Rise Again | Members hope to rebuild 169-year-old structure, which stood only 500 feet from the World Trade Center. (Sept. 18, 2001)
Churches Meet Needs at Ground Zero | Brooklyn pastors and parishioners thank God for survival, but help victims and families cope. (Sept. 17, 2001)
Church Mourns 'Father Frank' | Fond memories comfort those who knew retired priest killed in World Trade Center attack. ? (Sept. 17, 2001)
Books & Culture Corner: The Imagination of Disaster | "We thought we were invulnerable." Really? (Sept. 17, 2001)
Taking It Personally | What do we do with all this anger? (Sept. 14, 2001)
'Is That Thunder?' | With metal cracking at the World Trade Center, New York pastors cry out to God. (Sept. 14, 2001)
Shaken Christians Turn to Prayer | Impromptu services usher in the bereaved by word of mouth, road signs, and e-mail. (Sept. 13, 2001)
Christians Provide Comfort in the Shadow of Calamity | Still "stunned and reeling," New Yorkers seek support at prayer service. (Sept. 13, 2001)
Illinois Pastor on Fatal Flight | Jeffrey Mladenik, 43, was involved in workplace ministry, international adoption. (Sept. 13, 2001)
Communication Troubles Challenge U.S. Church Relief Agencies | Aid work continues amid atmosphere of shock, fear, and sporatic harrassment. (Sept. 13, 2001)
Reflections on Suffering | Classic and contemporary quotations for dark times. (Sept. 13, 2001)
When Sin Reigns | An event like this shows us what humans are capable of becoming—both as children of darkness and of light. (Sept. 13, 2001)
In the Belly of the Beast | Christians, calling terrorist attack "satanically brilliant," minister at epicenter of World Trade disaster. (Sept. 12, 2001)
Churches, Agencies Respond to Attacks | Leaders call for prayer, justice, and mercy. (Sept. 12, 2001)
Muslims Fear a Backlash | No matter who is responsible, observers feel a reaction will still be present. (Sept. 12, 2001)
A Wake-Up Call to Become Global Christians | The deadly attacks on America will provoke many responses, but Christians are commanded to love our neighbors. (Sept. 12, 2001)
Article continues below
Nation's Religious Leaders Urge Calm, Pray for Peace | Churches will maintain prayer vigils for victims and leaders. (Sept. 11, 2001)
Church Leaders Around World Deplore 'Unspeakable Horror' of Attack | Christians urged to unite in prayer as they unite in shock and denunciation. (Sept. 11, 2001)
Experts Say Spiritual Roots Will Aid in Coping With Catastrophe | Pray and connect with others, advise nation's chaplains. (Sept. 11, 2001)
Fear and Hate | In times like this, as in all other times, Christians have a responsibility to love above all else. (Sept. 11, 2001)
God's Message in the Language of Events | In the face of evil, we must focus on keeping our hearts right. (Sept. 11, 2001)
Visit Books & Culture online at BooksandCulture.com or subscribe here.
Books & Culture Corner appears Mondays at ChristianityToday.com. Earlier Books & Culture Corners include:
The Imagination of Disaster | "We thought we were invulnerable." Really? (Sept. 17, 2001)
More Sex, Fewer Children | Mixed messages on condoms, contraception, and fertility. (Sept. 10, 2001)
The Strange Case of Napoleon Beazley | The latest poster boy for death row chic. (Aug. 27, 2001)
Apocalyptic City | The dream and the nightmare of megalopolis (Aug. 20, 2001)
Megalopolis Forty Years On | The ambiguous face of the city. (Aug. 13, 2001)
The Future Is Now | You want the news? Read science fiction. (Aug. 6, 2001)
Memorable Memoirs | Whether telling us about the Spirit in the South or the crumbling atheism of a Chinese immigrant, these books provide windos into others' lives. (July 30, 2001)
The Distorted Story of Memoir Inc. | There are many good autobiographies out there, but do those who write about them have to pretend they're the only books worth reading? (July 23, 2001)
Looking for the Soul of CBA | Nearly anything that can be said about Christian publishing is true to some extent, thanks to the industry's ever-enlarging territory. (July 16, 2001)
Give Me Your Muslims, Your Hindus, Your Eastern Orthodox, Yearning to Breathe Free | Immigration's long-ignored effect on American religion is garnering much attention from scholars (July 9, 2001)
Shrekked | Why are readers responding passionately about a simple film review? (July 2, 2001)
Debutante Fiction | The New Yorker should have paid less attention to the novelty of its writers and more attention to their writing. (June 18, 2001)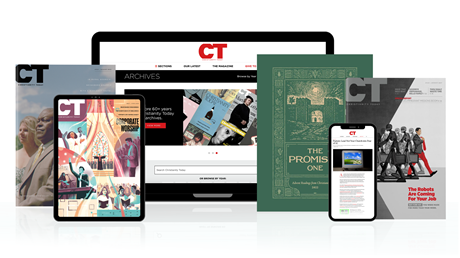 Annual & Monthly subscriptions available.
Print & Digital Issues of CT magazine
Complete access to every article on ChristianityToday.com
Unlimited access to 65+ years of CT's online archives
Member-only special issues
Subscribe
Myths of the Taliban
Myths of the Taliban