Alfred Nobel made a small fortune in the dynamite business and used it to endow a series of very famous and very generous prizes for "breakthroughs" in fields like Physics, Chemistry, Economics, Medicine, Literature and even Peace. Nobel did not, however, endow a prize for Biology, because it barely existed as a recognizable science during his lifetime. He did not endow a prize for mathematics, because, supposedly, his wife was having an affair with a mathematician. And he did not endow a prize for religion. Unlike the case with mathematics and biology, Nobel's failure to establish a prize for religion was not seriously questioned. No doubt many academics were convinced no "breakthrough" in religion would merit such a prize. The belief that there could not be "breakthroughs" or "progress" in religion was challenged in 1972 by legendary Wall Street financier Sir John Templeton. Sir John, as he is known, has long believed and argued in a number of books that progress can be made in religion and he, quite literally, put his money where his mouth is, endowing the Templeton Award for Progress in Religion, which is awarded annually to "a living individual for outstanding originality in advancing the world's understanding of God or spirituality." The prize is funded to the extent that it provides the recipients with greater financial rewards than does the Nobel. Sir John envisages a global spirituality, with room for insights from all the world's great religions and a special place for scientifically informed visions of the meaning of human life. Previous winners of the Templeton Prize have included a cross section of individuals from a number of religious traditions. Mother Teresa was the first recipient in 1973. Since then many well-known Christians including Billy Graham (1982), Bill Bright (1996), Aleksandr Solzhenitsyn (1983), and Chuck Colson (1993) have won awards.This year's winner, Freeman Dyson, was nominated by Dwight Neuenschwander, a professor of physics at Southern Nazarene University in Oklahoma. Neuenschwander calls Dyson "one of the outstanding physicists of our time" who has "written extensively on the meaning of science and its relation to other disciplines, especially religion and ethics." Freeman Dyson is also one of a handful of leading scientists who are aggressively critical of their colleagues who argue that a scientific view of the world is inconsistent with the idea that the universe has a purpose. Dyson argues eloquently that the universe is purposeful and that humans should feel at home in it. In his recent book Imagined Worlds he argues: "Science and religion are two great human enterprises that endure through the centuries and link us with our descendants. … Religion has at least an equal claim to authority in defining human destiny. Religion lies closer to the heart of human nature and has a wider currency than science."Freeman Dyson was born in England in 1923. His mother was a lawyer, his father a musician. A mathematical prodigy, his education was interrupted during WWII when he went to work as an analyst for the Royal Air Force Bomber Command. His statistical analysis of the great human price paid to wage war made a powerful impression on him; he acquired a lifelong concern for the evils of war and a perennial guilt that he had worked so hard to streamline the destruction of so much human life. While at Bomber Command he argued to have the gun turrets and their crews eliminated from the bombers, in part because so many Bombers went down and the gunners were routinely lost.In 1945 Dyson graduated from Cambridge University with a bachelor's degree in mathematics—the only degree he ever earned (though 17 other universities, including Oxford, Princeton, and Dartmouth, have awarded him honorary degrees). Dyson's primary contribution to physics occurred in the years just after the war, when physicists were free to stop working on the atomic bomb and return to some more interesting problems that had been temporarily set aside. One of these was quantum electrodynamics, or QED as it is affectionately known.QED has been called the most perfect theory in all of science because of the extraordinary agreement between experimentally measured and theoretically calculated results. The theory describes how bundles of electromagnetic energy known as photons interact with matter. In 1948 several theories of QED had been produced by physicists, the most famous of which was Richard Feynman. Dyson showed how these disparate theories could be synthesized, an accomplishment that earned him the nickname "midwife to the birth of QED."After a few years of university teaching, he took a position at the Institute for Advanced Study in Princeton, where he worked with a number of the world's greatest scientists on a variety of projects. He helped design a nuclear reactor for use in medicine that was considered to be "safe even in the hands on an idiot." This reactor is still in production. He worked on the Orion project to build a nuclear powered spaceship.Dyson's experience with nuclear reactors landed him a job as a consultant for the US Arms Control and Disarmament Agency, a position that helped turn him into a major public spokesperson for science in the service of humanity. In 1984 he published Weapons and Hope, a book that grew out of a talk he had given to a group of churches in Princeton. Over the next two decades Dyson won virtually every award in science including the Lorentz Medal of the Royal Netherlands Society, the Hughes Medal of the Royal Society, the Max Planck Medal of the German Physical Society, and Israel's Wolf Prize, among others. His books have provided him with a forum to disseminate his ideas more broadly and he has become widely respected for his ability to communicate the romance of science to popular audiences. Dyson's extraordinary autobiography Disturbing the Universe was nominated for an American Book Award, Weapons and Hope won the National Book Critics Circle award. In 1985 he gave the prestigious Gifford Lectures in Scotland which were later published as Infinite in All Directions, which won the Phi Beta Kappa award.Dyson has a passionate interest in the future course of civilization and has written a number of essays ranging from practical suggestions on what kind of scientific research provides the most beneficial results for ordinary people, to science-fiction scenarios about what kind of technology should be enlisted to deflect a large object on a collision course with earth. (Contra Hollywood, it is not a nuclear bomb.) He has outlined the kind of life forms that might best be able to travel for long distances through interstellar space. In his recent book Imagined Worlds he speculates about what kind of potato might be grown on Mars to contribute to its future habitability!So how has Freeman Dyson, the "midwife of Quantum Electrodynamics," the futurist, the popularizer of science, contributed to "Progress in Religion"? Firstly, he is one of the most powerful voices in science arguing that human life is deeply meaningful and of profound importance to the universe. He is aggressive in challenging the idea—all too popular among his fellow science writers—that we live in a purposeless universe ruled by chance. In Disturbing the Universe Dyson contrasts his views with those of Jacques Monod, the famous French biologist who wrote in Chance or Necessity?:
The ancient covenant is in pieces; man knows at last that he is alone in the universe's unfeeling immensity, out of which he emerged only by chance.
Dyson responds:I answer no. I believe in the covenant. It is true that we emerged in the universe by chance, but the idea of chance is itself only a cover for our ignorance. I do not feel like an alien in this universe. The more I examine the universe and study the details of its architecture, the more evidence I find that the universe in some sense must have known that we were coming.
Dyson develops this idea further and concludes that "the architecture of the universe is consistent with the hypothesis that mind plays an essential role in its functioning." What a contrast with Nobel Laureate Steven Weinberg's lament at the end of The First Three Minutes: "The more the universe seems comprehensible, the more it also seems pointless."Dyson's defense of purpose in the universe and his aggressive critique of the materialism of his colleagues make an important contribution to the credibility of a religious view of the world. At a time when so many religious believers are apprehensive about science and its apparent implications for their deeply held beliefs, Dyson's reasoned, balance, and impassioned engagement with the concerns of both science and religion is progress.In the second place, Dyson has a profound and publicly articulated concern that scientific advances contribute in a positive way to the betterment of humankind; he shares this view openly in influential public statements despite the hostility of colleagues threatened by this view. This position constitutes a moral stance on scientific research that is shared (or ought to be shared) by religious people of all faiths. Most scientists defend their requests for substantial government funding on the basis of the knowledge that will be acquired in the research. For example, in the early 1990's, for example, the US government began to pour billions of dollars into a "Supercollider" to be built in Texas. The final costs of the Supercollider were estimated to exceed ten billion dollars. In Dreams of a Final Theory Dyson's fellow physicist Steven Weinberg vigorously supported the Supercollider because it might discover new things: "particles with the quarks that are within the protons, … superpartners of known particles, … new kinds of force related to new internal symmetries … and so on." In Imagined Worlds Dyson describes the supercollider as a "disaster" based on a self serving argument by its promoters in the 1980's that the US "could not do any important particle physics for less than 5 billion dollars."With similar honesty Dyson has consistently called for scientific research to be evaluated in terms of its total impact on society, not what it may provide for the prestige of various constituencies or the convenience of the already wealthy. Dyson calls for science to do more than make "toys for the rich"—cellular phones and ever more sophisticated lap top computers—a science that spreads knowledge and well being so that "every Egyptian village can be as wealthy as Princeton." He laments that "pure scientists have become more detached from the mundane needs of humanity, and the applied scientists have become more attached to immediate profitability."In receiving the Templeton Award for Progress in Religion, Dyson speaks with prophetic language that would sound entirely appropriate coming from a socially minded minister or priest. He calls for a technology wedded to ethics that will "lift up poor countries, and poor people in rich countries, from poverty to give them a chance of a decent life."
Karl Giberson is professor of physics at Eastern Nazarene College and a contributing editor to Books and Culture.
Related Elsewhere
The Templeton Foundation's Web site offers more information about the prize, past winners, and Dyson.A physicist also won last year's award. See Christianity Today's coverage here.Dyson's The Sun, the Genome, and the Internet: Tools of Scientific Revolutions was reviewed in the March/April issue of Christianity Today sister publication Books & Culture. (third item)Giberson has written several articles for Books & Culture, which he serves as contributing editor. His articles include:Mr. Uncertainty | The mystery of Werner Heisenberg (Mar./Apr. 2000) Much Ado About Nada | The cosmological quest for nothing (Jan./Feb. 2000) Darwin Comes to America (by Giberson and Donald A. Yerxa) (Nov/Dec. 1999) Technology from A to Z (July/Aug. 1999) Time Travel for Nonscientists (Jan./Feb. 1999)The Web is loaded with information about Freeman Dyson. Some of the better pieces are an October 1978 interview from Omni magazine and a February 1998 Wired magazine feature.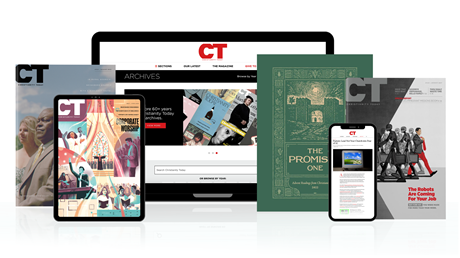 Annual & Monthly subscriptions available.
Print & Digital Issues of CT magazine
Complete access to every article on ChristianityToday.com
Unlimited access to 65+ years of CT's online archives
Member-only special issues
Subscribe
Physicist Wins Templeton Prize for Progress in Religion
Physicist Wins Templeton Prize for Progress in Religion