Among the thousands of evangelists at Amsterdam 2000, there are leaders from places where genocide and ethnic cleansing, killer diseases, and greedy politicians have laid waste their societies. These leaders have problems, but they are coping, spreading themselves thin, yet accomplishing more than one would think possible. And, remarkably, some of them set their sights high and aim at problems beyond their own borders.The Most Reverend Emmanuel Kolini, the Anglican archbishop of Rwanda and bishop of Kigali, is a case in point. He has problems.Until two years ago, he was a bishop in the Democratic Republic of the Congo (then Zaire). But after the horrors of Hutu-Tutsi slaughter, he became bishop of this so-called Christian country (95 percent claimed to be Christian) in which pastors and church leaders not only acquiesced to the tribal violence, but in some cases helped in the slaughter of those who sought refuge in their churches. One Roman Catholic bishop in the country, where church and state were highly integrated, claimed he should be blameless because he was just doing what government officials told him to do. Churches in the country have a serious credibility problem.Like other African countries, Rwanda faces the HIV pandemic. Unlike other African countries, it has about 130,000 prisoners awaiting trial for war crimes related to the genocide. Rwanda cannot afford to house and feed such a large number in its prisons. The burden would destroy what little is left of the economy. Furthermore, many of the prisoners were jailed without due process and so must be released. Church leaders like Bishop Kolini are expected to take the lead in reintegrating into society the perpetrators of the genocide as well as to initiate anti-HIV education programs.Of course Kolini has challenges in the church as well. He has only 18 priests to spread around 169 parishes and mission congregations. Training clergy is one of his top--and time-consuming--priorities. He has, in the past two years, trained 13 deacons, clergy who are allowed to preach and attend to congregational needs, but not to celebrate the Eucharist.If Kolini were submerged by these problems, we would all sympathize. If he paid attention only to clergy training or to prisoner reintegration or to HIV education, and let other things slide, we'd understand. But Kolini seems as concerned with the problems of America's Episcopal church as he is with his own.Some of the bishops of the Episcopal Church USA consider Kolini a buttinski. In January, he and Archbishop of Singapore Moses Tay ordained two Americans as missionary bishops to the United States. Really? Missionary bishops to our "Christian" nation? The way that liberal American bishops are leading their church away from biblical standards, that's exactly what Tay and Kolini thought America needed.The West did not intervene in the Rwandan genocide, he says. And that was wrong. You stood by and let the bloodshed happen, he says. But we will not stand by and watch the spiritual slaughter in America.And so Kolini has become the long-distance spiritual father of several American congregations who can no longer be loyal to their own, perhaps apostate, bishops.As a witness to genocide, Kolini has a sharp sense of sin where some of his liberal American counterparts are still captive to the perpetual American optimism about human nature. And that is why he insists that reconciliation efforts in Rwanda cannot begin in any other way than with repentance. Unlike South Africa's focus on truth, which Kolini insists will be a necessary step along the way, deep sorrow for sin must come first. Without it, reconciliation between the perpetrators and the survivors will be cheap.Perhaps American Christians need to take sin more seriously. Not just the acts of sin, but the deep potential and abiding propensity for evil in every person. Rwanda thought of itself as a Christian nation. So has the United States at times. Eternal vigilance, the price of freedom, needs to look not only at the enemy, but it must look to the heart. Thank God for the godly meddling of Emmanuel Kolini.
David Neff is Editor of Christianity Today.
Our earlier coverage of the genocide in East Africa includes an April 7, 1997 editorial by Kolini titled " A Tutsi's Hope." Other articles include:Influence of Roman Catholic Church in Acquittal of Rwandan Bishop Debated (June 20, 2000) Bishop Faces Genocide Accusation (June 14, 1999) Missionaries in Congo Flee (Feb. 8, 1999) Leaders Help Fighting Factions Build Bridges (Oct. 27, 1997) Churches Grapple for Unity Amid Great Lakes Crisis (Feb. 3, 1997) Aid Groups Caught in Ethnic Clashes (Jan. 6, 1997)Our earlier coverage of the ordaining of missionary bishops includes " Intercontinental Ballistic Bishops? | Maverick conservatives gain a toehold among Episcopalians" (Apr. 25, 2000).Our earlier coverage of Amsterdam 2000 includes:The Prodigal City? | While 10,000 evangelists take the day off in Amsterdam, local ministries continue their long, personal mission. (Aug. 3, 2000) Amsterdam 2000 Called the Most Multinational Event Ever | 10,287 evangelists and other participants represent 209 nations and territories. (Aug. 2, 2000) Drilling the Evangelists on the Evangel | Doctrinal training takes center stage at Amsterdam 2000, while staffers work against theological controversy. (Aug. 1, 2000) Billy Graham a No-Show at Amsterdam 2000 | Evangelist, watching from Minnesota, bows out of satellite address, will probably forgo later remarks as well. (July 31, 2000) Billy Graham Too Ill For Amsterdam 2000 | Evangelist will deliver address via satellite. (July 21, 2000) Graham Unveils Evangelism Conference (Nov. 16, 1998)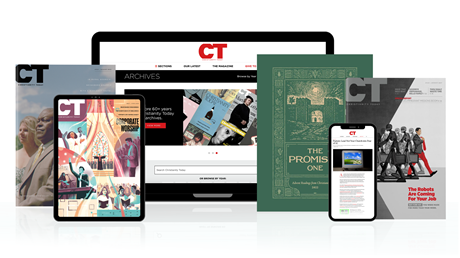 Subscribe to Christianity Today and get access to this article plus 65+ years of archives.
Home delivery of CT magazine
Complete access to articles on ChristianityToday.com
Over 120 years of magazine archives plus full access to all of CT's online archives
Subscribe Now
Healing Genocides at Home and Abroad
Healing Genocides at Home and Abroad