true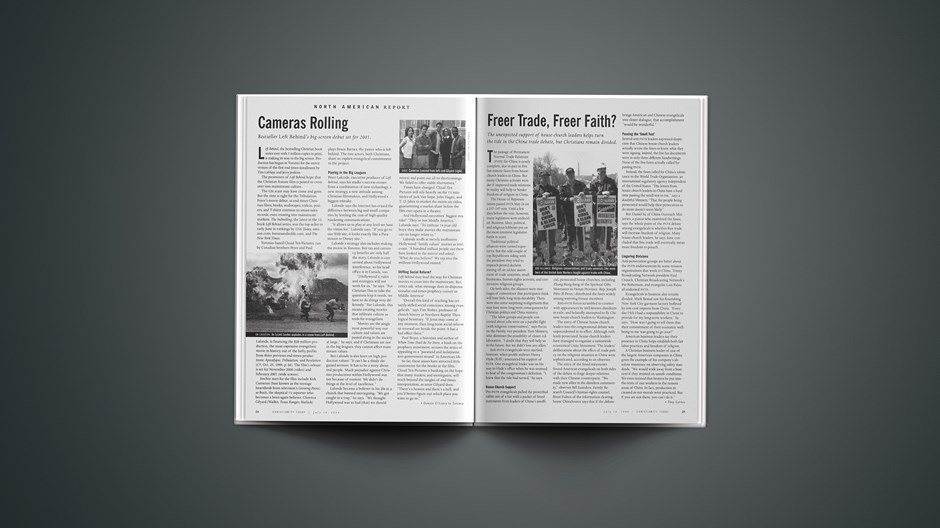 Left Behind, the bestselling Christian book series ever with 5 million copies in print, is making its way to the big screen. Production has begun in Toronto for the movie version of the first end-times installment by Tim LaHaye and Jerry Jenkins.The promoters of Left Behind hope that the Christian feature film is poised to cross over into mainstream culture.The Y2K scare may have come and gone. But the time is right for the Tribulation Force's movie debut, as end-times Christian films, books, audiotapes, videos, posters, and T-shirts continue to amass sales records, even crossing into mainstream markets. The Indwelling, the latest in the 12-book Left Behind series, was the top seller in early June in rankings by USA Today, amazon.com, barnesandnoble.com, and The New York Times.Toronto–based Cloud Ten Pictures, run by Canadian brothers Peter and Paul Lalonde, is financing the $20 million production, the most expensive evangelistic movie in history, out of the hefty profits from three previous end-times productions: Apocalypse, Tribulation, and Revelation. The film's release is set for November 2000 (video) and February 2001 (wide screen). Anchor stars for the film include Kirk Cameron (best known as the teenage heartthrob from television's Growing Pains) as Buck, the skeptical TV reporter who becomes a born-again believer. Clarence Gilyard (Walker, Texas Ranger; Matlock) plays Bruce Barnes, the pastor who is left behind. The two actors, both Christians, share an explicit evangelical commitment to the project.
Playing in the Big Leagues
Peter Lalonde, executive producer of Left Behind, says his studio's success comes from a combination of new technology, a new strategy, a new attitude among Christian filmmakers, and Hollywood's biggest mistake.Lalonde says the Internet has erased the difference between big and small companies by leveling the cost of high-quality marketing communications."It allows us to play at any level we have the vision for," Lalonde says. "If you go to our Web site, it looks exactly like a Paramount or Disney site."Lalonde's strategy also includes making the movie in Toronto. But tax and currency benefits are only half the story. Lalonde is concerned about Hollywood interference, so his head office is in Canada, too."[Hollywood's] rules and strategies will not work for us," he says. "For Christian film to take the quantum leap it needs, we have to do things very differently." For Lalonde, this means creating movies that infiltrate culture as tools for evangelism."Movies are the single most powerful way our culture and values are passed along in the society at large," he says, and if Christians are not in the big leagues, they cannot affect mainstream values.But Lalonde is also keen on high production values: "It can't be a thinly disguised sermon. It has to be a story about real people. Much prejudice against Christian productions within Hollywood was not because of content. We didn't do things at the level of excellence."Lalonde became a believer in his 20s in a church that banned moviegoing. "We got caught in a trap," he says. "We thought Hollywood was so bad [that] we should retreat and point out all its shortcomings. We failed to offer viable alternatives."Times have changed. Cloud Ten Pictures will rely heavily on the TV ministries of Jack Van Impe, John Hagee, and T. D. Jakes to market the movie on video, guaranteeing a market share before the film ever opens in a theater.And Hollywood executives' biggest mistake? "They've lost Middle America," Lalonde says. "To enthuse 14-year-old boys, they make movies the mainstream can no longer relate to."Lalonde scoffs at merely inoffensive Hollywood "family values" movies as irrelevant. "A hundred million people out there have looked in the mirror and asked, 'What do you believe?' We tap into the millions Hollywood missed."
Stifling Social Reform?
Left Behind may lead the way for Christian movies to cross into the mainstream. But, critics ask, what message does its dispensationalist end-times prophecy convey to Middle America?"Overall this kind of teaching has certainly stifled social conscience among evangelicals," says Tim Weber, professor of church history at Northern Baptist Theological Seminary. "If Jesus may come at any moment, then long-term social reform or renewal are beside the point. It has a bad effect there."Paul Boyer, a historian and author of When Time Shall Be No More, a book on the prophecy movement, accuses the series of appealing to a "paranoid and isolationist, anti-government strand" in American life.So far, these issues have attracted little controversy for the books or the film. Cloud Ten Pictures is banking on the hope that many readers, and moviegoers, will reach beyond the tangles of end-times interpretation, as actor Gilyard does: "There's a heaven and there's a hell, and you'd better figure out which place you want to go to."
Related Elsewhere
Previous Christianity Today articles on the Left Behind phenomenon include:Christian Fiction Gets Real | New novels offer gritty plots and nuanced characters—but can they find a market? (May 11, 2000)Christian Filmmakers Jump on End-times Bandwagon | Bestseller Left Behind is slated for the big screen (Oct. 25, 1999)Apocalyptic Sales Out of This World (Mar. 1, 1999)The Bible Study at the End of the World | Recent novels by evangelical leaders say more about popular American Christianity than about the end times (Sept. 1, 1997)Christianity Today's sister publications have been covering the trend as well. Christian Reader profiled the publishing craze, and Christianity Online interviewed author Jerry Jenkins about his Web surfing habits.The official site of the Left Behind series is available in nine different languages.In this week's CCM Update, Left Behind coauthor Jerry Jenkins expresses his displeasure with the way the movie is being released, refusing comment on whether he's pleased with the way the movie is representing the book.Canada's National Post newspaper visited the set in Toronto.For more updates and rumors about the movie, visit the film's official site, Coming Attractions, HollywoodJesus.com, and UpcomingMovies.com.The Lalonde brothers, Peter and Paul, discuss why they make apocalyptic movie after apocalyptic movie in an interview on their promotional site.Profiles of Left Behind authors Tim LaHaye and Jerry B. Jenkins share the authors' blend of theology and adventurous storytelling.Michael Maudlin, Online Executive Editor for Christianity Today International, reviewed the series for Beliefnet and discussed the books with religion professor Randall Balmer on Slate.When the latest book in the series, The Indwelling entered The New York Times bestseller list at number one, the paper called it "an unparalleled achievement for an evangelical novel," noting that, at the time at the time the series had "sold some 17 million copies in the United States, about three million less than the Harry Potter series." (For an overseas perspective, see the U.K.'s Guardian and Times stories.)
Have something to add about this? See something we missed? Share your feedback here.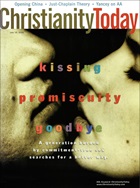 This article is from the July 10 2000 issue.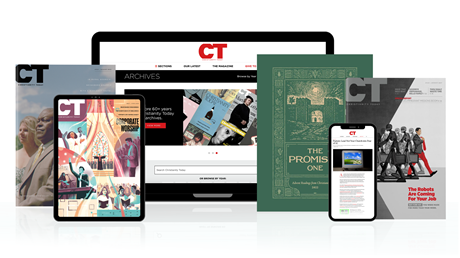 Annual & Monthly subscriptions available.
Print & Digital Issues of CT magazine
Complete access to every article on ChristianityToday.com
Unlimited access to 65+ years of CT's online archives
Member-only special issues
Subscribe
Film: Cameras Rolling
Film: Cameras Rolling