The first woman ever elected as bishop in the African Methodist Episcopal (AME) Church in the United States says she wants to be remembered as one who opened the door of church leadership to black Christian women around the world.
The AME is the first of three big African-American churches—the others are AME Zion and the Christian Methodist Episcopal Church—to appoint a woman bishop.
Bishop Vashti McKenzie, widely recognized as an expert on the theological and historical struggles of black women in the church, was elected bishop on July 11 at the national AME Conference in Cincinnati, Ohio. The church, which has more than 3 million members, most of them in the US, but also in Canada, England, and in African and Caribbean countries, holds its US national conference every four years. About 1,800 delegates attended the meeting in Cincinnati.
McKenzie, 53, was one of two women among the 42 candidates for the rank of bishop. Three other pastors, all men, were also appointed as bishops in the AME, which now has a total of 24 bishops. Women account for about 70 percent of the membership of the church, which has about 6,000 ministers. A leading church official recently stated that less than 1 percent of senior pastors in the AME are women.
At he end of September McKenzie will leave the US to head the church's 18th District, which includes 200 churches and 10,000 members in Swaziland, Botswana, Mozambique and Lesotho.
In 1990 she was appointed as the first female pastor of Payne Memorial AME in Baltimore, where she is credited with tripling the membership and creating 15 new community ministries.
In an interview with ENI after her election as bishop, Vashti McKenzie said that in Africa she expected to make economic development, human rights, church growth and the fight against AIDS her highest priorities. She also said she wanted to assess the educational, medical and social needs of the region as soon as she arrived there.
The author of Not Without a Struggle: Leadership Development for African American Women in Ministry, Bishop McKenzie said the obstacles she faced while moving up the church ladder were identical to those any woman would face in a non-traditional position. "You have to work a little harder, try a little more so people can see that you are real and that you are called of God," she said. "You don't just wake up one morning and say: 'I think I'll be a pastor or a servant of God.' It's essential for people to see that you are serious and committed to getting the job done."
Bishop McKenzie said her election demonstrated to black Christian women the importance of their role in addressing sexism within the church. It also showed that women had the right to follow the calling of God to the pulpit.
"The African-American church has handled civil rights and social justice very effectively. It's demonstrated an openness to diversity," she told ENI. "The African-American church has been able to deal with racism, but the church is just starting to deal with the issues of sexism and classism."
The new bishop wants to give increased support for the ministry of black women throughout the world. She is an advocate for women's education and theological training, and is highly respected by civil rights leaders and black politicians throughout the US.
"Everything that has happened in my life has prepared me for this moment," she told ENI. "It's all come together. Over the years God has prepared me for this—often in ways I had no idea would eventually come to bear here. Whether it is pastoring or even serving as summer-camp counselor roughing it in the woods, God has prepared me for this task."
"Because of God's favor, the stained glass ceiling has been pierced and broken," McKenzie said in a speech at the conference after she was elected bishop.
Bishop McKenzie is married to Stan McKenzie, a former professional basketball player, and they have three children, Jon-Mikael, Vashti-Jasmine, and Joi-Marie.
A former journalist and broadcaster whose work has appeared in major magazines, newspapers and television shows across the country, Bishop McKenzie is a graduate of the University of Maryland, and holds a Master of Divinity Degree from Howard University. She also has a Doctor of Ministry degree, from United Theological Seminary, in Dayton, Ohio.
The African Methodist Episcopal Church traces its roots to 1787 in Philadelphia at St George's Methodist Episcopal Church when blacks withdrew in protest against segregation. The denomination was officially organized in 1816 and had its headquarters in Washington, DC.
Copyright © 2000 ENI. McKenzie's Not Without a Struggle is available from the Christianity Online Bookstore and other book retailers.
The mainstream media has been covering McKenzie's election at length. Articles include:
Female Bishop Will Head To Africa — Chicago Tribune / Associated Press (July 19, 2000)
First Woman Bishop Returns Home — Associated Press (July 17, 2000)
Inner-city pastor now pioneers as bishop — The Washington Times (July 17, 2000)
Joy, tears at church on eve of transition — The [Baltimore] Sun (July 17, 2000)
Bishop's journey leading to Africa — The [Baltimore] Sun (July 13, 2000)
AME Church celebrates election here of its first female bishop — The Cincinnati Post (July 12, 2000)
After 213 Years, A.M.E. Church Chooses a Woman as a Bishop — The New York Times (July 12, 2000)
Baltimore pastor elected AME's first female bishop — The [Baltimore] Sun (July 12, 2000)
For a history of the founding of the African Methodist Episcopal Church, see our sister publication, Christian History.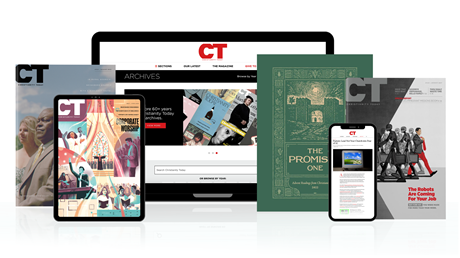 Subscribe to Christianity Today and get access to this article plus 65+ years of archives.
Home delivery of CT magazine
Complete access to articles on ChristianityToday.com
Over 120 years of magazine archives plus full access to all of CT's online archives
Subscribe Now
African Methodist Episcopal Church Elects Its First Woman Bishop
African Methodist Episcopal Church Elects Its First Woman Bishop