Angry at presidential candidate Gary Bauer's stance against gay marriage, Salon.com sex columnist Dan Savage deliberately tried to sabotage the campaign from the inside. "My plan? Get close enough to Bauer to give him the flu, which, if I am successful, will lay him flat just before the New Hampshire primary," he wrote in a Salon.com article that appeared yesterday. "I would go to Bauer's campaign office and cough on everything—phones and pens, staplers and staffers. I even hatched a plan to infect the candidate himself. I would keep the pen in my mouth until Bauer dropped by his offices to rally the troops. And when he did, I would approach him and ask for his autograph, handing him the pen from my flu-virus incubating mouth."
New York Post columnist Rod Dreher is outraged—and so is the Bauer campaign. "This is trash-can journalism at its worst," Iowa campaign director Loras Schulte told Dreher.
"These students come to school at night and mostly associate with other nontraditional students, and the programs don't communicate very effectively the distinctive religious mission of these schools to them," says the University of Akron's John Green, who worked on the study Mission, Formation & Diversity: Adult Education Programs at Church-Related Colleges.
"Go on campus during the day and there's a lot of effort to communicate the religious message of the school to the younger kids."
The president of Liberty University says the Justice Department keeps a secret database about religious and antiabortion leaders, and he wants to see it. The FBI and White House don't think it exists, according to an Associated Press story.
"The Bible and prayer are making a comeback in the workplace," reports Monday's Christian Science Monitor. "Deeply religious executives, once quiet about their faith, are speaking up about where they stand." The article echos a similar BusinessWeek cover story that appeared in November.
"A team assigned to review the abortion policy of the Presbyterian Church (U.S.A.) has concluded that church entities have downplayed a 1992 policy considered moderately pro-choice in favor of an unbridled pro-choice policy adopted in 1983," the Prebyterian News Service reports.
Those crosses placed along roadsides as memorials to crash victims are under attack, reports the Associated Press. Debate has flared up in Oregon, Texas, Washington, Montana, California, and Florida. "Once you open the door, you open the door to all kinds of memorials," Dave Fidanque of the American Civil Liberties Union of Oregon told the news service. "You might not be very happy with what happens down the road."
"One wonders how far the proponents of this view are willing to take their reasoning," says John West of those who think Baptist missionaries promote intolerance. "Do they also think that people shouldn't share their political beliefs with those from a different political party? After all, someone might be offended." The associate professor of political science's guest editorial appeared Tuesday.
Muslims in Zamfara are quick to note that shari'a, based on Koranic law, will apply only to Muslims. But Christians are still worried (see also the BBC's coverage)
While donating Bibles to the Zambia Police Service Bible Society of Zambia general secretary Mpundu Ntala attacked the country's politicians, saying they speak of Christianity only to profit themselves, reports The Post of Zambia. "These politicians walk into our churches just to win votes," Ntala said. "But they dont have the faith in their hearts. Once voted, they disappear from us and they become more important than God."
The Washington Post takes a closer look at Sister Maria Stephanopoulos, sister of former White House chief of staff George Stephanopoulos, who has become a key part in the rivalry between the "red" and "white" factions of the Russian Orthodox Church.
Katharine Drexel was officially attributed yesterday with a second miraculous healing, a step the Washington Post calls "the most difficult obstacle on the road to sainthood." Drexel will be the second American-born saint in the Roman Catholic pantheon. Newspapers weigh in on Beliefnet, iBelieve.com
Two recent articles say the new Web site's content offerings are of high quality, but writers in the Boston Globe, the Chicago Tribune, and Internet magazine (they hate to be called that, but it's what they are) Salon.com both have questions. Globe staffer William Davis writes, "Beliefnet's menu offers a virtual smorgasbord of spiritual concepts and religious practices whose strength—and weakness—is its one-stop shopping approach to matters of the soul. It's an equal-opportunity portal where major and minor religions get equal access." He wonders if it's spreading itself too thin. Chicago Tribune religion columnist Steve Kloehn is more direct. "The site offers a little of everything without a lot of anything. … Beliefnet.com does not bring order out of chaos, it simply gives you the Cliffs Notes. It is well-meaning, efficient, devoted to convenience, ambitious in scope and ultimately driven by the belief that there is a consumer market out there waiting to be filled." He also criticizes iBelieve.com, which he says "looks like an enormous, shiny store." Salon's Damien Cave sees a bright future for Beliefnet—and for iBelieve.com, which launched this week. But he wonders if their e-commerce approach and "sell, sell, sell" mentality is really consistent with their message. "But wait: Aren't the poor supposed to inherit the kingdom of God? Aren't profit and holiness as compatible as pagans and the Pope? Not according to these guys." (Today's New York Post makes a similar comment about other religious Web sites, such as Promise Keepers and CBN.)
Related Elsewhere
See our past Weblogs: January 27 | 26 | 25 | 24

January 21 | 20 | 18 | 17

January 14 | 13 | 12 | 11 | 10

January 7 | 6 | 5 | 4 | 3

December 30 | 29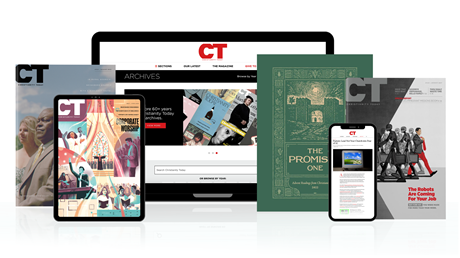 Annual & Monthly subscriptions available.
Print & Digital Issues of CT magazine
Complete access to every article on ChristianityToday.com
Unlimited access to 65+ years of CT's online archives
Member-only special issues
Subscribe
Salon.com Columnist Targets Gary Bauer for Germ Warfare
Salon.com Columnist Targets Gary Bauer for Germ Warfare