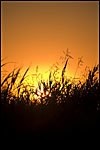 Silence Is Golden
Learn how to grow through solitude.
Single Session Bible Study
Overview
When scholars of American religion try to describe evangelicals, they describe us as restless, eager, preachy, and committed to spreading the good news. While these are undoubtedly virtues in telling the world about Jesus, this restless and talkative group seems to have trouble sitting still and keeping quiet. Since when did we become such bad listeners?
In Adie Johnson's reflection on group solitude, she reminds us of the value of silence, particularly when done as a group. Despite a general dependence on women to be communicators, God may call us to a deeper communication—without words—to draw us closer and to fill us with his love.
Table of Contents
SCRIPTURE: Exodus 19:16–19; Numbers 6:24–26; 1 Kings 19:9–13; Psalm 131; Job 37:14–24; Mark 4:35–41; James 1:2–27
LEADER'S GUIDE
• Identify the Current Issue
• Discover the Eternal Principles
—Teaching point one: Silence before God is prayer.
—Teaching point two: Silence calls a truce with our worries.
—Teaching point three: God speaks, even in silence.
—Teaching point four: Silence can lead us to greater love.
• Apply Your Findings
• Recommended Resources
ARTICLE FROM CHRISTIANITY TODAY
• "Group Solitude" by Susan Adie Johnson
(GiftedforLeadership.com, February 12, 2008)
Total number of pages—
Silence Is Golden