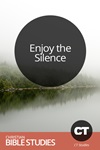 Enjoy the Silence
Unplug to experience God's presence.
Single Session Bible Study
Overview
We have so much constant noise in our lives that we are often left trying to figure out how to connect with God. But once we discover the importance of slowing down long enough to create real silence and rest before God, we'll discover that we can hear from and experience him in deeper ways than we've ever known.
Table of Contents
SCRIPTURE: Exodus 20:1–21, Psalm 46, Matthew 14:22–24, Luke 6:12–13
LEADER'S GUIDE
• Identify the Current Issue
• Discover the Eternal Principles
—Teaching point one: God wants us to make enough room and silence in our lives to hear him.
—Teaching point two: Our transformation to look more like Jesus includes prioritizing rest and silence.
—Teaching point three: God meant for there to be a rhythm to our lives, and that rhythm includes Sabbath.

• Apply Your Findings
• Additional Resources
ARTICLE FROM CHRISTIANITY TODAY
• "More Than Words Can Say," April 2014
Enjoy the Silence