How Can I Leverage How God Has Wired Me for God's Greatest Glory?
Terence Lester, author and founder of Love Beyond Walls, on calling, proximation, and what he's learned from his friends without an address.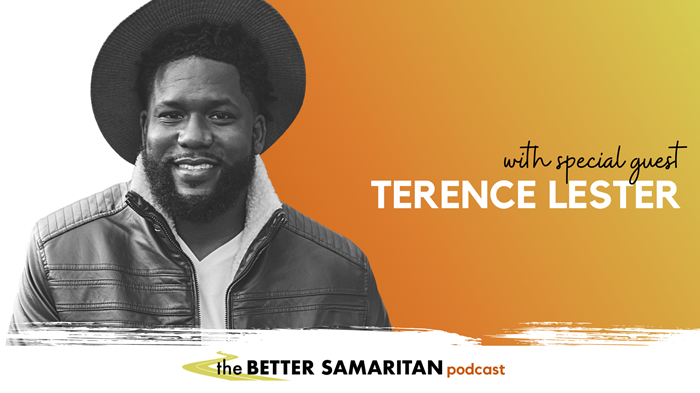 On the Better Samaritan we often talk about how to make 'the road' safer. This stems from Dr. Martin Luther King, Jr.'s sermon, pointing out that helping the wounded person in front of us is not enough; we also have to look up the road and determine what is causing it to be so dangerous. In humanitarian work, of course, these are known as systemic challenges.
Terence Lester, our guest on this episode, knows a thing or two about systemic challenges—and evaluating streets for safety. At more than one point in his life, he has lived among the homeless. (Listen to the episode for more on that.) Now, as an author, activist, speaker and founder of Love Beyond Walls, he's a great example of a Better Samaritan. His new book, When We Stand, casts a specific and hopeful vision for the church: one in which every member knows their strengths, has margin, and makes themselves available to the broader church and to God's calling.
Here's Terence's take on our analogy—how to make the road safer for future generations:
More people are needed on the road. If we use this as a metaphor from the [Better] Samaritan parable, we talk about the context of Jericho, and we gotta wrassle with: what produced the robbers? What is the social context which created the climate? Was it dark on the road? Was more lighting needed on the road? Who made the decision not to put lighting on the road? Why weren't there any officers guarding the road? Where were the people who could have been volunteering on the road? Would more people have provided extra protection for this community? All of these things that your imagination can run with in talking about that... There's safety in community. Because we are a part of the family of God, there's this sense of protection and safety when we show up together.
—Terence Lester
RESOURCES
Terence's book: When We Stand: The Power of Seeking Justice Together, out May 18, 2021 from InterVarsity Press
Terence's organization: Love Beyond Walls (@lovebeyondwalls on Facebook, Instagram and Twitter)
"On Being a Good Neighbor", sermon draft by the Rev. Dr. Martin Luther King, Jr.
This episode produced by Laura Finch
Theme Song "Turning Over Tables" by The Brilliance
Subscribe:Apple Podcasts | Google Podcasts | Spotify | TuneIn | Stitcher | RSS
Follow us on Twitter: @kentannan | @drjamieaten | @laura_e_finch | @imterencelester
(Note to the listener: In this podcast, sometimes we'll have evangelicals, sometimes we won't. We thinking learning how to do good better involves listening to lots of perspectives, with different insights and understanding with us. Sometimes it will make us uncomfortable, sometimes we'll agree, sometimes we won't. We think that's good. We want to listen for correction. Especially in our blind spots.)
The Better Samaritan is a part of CT's Blog Forum. Support the work of CT. Subscribe and get one year free.
The views of the blogger do not necessarily reflect those of Christianity Today.