Hope Dealers: 8 Leadership Principles Learned From Serving Youth on the Margins
The founder of Four Corners Group shares how his organization unlocks potential and helps underserved youth flourish.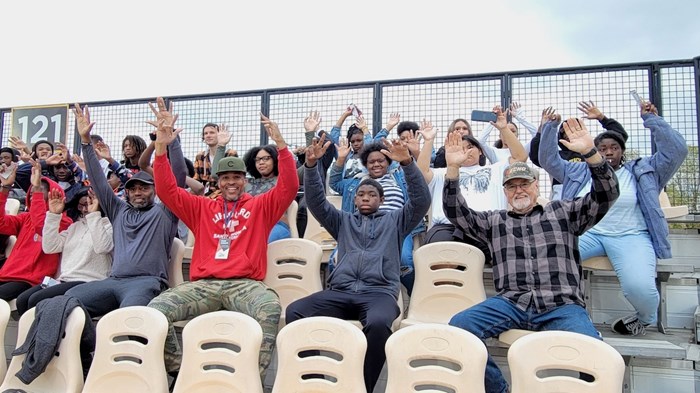 My first visit to a juvenile detention facility happened in 2006, when I was serving as a youth mentor and pastor. God broke my heart during this visit, and it turned into an over 15-year journey of working with youth on the margins. I began to work with youth at detention centers and in underserved schools to mentor, encourage, and offer tools to change the direction their lives were heading. Others joined this work, and the Four Corners Group was born.
This vision touches on the same foundation that Dr. King envisioned when he spoke about the need of the Christian to not only be a "Good Samaritan," but to work to change the conditions of the Jericho Road. By providing pathways to a thriving adulthood (the road), the very trajectory of a young person's life can be changed.
The dream of Four Corners Group is to eradicate the "school-to-prison" pipeline, an insidious road that ensnares young people of color in cycles of incarceration and recidivism (re-offense). Too many of our youth, especially those in historically underserved communities and schools, fall prey to this cycle and may lose hope—and options—for their futures. We believe that God has placed divine worth, assets, and potential in each of these young people. The work of Four Corners Group is to unlock that potential, and to see youth on the margins begin to flourish.
We at Four Corners Group achieve these God-sized goals mainly through two programs: first, the Pathways to Success mentorship program currently offered at two metro-Atlanta campuses, and second, the 1625 Initiative, offered inside juvenile detention centers. The 8-week Pathways to Success program leads students through a proven curriculum covering character education, strengths assessment, and job readiness training. The 1625 Initiative was inspired by the story of Paul's visit to a jail in Acts 16:25. Each month, trained teams of our facilitators go into juvenile detention facilities to offer the hope of the gospel and important life skills to the youth inside.
Even though we are a community-based, not faith-based, organization, everything that we do is undergirded by a consistent and committed prayer team who cover every aspect of the work. As we've grown as an organization, we've learned a number of helpful leadership development principles, beginning with this philosophy: bring a small group of like-minded people together for a cause. Then dream, pray, plan, strategize, and execute.
We also:
Stay slim as an organization.
We see many top-heavy organizations in the nonprofit space, but that can make it challenging to pivot, flex, and adapt to the ever-changing landscape of a field like youth development. This principle allows us to be good stewards of our resources and leverage what we do have.
Prioritize partnership.
I ask, "How can we also leverage assets (churches, businesses, other non-profits) already in the community to achieve our mission ?" Success is often limited when we silo the work we're doing and limit it to "my" or "our" work, even in the Church.
Keep purpose in mind.
Deep down, everyone wants to be a part of something bigger than themselves. After working with students, one of our coaches shared with me, "I feel like this is what I was meant to do." We want more stories like that. So we ask each of our team members, "Why are you joining us in this work?"
Prioritize inter-dependence.
None of us can have a Lone Ranger mindset, where we believe that we can do it by ourselves; we need one another. This principle also leads us to reject a "messiah complex," instead approaching those we serve with dignity and mutuality.
Operate from an abundance mentality.
This has taught me to not operate from a place of scarcity that says "we don't have this," but instead look at what we do have and decide how to leverage it .
Make sure team members have balanced lives.
There were times in my life where I didn't have this balance, and I almost burned out and burned up aspects of my personal life.
Focus on what we do well.
We're not able to do everything, so we need to focus on what we can do well. When you identify what you do (and do not do) well, you can link arms with others in partnerships to fill in your organizational gaps.
Recruit the best.
We seek the best people to serve with our students and families to make the most impact, because our young people deserve that.
With God's guidance, Four Corners Group has been able to work with many others in the community to see these eight principles put into action, and to see change happen in the lives of hundreds of youth and their families.
We focus on dealing out hope and giving students the truth, not telling them what to do. They can make a better-informed choice if they know the truth. Though we may not be able to change the early chapters of a young person's life, we can help them take back the pen to write the rest of their story.
I believe collectively we can do more together than we can do apart. Serving young people on the margins is a marathon, not a sprint—but it is a race worth running.
William M. Johnson is a visionary who has a passion and servant attitude for youth and communities. He wants to see youth maximize their full God-given potential. He has equipped thousands of students, and hundreds of adults and leaders for more than 20 years as a former student pastor, young Life leader and chaplain for the Gwinnett Youth Detention Center in Georgia, and founder of Thrive Youth Development. He currently serves as the Founder and President of Four Corners Group.
The Better Samaritan is a part of CT's Blog Forum. Support the work of CT. Subscribe and get one year free.
The views of the blogger do not necessarily reflect those of Christianity Today.