5 Ways Churches Can Help Communities Impacted by the Recent Tornado Outbreaks
Churches can play a vital role in helping to heal and rebuild the lives of those affected by the recent tornadoes.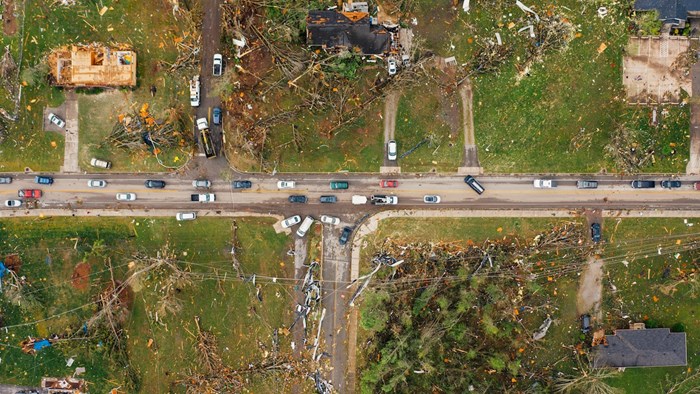 Over the past seven days, destructive tornadoes have impacted numerous communities across several states. Last Friday, Mississippi was devastated by a deadly tornado. This Friday evening, a dangerous tornado caused havoc in Arkansas, Iowa, Indiana, Illinois and other places in the South and Midwest.
One of the reasons we started The Better Samaritan blog was because we know that not all good Samaritans are helpful and, in some cases, cause accidental harm. After these recent storms, many people face physical, emotional, spiritual, and financial hardships. As churches seek to offer support during this difficult time, there are several practical ways they can effectively serve those affected by the recent tornadoes in ways shown to have the most impact. Below, we share five ways churches can provide effective relief.
Provide Spiritual and Emotional Care
Churches should focus on providing spiritual and emotional care and physical assistance.
Those affected by the disaster may be coping with trauma, grief, anxiety, and depression. Churches must be a source of comfort and hope during these times. They can also host special services, such as prayer vigils that allow for communal mourning and lament and help others hold onto faith and hope for the future.
Provide Financial Support
Churches can provide immediate assistance in the form of financial aid. In addition, churches can use their resources to provide food, clothing, medical supplies, and other necessities to survivors who have lost their homes or belongings. Making a financial donation is one of the most effective ways for people to help after a disaster. When needs on the ground shift, having additional funding can allow groups providing care to respond with greater flexibility and adaptability.
Provide Volunteers
Churches can serve as hubs for mobilizing volunteers to help with relief efforts. Coordinate with local authorities and disaster relief organizations to ensure volunteers are deployed safely and effectively. Encourage your congregation to sign up for various tasks, such as clearing debris, assisting with home repairs, or providing transportation to and from temporary shelters. Remember, the need for volunteers will extend far beyond the immediate aftermath of the disaster, so continue to encourage and support volunteer efforts in the coming weeks and months.
Provide Goods and Resources (But Only if Requested!)
For churches in the local communities affected, once specific tangible needs are known, churches can also help organize a drive to collect goods and resources. However, don't make the mistake of asking others to give goods and resources and assume that's what's needed. Uninvited donations can place more strain on those impacted, result in waste, and end up costing the affected community money to store.
This recommendation holds for churches outside of regions impacted by disasters, where there may not be direct ties to local churches or the communities themselves. Again, wait to hear through direct contacts or organizations in affected areas. Give them time to determine what non-financial resources are needed before jumping into action. A financial gift is better than sending goods and resources in most cases. So, if you decide to organize a collection of goods, stick to the list those asking for help have communicated, and don't send items that don't meet the requirements outlined.
Provide Long-Term Community Support
In the wake of the recent tornadoes, churches need to stay engaged with their communities for the long term. As the recovery process unfolds, there will be continuing needs for emotional, spiritual, and practical support. Offer ongoing counseling, facilitate support groups, and provide resources for rebuilding and restoration. As a church, you can give a sense of community and stability amid chaos and uncertainty. Remember, just because the communities impacted may not be making front-page news in the coming weeks doesn't mean that things have returned to how they were. The communities affected by this outbreak will need your help now, and they will need your help in the future.
We have a sacred responsibility to be the hands and feet of Christ in this disaster-filled world. By providing prayer, emotional support, supplies, financial assistance, and long-term community support, churches can play a vital role in helping to heal and rebuild the lives of those affected by the recent tornadoes.
Jamie Aten, Ph.D., and Kent Annan, M.Div. co-direct the Humanitarian Disaster Institute at Wheaton College and are also the co-founders of Spiritual First Aid.
The Better Samaritan is a part of CT's Blog Forum. Support the work of CT. Subscribe and get one year free.
The views of the blogger do not necessarily reflect those of Christianity Today.