8 Takeaways From the Accord Network's Conference on Christian Relief and Development
MA in Humanitarian & Disaster Leadership students share what inspired and challenged them most during the annual event.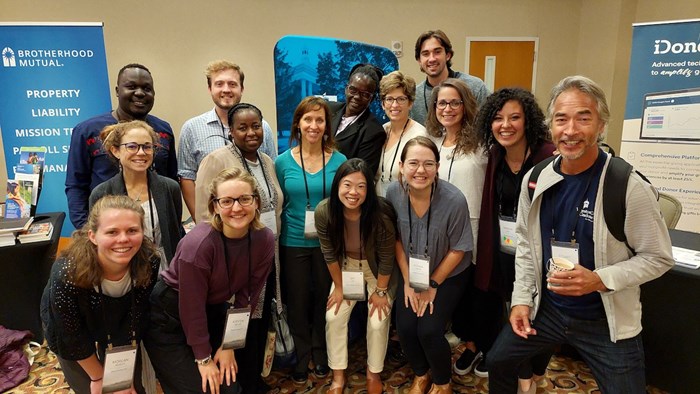 In 1977, a community of "like-minded organizations" first met in Wheaton, IL. They wanted to replace the prevailing feeling of competitiveness between them with a feeling of collaboration. According to one of the participants, "We wanted to be a fraternity, a place to fellowship—to see each other as colleagues—and to profit by getting together."
So Accord Network (though it went by a different name) was born. They invited additional agencies that were:
Christ-focused
Professionally and fiduciarily responsible
Relief and development-focused
Their vision was that "all Christian relief and development professionals and agencies base their initiatives on biblical principles and work to re-engage the Church in holistic ministry among the poor and needy."
Each year, HDI's MA in Humanitarian & Disaster Leadership students attend Accord's annual conference to grow in knowledge, relationships, and purpose. We've invited a few of them to share their takeaways following 2022's conference. Their responses show the varied speakers and subjects that impressed them, as well as how God was at work personalizing the messages for each attendee.
I was so encouraged by the open and selfless attitudes that leaders and practitioners in the Christian humanitarian field have in their work. No one is seeking their own personal gains or the success of their organization. Rather, there was a unified sense of hope, vision, and dedication to the work. — Claire
I enjoyed listening to Jayakumar Christian talk about a theology of transformation in the life of the church. I was convicted to change my perspective on humanitarian work; it is not just building projects, but it's about serving the poor. We have to first change our hearts in order to impact our community. — Morgan
My highlight would be hearing people's stories and seeing how passionate they are for the work they are doing. — Kirsten
Leading lies at the intersection of humble listening and asking the right questions.
For those with a healthy soul, leading is inevitable, dangerous, and lies at the intersection of humble listening and asking the right questions. Aligning our work pace with the wellbeing that comes from a relationship with God provides 'soul life,' so that we can in turn be equipped to lead wisely. — Esther
Several things stood out most to me. First, we need to understand the root cause of poverty because it's embedded in people's spirituality. We cannot promise a sustainable impact without addressing spirituality in a person. We also need to address the worldview of poverty, whether it is in the political, economic or social space; we cannot isolate spirituality from those factors.
Second, how do I share the love of God between Monday and Saturday if my focus is on me as an individual? God is actively involved in the world He created and is a relational being. How then can you and I bring the message of transformation to the hurting world?
Finally, Dr. Beth Birmingham shared that the faith-based sector has not treated [some] women leaders well and that has caused some faith-driven talent to move to the secular sector.— Anonymous ["In the faith-based space, women lead just 2 percent of nonprofits larger than $10 million, and whereas larger secular nonprofit boards are led by 40 percent women, for faith-based organizations that statistic is well under 20 percent." Creating Cultures of Belonging: Cultivating Organizations Where Men & Women Thrive, Birmingham/Simard, InterVarsity Press, 2022, 17.]

Each student took away something different from the conference, yet they all came away feeling encouraged and motivated. We're grateful for those who spoke, volunteered, and worked behind the scenes to plan and present the event.
As Amanda says:
A big thank you to The Accord Network for its support and encouragement of HDL students. We learn best practices through our studies and discover more of how to practically apply them through the gracious sharing of experiences by their members.
Dena Dyer serves as Communications Specialist for Wheaton's Humanitarian Disaster Institute.
The Better Samaritan is a part of CT's Blog Forum. Support the work of CT. Subscribe and get one year free.
The views of the blogger do not necessarily reflect those of Christianity Today.