Yes, Christian Parent, You Need to Talk about Race with Your Kids
Parents, teachers and anyone working with kids will find value in examining ten postures leading to healing and hope for racial reconciliation.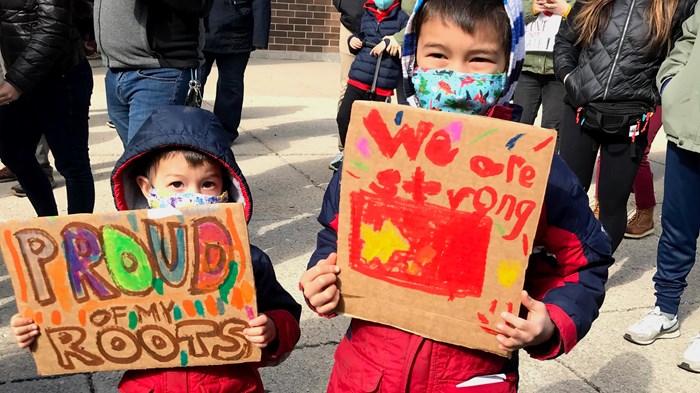 Two race-based acts of violence have taken place in the last ten days. First, a gunman shot and injured 3 Korean American women at a Dallas, TX, hair salon and then another gunman live streamed his shooting of a Buffalo, NY, supermarket, targeting Black Americans and killing 10 people.
Many of us have become well-acquainted with these forms of violence, especially in the digital age, where there is no hiding from evil in all its forms. But how do we talk about it with the next generation?
Should race be a casual topic with children? What does the Bible even say about race?
Whether you've had the race talk by necessity for your child's safety, or are new to the conversation, The Race-Wise Family: Ten Postures to Becoming Households of Healing and Hope is an essential guidebook through complicated questions. Co-authors Helen Lee and Michelle Reyes acknowledge clearly what the Bible does and does not say, especially highlighting the way the modern lens of race can form our convictions more than the Bible does, to our detriment. This book is made for families of all backgrounds and at varying levels of cultural awareness and understanding.
The authors write as one voice except for when they share examples from their own lives. The result is a compassionate, yet honest look about the work individual families must commit to doing to identify and combat racism within themselves and their communities. Through these ten postures, families are encouraged to take inwardly-focused steps such as seeing others' differences and assessing their own biases. As this internal work is done within the family, they can then take steps to outwardly put into action what they're learned.
Lee and Reyes take time to unpack buzzy concepts like "racialization" and "privilege" to make sure they and the reader are on the same page. They also touch on problematic threads embedded in the American expression of Christianity, the importance of cultivating emotional intelligence and space to lament, and encouraging children's critical thinking towards news coverage and social media posts.
While the practices are perhaps more than what most families will do, they are helpful and fit a wide spectrum of children's ages. Each chapter also ends with a prayer that sums up each posture. Most practically, adults can start with the Multiethnicity Quotient Assessment, included in the book's appendices, to understand where their family's awareness of race lies.
Children are not raised in a vacuum.
Though this book is written with families in mind, it also points to a larger truth. Children are not raised in a vacuum. They are influenced by their peers, Sunday school teachers, extended family, and others. It is not enough for families to be race-wise; their communities must be, too. I'd recommend this resource be shared with anyone looking to grow in their understanding of race, particularly those who work with and around children.
Lee and Reyes have written a book that is a launch pad for introspection, growth, and maturity not only for conversations about race but for the discipleship of Christian families and those who love them. It has the heft of a resource that can be referenced again and again as families strive towards engaging race in a way that honors God and others.
The Race-Wise Family: Ten Postures to Becoming Households of Healing and Hope is available everywhere books are sold.
Jennifer Clark is the Communications Specialist for the Humanitarian and Disaster Institute and has worked in the intersection of faith, entrepreneurship, and justice for several years. She is an Oscars buff and enjoys film, books, and all things pop culture with the exception of TikTok.
The Better Samaritan is a part of CT's Blog Forum. Support the work of CT. Subscribe and get one year free.
The views of the blogger do not necessarily reflect those of Christianity Today.